Mahindra has issued a recall for specific XUV400 and XUV700 units, affecting more than 100,000 vehicles. The recall targets the inspection of wiring looms, a vital component in vehicle electronics. This move comes as a proactive measure to ensure safety and address any potential concerns.
You may also like: Mahindra XUV700 Recalled 3 Times in a Month
Mahindra XUV700 Recalled Along with XUV400
Mahindra has taken a proactive step by starting an inspection campaign aimed at tackling potential risks stemming from the abrasion cut of the wiring loom. With a keen focus on the well-being of its customers, the company has set its sights on 3,560 units of the XUV400 vehicle. This initiative specifically targets units manufactured within the timeframe of February 16th to June 5th, 2023. Mahindra has also assured that the inspection and essential rectification will come at no cost to the customers
Mahindra has also taken the proactive step of announcing a recall for their XUV700 model. However, a notable distinction emerges as the premium crossover takes the spotlight with a larger number of potentially affected units. A significant total of 1,08,306 XUV700 units, all produced between the dates of 8th June 2021 and 28th June 2023, falls within the scope of concern. This specific group of vehicles has raised concerns regarding their susceptibility to abrasion cuts. The carmaker plans to conduct inspections for all these identified XUV700 units, providing the service completely free of charge. If these inspections detect any issues that require component replacements, the same will be replaced with no charge to the customer.
You may also like: Mahindra XUV700 vs Scorpio N- Who Should Buy What
You may also like: Tata Harrier Pickup Looks Like a Perfect Answer to Mahindra Global PikUp Concept
Customers Report Issue with Scorpio N 4×4
Amid Mahindra's ongoing recalls for the XUV400 and XUV700, even the ScorpioN model is facing its share of concerns. According to reports from an owner's WhatsApp group, specific Scorpio N 4×4 units are experiencing fuel hose leaks. Allegedly, the transfer case is coming into contact with the hose, leading to fuel leaks. It is advisable for owners to take preventive action by having the fuel hoses inspected and changed if required. Zip ties are necessary to secure the hose and prevent future issues.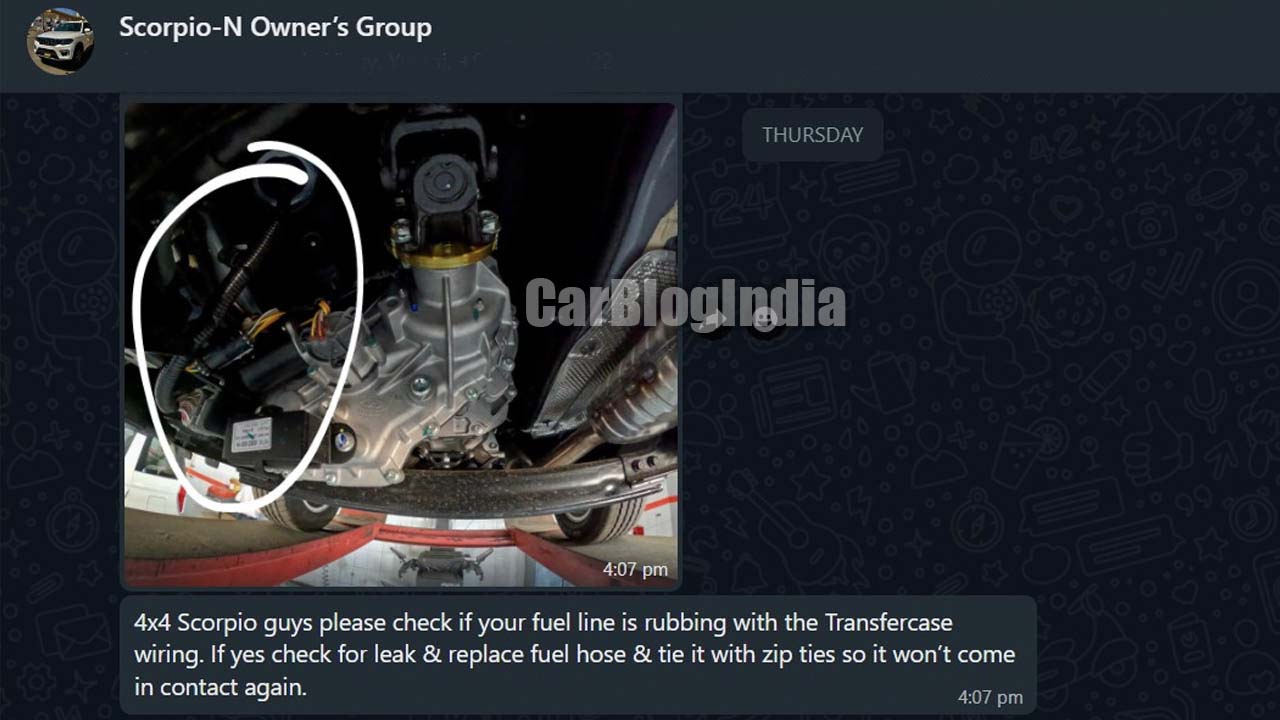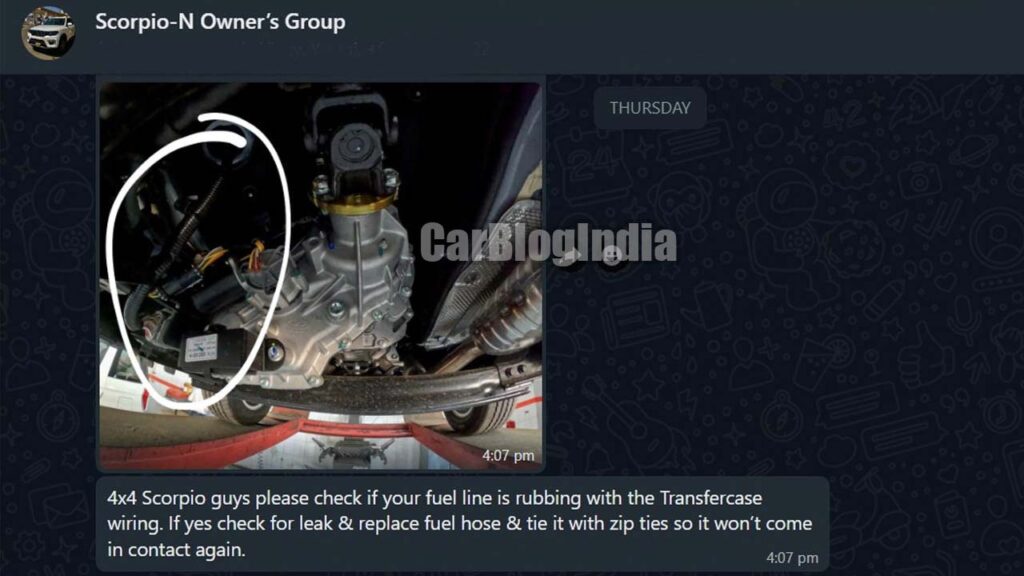 Recalls are a part and parcel of a vehicle's lifecycle, often indicative of a responsible approach by automobile companies to address potential concerns promptly. Mahindra's proactive stance shines through in its history of recalls, including the 2021 replacement of camshafts for the Thar Diesel. Potential issues become a cause of concern only when manufacturers show inaction. While Mahindra has properly announced recalls for their XUV400 and XUV700, an announcement of a recall for ScorpioN is expected soon.
You may also like: Purportedly Leaked 2024 Tata Safari Storme Merely a Poorly Photoshopped Fake
Join us for FREE NEWS Updates on our Whatsapp Community or our official telegram channel.