Here is a video of Mahindra XUV700 saving a dummy pedestrian using the automatic braking function. We are all aware of the immense modern technology features that the SUV comes with. Mahindra recognizes the importance of loading modern cars with the latest tech equipment. This becomes a tremendous proposition, especially for the younger customers. With some of the class-leading convenience features, Mahindra XUV700 will attract a ton of potential buyers. The video highlights Mahindra XUV700's automatic emergency braking reliability. Here are the details.
Also read: Here's Why Mahindra XUV700 Bookings Haven't Yet Started
Mahindra XUV700 Automatic Braking
The XUV700 will come with ADAS (Advanced Driver Assistance System) features and automatic emergency braking is a part of it. The front sensors detect the imminent collision and when the driver fails to deploy the brakes, the computer of the car does it for you. Although it seems a bit dangerous, the video shows how efficient it is. However, this shouldn't give you an excuse to drive irresponsibly. This safety tech is there for emergency situations only. As a driver, you shouldn't blindly rely on such things but do your due diligence. The XUV700 recognizes that the dummy gets too close and the driver still hasn't pressed the brake pedal. The ECU of the SUV intervenes and prevents the collision.
Also read: Mahindra XUV700 vs Hyundai Creta- Specs, Prices, Features Comparison!
ADAS Features
This is just one of many ADAS features that the Mahindra XUV700 will come with. Other features include lane keep assist, lane departure warning, forward collision warning, blind-spot monitoring system, adaptive cruise control and more. Oftentimes, when one is driving a huge SUV like the XUV700, it becomes difficult to keep track of cars on the adjacent lanes. These features ensure that the car is aware of its surroundings and reacts adequately in case the driver misses something.
Also read: Special Mahindra XUV700 Gold Edition Visualized for Neeraj Chopra
Other features include a Panoramic Sunroof, AdrenoX Connected Car Tech System, Smartphone, Bluetooth Connectivity, Wireless Charging, 10.25-inch Dual Touchscreen Infotainment and Instrument Cluster, Alexa Virtual Assistant, 360-degree Camera, Sony 3D Surround Sound System, Auto Booster Headlights, Air Purifier, Smart Door Handles and much more.
Also read: Tata Harrier Dark Edition-Like All-Black Mahindra XUV 700 Conceptualized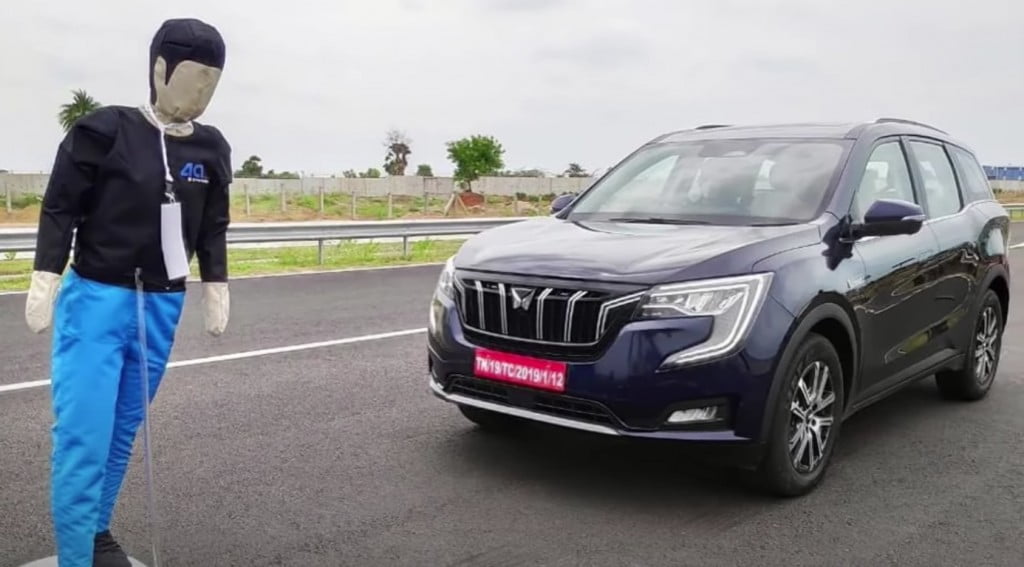 Specs
The powertrain options include a 2.0-litre direct-injection turbo petrol engine making class-leading 200 PS and 360 Nm and a 2.2-litre diesel engine making 155 PS and 380 Nm in a lower state of tune and 185 PS and 420 – 450 Nm in full-fledged form. There are options of a 6-speed manual or automatic gearbox. The AWD option will be offered subsequently along with some more features. The prices of the 5-seat version have been announced and range between Rs 11.99 lakh and Rs 14.99 lakh, ex-showroom.
Also read: 1st Real-Life Video of Red Mahindra XUV700 – Compared with XUV500
Join our official telegram channel for free latest updates and follow us on Google News here.