In a classic Indian mix-up, a Bengal man's surname was misspelled from 'Dutta' to 'Kutta'. When ignored, he had to bark at the babu in Mahindra Scorpio.
Indian systems are known for spelling errors. In yet another case of a mix-up, a man in West Bengal had to suffer the brunt. Mr. Srikanti Dutta was shocked to see that his name was spelled as "Srikanti Kutta" on his ration card. He tried to get it corrected several times through official channels. However, when his requests were unanswered, he was left with no choice except to embrace the given name. As a protest, Mr. Dutta started barking at a babu. This video has now gone viral on social media and brought attention to the case.
You May Also Like: Tata Tiago Hit by Cement Mixer Truck Chases it Down
You May Also Like: Future Bajaj Pulsar Bikes To Get Single Spark Plug Setup?
As you can see in the above video, this incident happened in West Bengal's Bankura. After authorities ignored Mr. Srikanti Dutta's multiple requests to the name on his ration card, he resorted to protest. He ended up yelping like a dog at the Block District Officer (BDO). Eventually, he was barking at the babu and his car. On the other hand, the BDO kept ignoring Mr. Dutta and left his Mahindra Scorpio. Mr. Srikanti's family believes that the persons in charge of making these documents should have been careful. And at leats, they should now correct their mistakes.
"I applied for a correction of the name on the ration card thrice. On the third time, my name was written as Srikanti Kutta instead of Srikanti Dutta. I was mentally disturbed by this. Yesterday, I went to apply for correction again & on seeing Joint BDO there, I started acting like a dog in front of him. He didn't respond to my query & ran away. How many times will common people like us leave work & go to apply for corrections?" said Srikanti Dutta. "It is a huge defamation. The ones who make these lists are illiterates? Can anyone's name be 'Kutta?' My son has a store, and people know him. What kind of treatment is this ?" his mother added.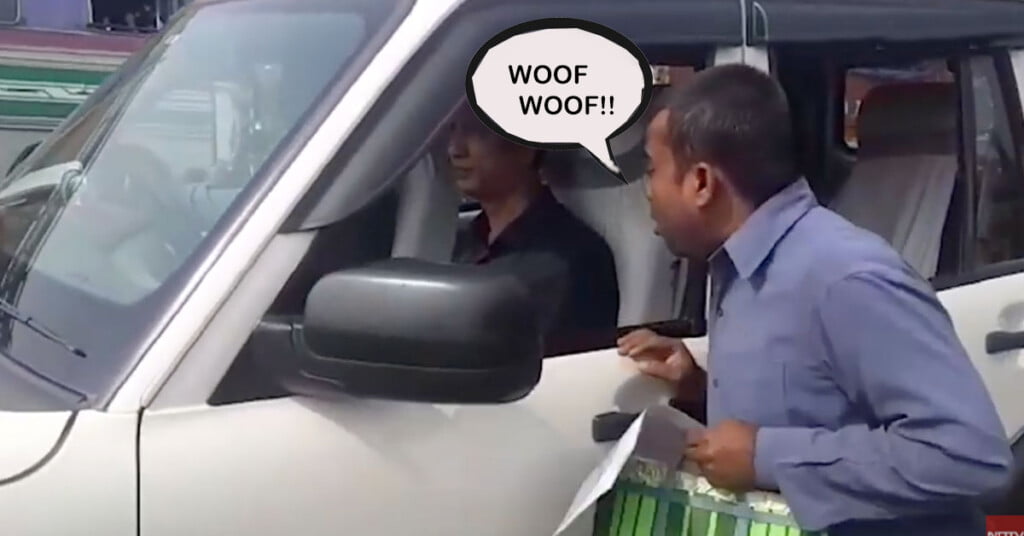 You May Also Like: Cars of Anupam Mittal of Shark Tank Fame- Lamborghini Huracan & More
For better or worse, the video of Dutta literally barking at the office has now gone viral. We hope the issue is resolved and officials are more careful about such mix-ups as they can have a significant effect on people's lives. Additionally, it is quite unfortunate that the system officials did not show any compassion for Mr. Srikanti and his problems. It would be great if the Indian government looks into this issue and makes sure such incidents don't happen in modern India. We have our fingers crossed, tell us what you think of this whole incident.
Join our official telegram channel for free latest updates and follow us on Google News here.