We often come across bizarre incidents where people take their vehicles to places they are not supposed to and end up facing terrible consequences.
In this video, a Jeep Compass owner takes his SUV to a beach and gets stuck there. Compass is a premium mid-size SUV with off-roading credentials. People often take it on adventurous excursions in the mountains or dirt tracks because it has the necessary equipment to conquer such roads or lack thereof. However, public beaches are not the ideal location for any vehicle to drive on because of various reasons. But people seldom pay heed to the rules.
You may also like: Jeep Compass Owner Recounts Terrifying Service Experience
You may also like: Baby Jeep Compass Looks Like a Perfect Tata Nexon Rival
Jeep Compass Gets Stuck on Beach
The video clip has been shared by Prateek Singh on his YouTube channel. He regularly posts such content in order to raise awareness among Indian car owners regarding the importance of following safety rules. It is often not allowed for vehicles to be driven on the beaches. This is because people are relaxing there and it is not meant for vehicles. Nevertheless, we have some idiots who don't bother following rules and regulations. One such Compass owner is seen driving on a beach in this video.
You may also like: Jeep Compass Owner Asks All to NOT Buy The Unreliable SUV
He drives for a long distance before the video clip shows him getting stuck at one point. It is dangerously close to the water. Being complacent can often prove to be lethal as one should never trust the water. In a matter of seconds, the ocean can wash away the car. Thankfully, that didn't happen in this case. But the SUV is seen stuck in one corner. People try to pull it out but the SUV refused to move owing to a lack of traction.
You may also like: Jeep Compass Limited 4×4 Tames Tricky Snow Terrain Like a PRO
Finally, a JCB is called into action to pull the Compass out. They tie a rope to pull the SUV, but the rope breaks instantly. As per the information in the video, they were somehow able to rescue the stranded SUV from the beach with a lot of struggle. We could only urge our readers to not attempt any careless stunt like this and respect and follow the traffic regulations. There is a reason why vehicles are not allowed on beaches. Let us not compromise the safety of others. Stay safe and follow traffic rules.
You may also like: Jeep Compass (NCAP- NA) Falls 20 ft Below Road, Keeps All Safe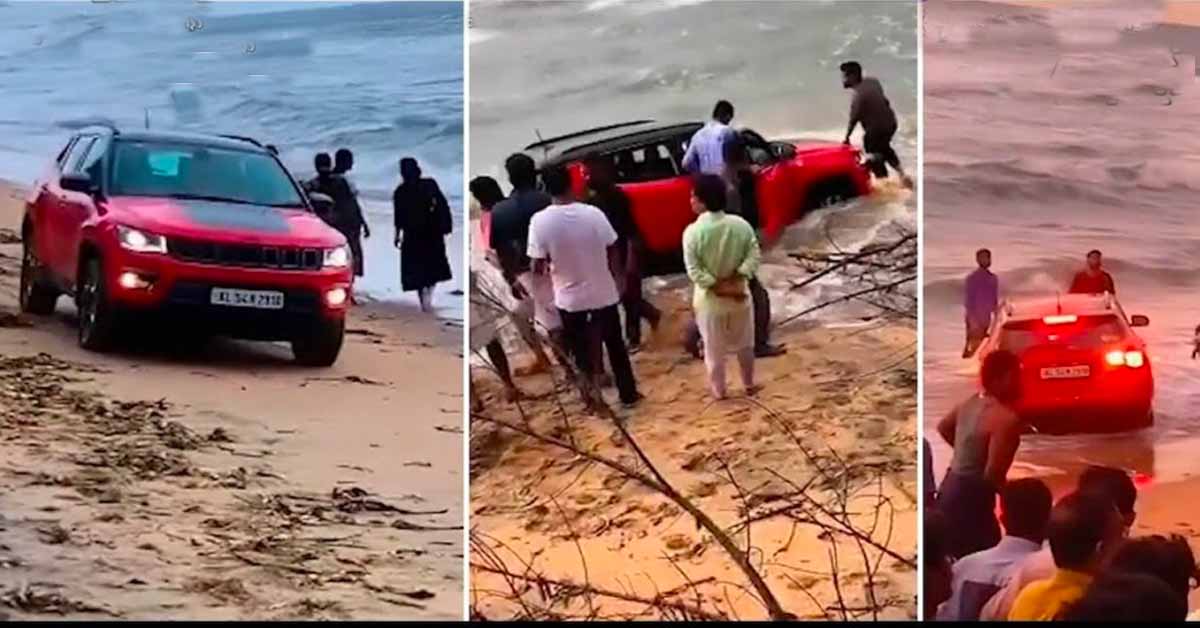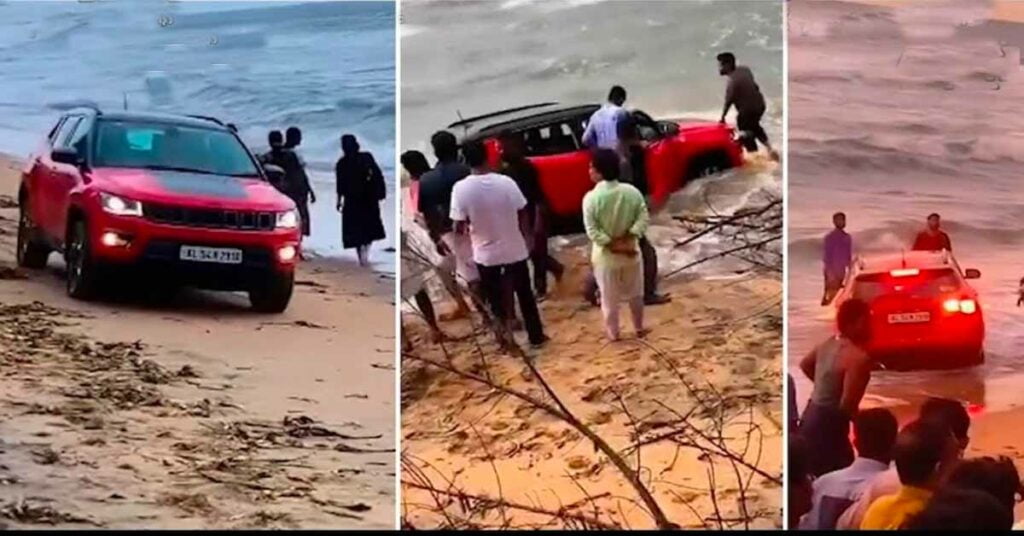 Disclaimer- The embedded videos/ external content is/are being used as a convenience and for informational purposes only; they do not constitute an endorsement or approval by Car Blog India of any of the products, services, and /or opinions of the corporation or organization or individual. Car Blog India bears no responsibility for the accuracy, legality, and/or content of the external site or for that of subsequent external videos/ external content. Contact the external publisher for answers to questions regarding its content.