The internet is full of bizarre and unbelievable stories and this latest incident certainly qualifies as both.
In the latest viral story that has taken the internet by storm, a man is seen riding a bicycle with 9 children! No, it is not hear-say. There is video footage of the man riding quite comfortably with 9 children on a bicycle. We have encountered bizarre and unbelievable incidents on roads in the past. Packing an insane number of people in an automobile is not that uncommon in the rural parts of the country. It is almost a necessity due to the lack of means available to the public. This also looks like one such case.
You may also like: Kid Driving Mahindra Scorpio Does Wheelspins – Viral Video
आज दुनिया की आबादी 8 अरब हो गई, इस उपलब्धि को हासिल करने में ऐसे इंसानों को बहुत बड़ा योगदान रहा है👇 pic.twitter.com/Fiq62o0OiK

— Jaiky Yadav (@JaikyYadav16) November 15, 2022
You may also like: Traffic Policeman Challans Another Cop for Half Helmet, Video Goes Viral
9 Children Riding Bicycle
This video clip has been shared by a certain Jaiky Yadav on Twitter. The details like the location of this event are yet to be ascertained. Nonetheless, the visuals speak for themselves. There are two kids sitting on the front tyre of the bicycle facing the rider. One kid is sitting on the rod behind the handlebar. Two kids are wrapped around the arms of the rider. One child is standing behind the rider, while three children, one of whom is barely visible, are sitting at the rear behind the rider.
You may also like: Pillion Shows Off Bike Stunts on Bajaj Pulsar, Falls! – Video Goes Viral
One has to look closely to count the exact number of children riding the bicycle. The cameraman is able to make a video from a few angles. The rider doesn't seem to be having any issues with the way things are going. The group is comfortably riding on what looks like a dirt track. This indicates that this might be from a rural area where such practices are rather common.
You may also like: Royal Enfield Bullet Silencer vs Wine Glasses – Yet Another Weird Experiment!
We would advise our readers to not attempt such stunts under normal circumstances. But since we don't have too many details about this, we would refrain from passing out judgement. Also, the needs and methods of doing things in rural environments are different from urban areas. We can only hope that these kids don't get hurt. What are your thoughts on this?
You may also like: Weirdest and Wackiest Maruti Brezza on the Face of Earth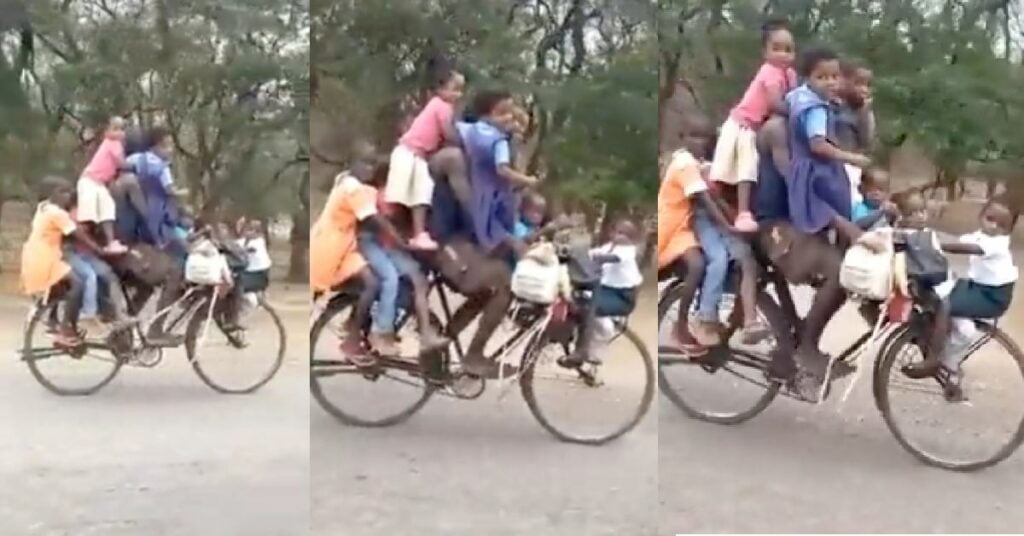 Disclaimer- The embedded videos/ external content is/are being used as a convenience and for informational purposes only; they do not constitute an endorsement or approval by Car Blog India of any of the products, services, and /or opinions of the corporation or organization or individual. Car Blog India bears no responsibility for the accuracy, legality, and/or content of the external site or for that of subsequent external videos/ external content. Contact the external publisher for answers to questions regarding its content.
Join our official telegram channel for free latest updates and follow us on Google News here.