YouTubers constantly put out content that is aimed at entertaining people all the time and this is yet another example of it.
In this video, we have a Royal Enfield Bullet vs Wine Glass event that is meant for entertainment purposes. Bullet is arguably the most popular bike for people looking for a retro-themed tourer motorcycle. Its iconic exhaust note is something that everyone in our country must be familiar with. You would know that a Bullet is approaching from a mile away. However, some people go one step further by installing crackles to the exhaust tip for enhanced sound effects.
You may also like: Varun Dhawan and Kriti Sanon Seen on a Royal Enfield Bullet
You may also like: Old Man Kick Starting His Diesel Bullet Wins Hearts of Netizens
Royal Enfield Bullet vs Wine Glass
This video has been created by Mr Indian Hacker who has just under 29 million subscribers on YouTube. He is one of the biggest YouTubers in the country and keeps posting experimental videos mostly involving cars and bikes. In this video, he decides to test the force of the exhaust on a wine glass. Now, we know that modified exhausts can have quite a powerful impact, especially with the crackles. But how harmful can they actually be? That is the aim of this video.
You may also like: Royal Enfield Bullet 350 Catches Fire While in Use!
The YouTuber starts the Bullet and gives it full throttle. A wine glass is stuck on two bricks to make it come to the height of the exhaust pipe. It is secured in place using thick tape. As soon as the YouTuber presses the button for the crackles, the pop from the exhaust pipe shatters the glass within milliseconds. All that is left is the broken half-glass. They did the experiment one more time, and the glass was almost completely damaged.
You may also like: Viral Video Shows Bride Riding Royal Enfield Bullet to Her Wedding Venue
Finally, we would like to reiterate that such stunts must not be imitated as they can cause serious safety hazards. You must understand that the YouTubers take a lot of care about that aspect behind the scenes. We, as the audience don't get to see that and trying to do such experiments without ensuring safety could have disastrous consequences. What are your thoughts about this experiment?
You may also like: Royal Enfield Bullet 350 vs Ola Electric S1 Pro Drag Race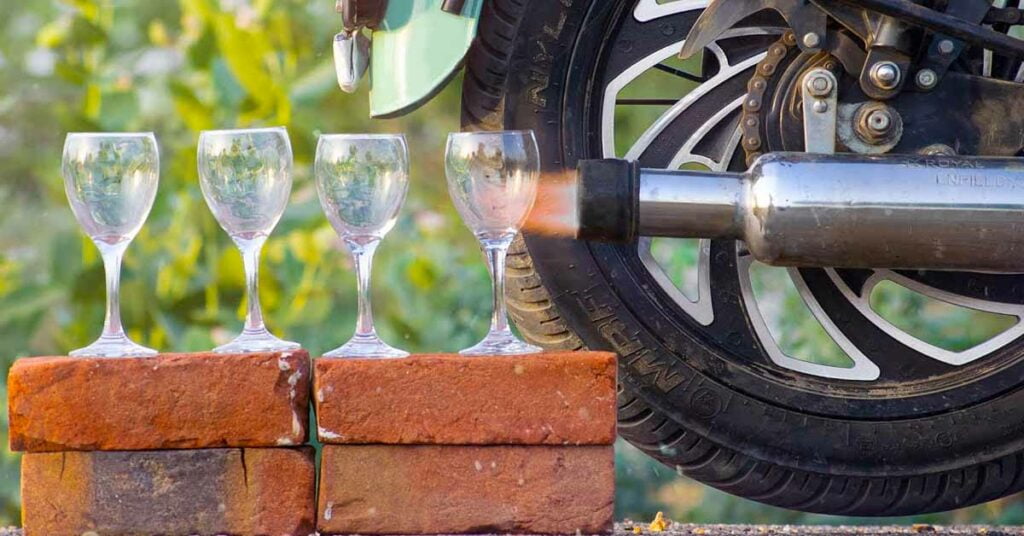 Disclaimer- The embedded videos/ external content is/are being used as a convenience and for informational purposes only; they do not constitute an endorsement or approval by Car Blog India of any of the products, services, and /or opinions of the corporation or organization or individual. Car Blog India bears no responsibility for the accuracy, legality, and/or content of the external site or for that of subsequent external videos/ external content. Contact the external publisher for answers to questions regarding its content.
Join our official telegram channel for free latest updates and follow us on Google News here.