A new Royal Enfield video is going viral on the internet. It shows an old man starting a Diesel Bullet motorcycle.
When it comes to two-wheelers, Royal Enfield is one of the oldest manufacturers. It has been very popular in India for decades now and continues to work on multiple new bikes soon. So far, the brand has launched many varieties of models. However, certain bikes stand out due to their complicated histories. For example, Royal Enfield launched a Bullet motorcycle with a Diesel engine along with the regular model. While this version was discontinued in 2000, some units can still be seen on Indian roads. Now, it is part of a new viral video.
You May Also Like: TVS Ronin First Ride Review – Better Than Royal Enfield?
You May Also Like: Impatient Royal Enfield Rider Cuts Through Traffic, Gets Stuck Between Truck and Autorickshaw
As you can see in the video above, an old man is starting a Diesel Bullet motorcycle. This video was shared by royalenfieldholic on their Instagram page. The simple video is currently going viral on the internet. In the short clip, an old man is seen pushing a 1992 model Diesel Bullet on the road. Then, he sits on the motorcycle and attempts to kickstart it. After a couple of tries, he is successful and you can hear the iconic diesel engine sound of the motorcycle. A young passenger joins him and they ride away.
While the modern Royal Enfield motorcycles come with an electric start option, old models did not have this option. The same is true for the 1992 model Diesel Bullet. Additionally, some of these bikes were notorious for kickbacks. You can also see this in the above video. As the old man starts pressing the kickstarter with his leg, the kicker does come back in force at one point. Then, he checks the choke and starts the motorcycle. The old bike is clearly not in mint condition. The original sticker work has been completely stripped down. It seems like the bike has been repainted in black.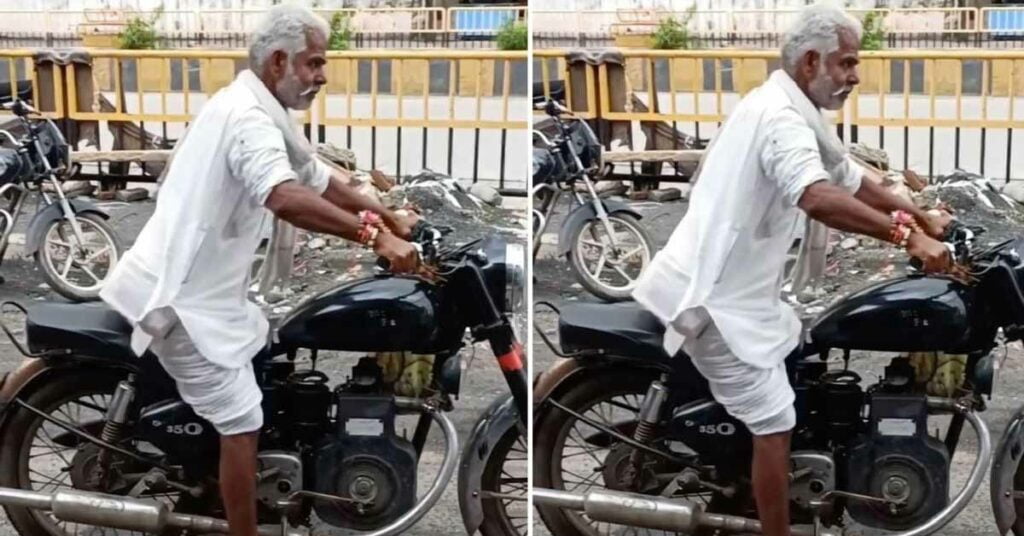 You May Also Like: Check Out the Modified Royal Enfield Machismo of Suniel Shetty
Diesel Taurus
The Diesel version of the Bullet was known as Diesel Taurus. It was the only mass-produced diesel motorcycle in the Indian market. This is quite strange since the Diesel Taurus was also the most fuel-efficient motorcycle from Royal Enfield. It was very popular among buyers from rural areas, thanks to high fuel efficiency and low running costs. Unlike other motorcycles and scooters of the time, it did not eat up a lot of fuel. The Diesel Taurus has claimed a fuel economy of 86 kmpl.
The Diesel Taurus is powered by a 325-cc Greaves-Lombardini indirect injection, single-cylinder diesel engine that produces 6.5 Bhp of power and 15 Nm of peak torque. It offered a top speed of 65 kmph. Just like other Royal Enfield motorcycles, the Taurus was also a heavy motorcycle. It weighed around 196 kilograms. Interestingly, the popular model was produced by a tractor manufacturer from Punjab even after Royal Enfield discontinued it from the market. Sooraj Tractors offered the Taurus with minor cosmetic changes.
The Diesel Taurus was meant for fuel efficiency and it stood out among its contemporaries. While modern Royal Enfield motorcycles have come a long way, they are still not as fuel efficient as the Diesel Taurus. Over the years, Royal Enfield has launched a variety of models. Recently, the company launched the Royal Enfield Hunter in the market. Currently, bike enthusiasts are eagerly awaiting new models like the Himalayan 450, Shotgun 650, and Super Meteor. Additionally, the next-generation Royal Enfield Bullet 350 is in the works
Join our official telegram channel for free latest updates and follow us on Google News here.