People on Indian roads are often in a hurry to reach somewhere which makes them more susceptible to being involved in undesirable incidents.
Here is a rather funny video clip of a Royal Enfield rider getting stuck between a truck and an auto on a busy road. Indian drivers are infamous for flouting traffic regulations. We have thousands of road accidents each year most of which are caused by negligence and not following the rules. This latest incident proves just that. Here are the details of this case where the life of the biker is miraculously saved.
You may also like: Little Kid Driving The Huge MG Gloster on Public Road is as Stupid as it's Scary
You may also like: Road-Roller vs Honda Activa Strength Test is All Kinds of Stupidity
Royal Enfield Stuck Between Truck and Auto
The video from the Youtube channel of one Prateek Singh. He keeps posting such videos in order to raise awareness among Indian automobile users regarding the importance of road safety and driving responsibly. As per the information in this video, the incident has been reported from Pune, Maharashtra. The entire episode has been caught on tape. A Royal Enfield rider without a helmet is seen trying to get in between a truck and an auto-rickshaw. Everyone is stuck at the traffic lights. But this guy wanted to squeeze through in a hurry.
You may also like: Stupid Biker Highlights Perils of Street Racing
However, as soon as he reaches next to the truck, the truck started to move. Resultantly, the handle of the Royal Enfield ended up getting stuck on the side of the truck as the biker was too close. The auto was on the other side of the bike. Thankfully, the truck driver applied brakes quickly. The bike is seen getting stuck in between the two vehicles. Nobody tried to move as it could cause injury to the biker.
You may also like: Driving Maruti Swift Thru Knee-Deep Water is More Stupid Than Brave
Always Follow Traffic Rules
We would like to draw the attention of our readers to such incidents which show how dangerous the situation on the road could get if you try to be in a hurry despite witnessing the heavy traffic around you. Such careless acts have led to grave injuries to people in road accidents in the past. Therefore, we can only caution everyone to follow traffic rules. It's important to be responsible road users. That's the only way to make travelling safer for yourself and for others.
You may also like: Girl Dancing on Royal Enfield is More Stupid Than Skilful – Here's Why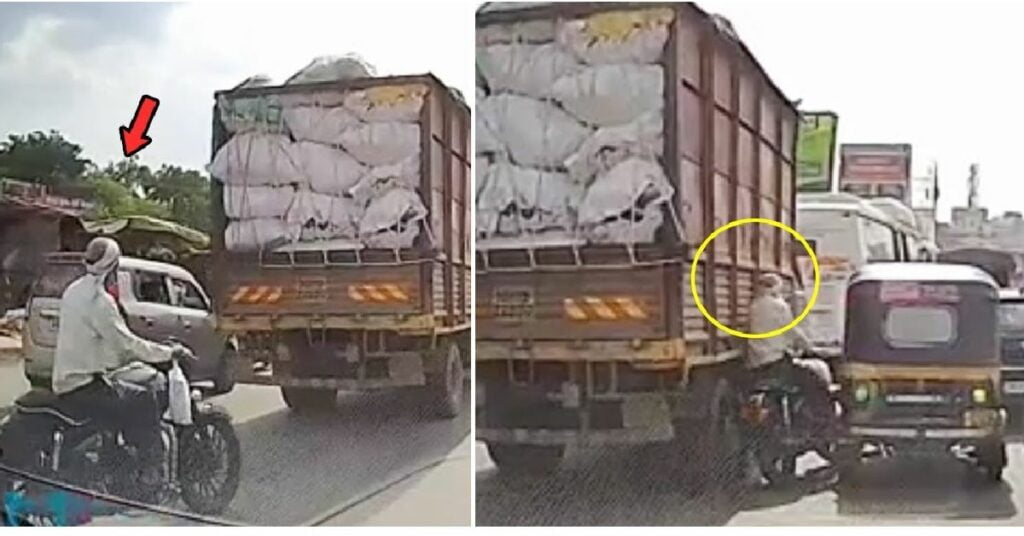 Disclaimer- The embedded videos/ external content is/are being used as a convenience and for informational purposes only; they do not constitute an endorsement or approval by Car Blog India of any of the products, services, and /or opinions of the corporation or organization or individual. Car Blog India bears no responsibility for the accuracy, legality, and/or content of the external site or for that of subsequent external videos/ external content. Contact the external publisher for answers to questions regarding its content.
Join our official telegram channel for free latest updates and follow us on Google News here.