It's not uncommon to see the fairer sex performing some mind-blowing stunts on motorcycles but this one on a Royal Enfield is cringeworthy
It is fairly common to see many young motorcyclists performing stunts on their machines. What's even better is that motorcycle stunting has come a long way in the last few years and now, we have many female stunters leaving us spellbound with their physics-bending and gravity-defying acts. However, a video that went viral recently is less about stunting and more about sheer stupidity of a young lady riding a Royal Enfield.
You may also like: Lady Driving Jeep Compass Acts Smart, Epic Fail Ensues
You may also like: Malaika Arora Meets With Accident in Her Range Rover
Young Lady Stunting on Royal Enfield
The motorcycle in question here bears UP14 plates, which means the video might have been shot around Ghaziabad. Regardless of the location, what this small clip shows is something that will make you question the sanity of many content creators. The video shows a helmetless rider of the motorcycle can be seen riding the motorcycle with her feet resting on the crash boffins. She can be also seen taking her hands off the handlebar and performing dance moves as the motorcycle continues to move at a decent speed.
There are many laws being broken here. First of all, the motorcyclist is riding sans a helmet,which is, of course, not just a breach of law but even potentially dangerous for the rider. Moreover, she can be seen riding the Royal Enfield without keeping her hands on the handlebar and even her feet on the foot pegs, which is something that is, once again, not just unlawful but even very risky for the rider. What's even worse is that the rider can be seen carrying a weapon. We're not sure if it's a real deal or simply a replica but it's still something that is a bit too much, right?
You may also like: New Cars of Indian Cricketers- Raina's Thar to Shaw's BMW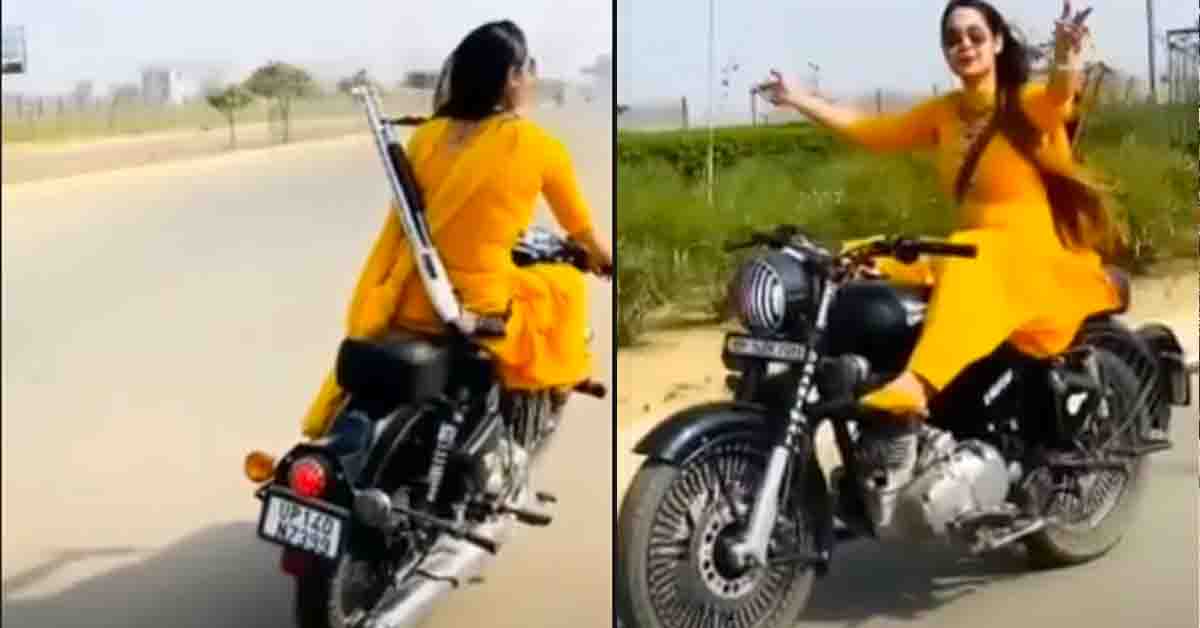 You may also like: Mahindra Thar Mowing Down Pedestrian Shows What's Wrong with Our Drivers
While we absolutely agree that it requires a lot of skill to ride a heavy motorcycle like the Royal Enfield seen here without keeping hands on the handlebar, such stunts shouldn't be performed on public roads. Also, the rider should always wear at least basic safety gear like a crash helmet while riding a motorcycle. We definitely appreciate the great control this young lady has over the motorcycle but safety should be of paramount importance as she's not just putting herself at risk but also other posing a danger for other road users. Such stunts are simply stupid and a blatant disregard for law.
Join us for FREE NEWS Updates on our Whatsapp Community or our official telegram channel.