Manju Warrier has got a brand new 260 Kg BMW Superbike. However, the popular actress got a 2-wheeler license just 1 month ago.
Manju Warrier is a popular Malayalam actress. She is known for films like Thooval Kottaram, Sallapam, Ee Puzhayum Kadannu, and Aaraam Thampuran. Recently, the veteran actress was in news for getting a brand new BMW R1250 GS motorcycle. The 260 Kg adventure tourer motorcycle is an impressive vehicle to own. While Manju Warrier is said to have a love for bikes, the actress did not have a 2-wheeler driving licence until a month ago.
You May Also Like: Driving License Test To be Made Easier As Too Many Are Failing
Manju Warrier Buys BMW R1250
As per recent reports, Manju Warrier got a two-wheeler license last month. She obtained her two-wheeler license from Ernakulam's Kakkanad RTO after effortlessly clearing the '8' track test. The BMW R1250 GS is a powerful and heavy motorbike. However, she gave the test a Bajaj M80 geared scooter. Unlike many countries, India does not have a category for different types of motorcycles. So anyone who can pass a test on a bike/ scooter with as less as 5 Bhp power can legally ride powerful machines as well.
In many countries, two-wheelers are divided into different categories of licenses. It depends on the power and capacity of the engine. To ride a powerful bike, you need a license in that category. However, this is not the case for two-wheelers in India. There are only two categories – geared and Without gear. With the popularity of powerful sports bikes and their easy availability, there need to be appropriate categories. Currently, only four-wheelers have categories like LMV, Commercial, LCV, and heavy vehicle licenses.
You May Also Like: Vintage EVs On Sale for Rs 3 Lakh, Can Be Driven Without Licence
Growing Bike Culture
It is to be noted that Manju Warrier has been spotted riding the BMW R1250 GS motorcycle without any issues. Apparently, she fell in love with the bike when she went out on a road trip with Tamil actor Ajith Kumar. The engine response from the adventure tourer motorcycle like BMW R1250 GS is very different from a small-capacity motorcycle. Even if you are well-accustomed to a regular 100cc bike, you might not be able to handle a 1250cc motorcycle like the BMW R1250 GS. We advise you to be careful while trying such a bike.
You May Also Like: Mika Singh Gifts His Childhood Friend Mercedes GLE 250D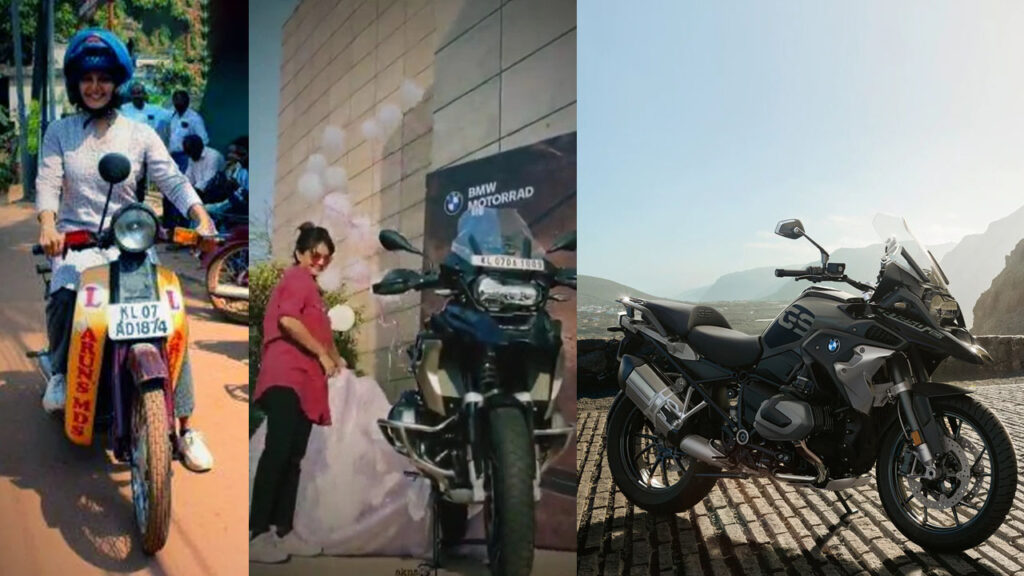 You May Also Like: Indian Tells How to Get Driving License in 1st Attempt in USA
India has been one of the largest markets for two-wheelers in the world. However, it has just started moving beyond the budget segments. With the growing biker culture and adventure clubs, there is a huge demand for powerful sports bikes. Many international brands are now easily available in the Indian market. Unfortunately, most bike enthusiasts are not trained to ride these high-end performance bikes. It is high time the system for two-wheeler licenses is updated in India. Just to make sure that a person is capable of riding and handling the motorcycle.