Aftermarket wrap-jobs are taking over the market and this unique colour of a Baleno is the reason why.
This Maruti Baleno pearlescent wrap will make you want to get one for your car. Aftermarket car modification houses have designed hundreds of shades to wrap your car. These shades are so unique that they will be able to make any car stand apart in the crowd. Maruti Baleno is the highest-selling premium hatchback in the country. But customizations like these could enhance the appeal of the Baleno even more.
You may also like: Maruti Baleno Owner Installs Samsung LCD TV in His Car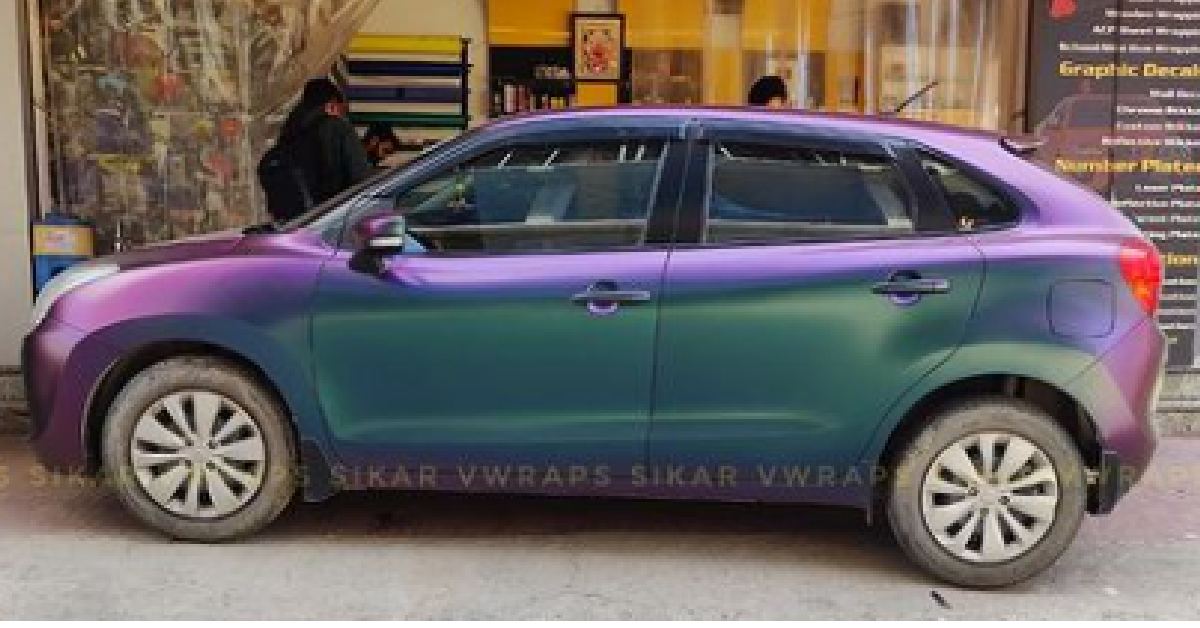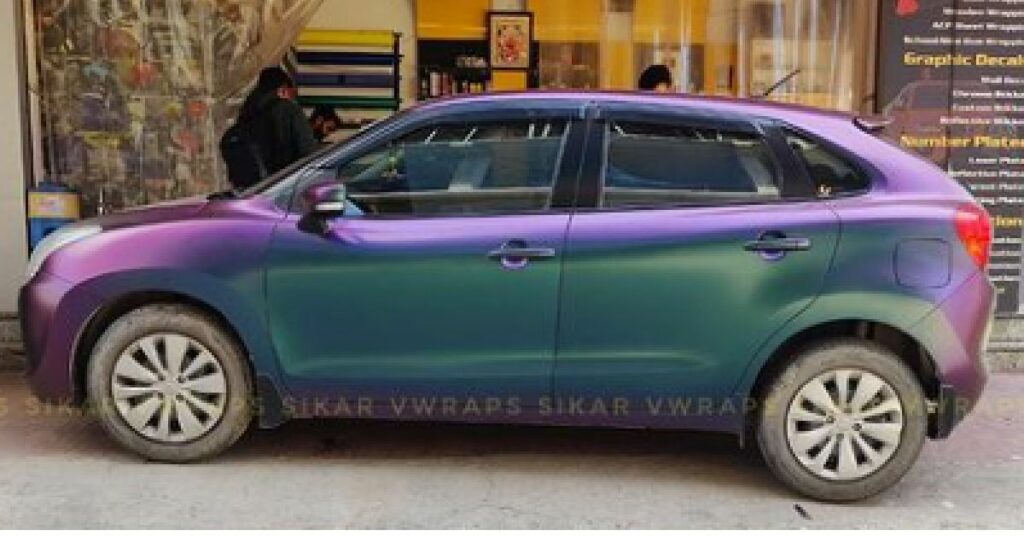 You may also like: 2023 Maruti Baleno Cross Spied Again, Auto Expo 2023 Debut?
Maruti Baleno with Pearlescent Wrap
This image has been shared by vwrapssikar on Instagram. There are no other modifications on this car but looking at it, it seems like it doesn't need any. The entire exterior exudes a unique vibe. The body gives the impression of being a bit violet/purple on the top and green at the bottom. Resultantly, the bonnet, front fender, the roof, the rear bumper and the upper door panels look violet, while the door panels themselves ooze a share of green. This is unlike anything you might have seen.
You may also like: Famous Vlogger Feels New Maruti Baleno is Worth 10 Star Score
Specs
The 2022 Maruti Suzuki Baleno is powered by a 1.2-litre, 4-cylinder K-Series petrol engine with mild-hybrid technology. This engine can churn out 88 hp and 113 Nm of peak power and torque. As standard, Maruti is offering the Baleno with a 5-speed manual transmission. However, a 5-speed automated manual transmission is available in select variants. The fuel tank is a decent 37 litres and the ARAI mileage stands at an impressive 22.94 km/l. The prices of the Baleno range from Rs 6.49 lakh to Rs 9.71 lakh, ex-showroom.
You may also like: New Maruti Baleno Vs Toyota Glanza 2022 Comparison
Finally, we would like to caution our readers that while these wraps look cool and attractive, you must know that not all of them are legal in India. That is why you must first approach the local RTO before making the decision to perform a wrap-job on your car. Also, if it is allowed, it must be mentioned in your RC. Generally, the wrap of a similar colour as the original paint of the car could be accepted.