A case where a truck hits a Maruti Brezza comes to the surface but, fortunately, everyone was safe. This incident was shared by the owner at Team BHP Forums. Vitara Brezza is one of the safest cars in Maruti's lineup. Maruti is generally now known for making the safest cars in India. The Brezza is the only 4-star safety rated car it offers in the country. This is really a shame considering it is the largest carmaker in the country. It owns over 50% of the Indian automobile market which is quite significant considering India is the world's 5th largest manufacturer. However, this reflects people's obsession with mileage and maintenance costs. India is a price-conscious market. Maruti offers great mileage and has a dense network for aftersales service which is the reason for its popularity.
Also read:Wide Body Maruti Vitara Brezza is the Sportiest B-SUV Ever!
Truck Hits Brezza – Everyone Safe
The video shows the Scorpio ahead of the Brezza slowing down. The driver of the Brezza applies brakes as well. However, the truck behind Brezza could not respond quickly enough. He hits the Brezza from behind with quite some force. The Brezza was carrying 4 adults and a child. As soon as the truck hits the compact SUV, one can hear the shouts of the passengers. This is a scary situation for anyone to be in. The driver claims that he had seen the truck in the IRVM and knew it would collide. That is the reason why he released his brakes so that his vehicle wouldn't oppose the impact otherwise the damages would've been even higher. As a result, his Brezza got slammed in the Scorpio in the front.
Also read: Watch Maruti Vitara Brezza Conquer World's Most Dangerous Road!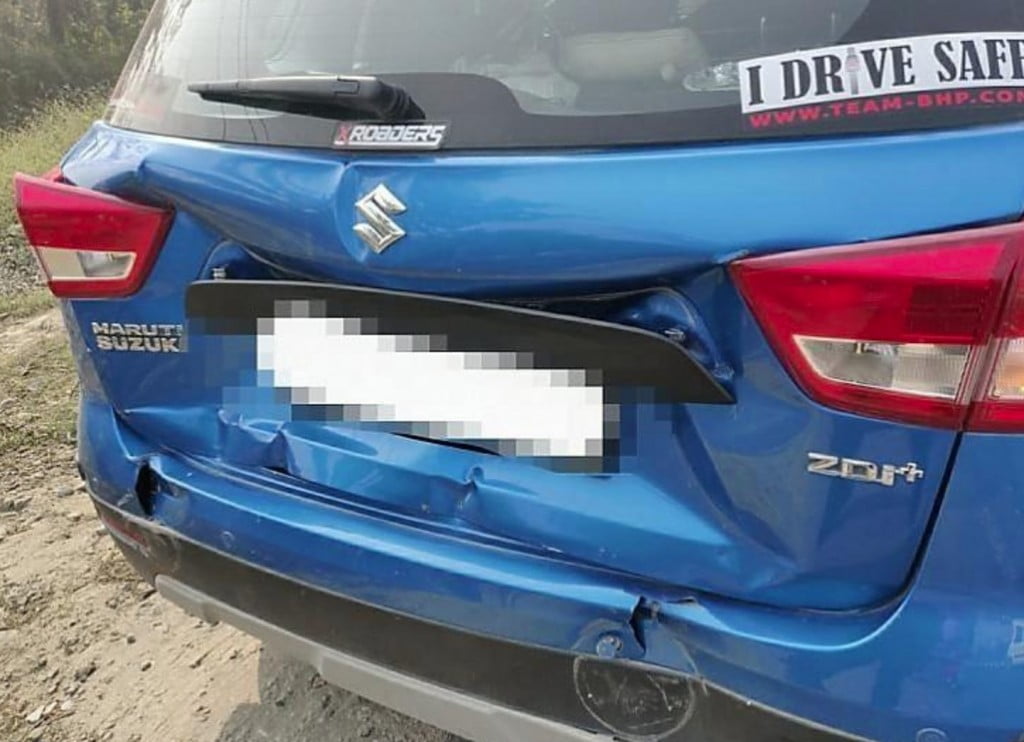 After inspecting the vehicles, it was found that the rear end of the Brezza was quite severely impacted. The boot lid seems to be deformed and the impact also affected the bumper and lower body. However, the glass didn't break which could be the listen why no one sustained any serious injuries. The driver did feel some pain around the seatbelt area for some days after the accident. The driver discusses about being vigilant in such scenarios. Had he not kept an eye on the traffic at the rear, the truck would've caused much more damage to the vehicle and passengers. Hence, always stay alert while driving not only ahead but all around your car. You never know when someone comes from which direction.
Also read: Maruti Vitara Brezza CNG TO Be Least Powerful B-SUV; Specs Leaked