Driving in the snow looks fun but it is the hardest thing for most drivers
Inexperienced drivers should be extremely cautious when driving on snow
Maruti Dzire hanging from parapet finally rescued by Isuzu V-Cross
In this shocking video, a Maruti Dzire is seen hanging on the side of the road while driving in snow. Dzire is a popular compact sedan that found application in commercial space, as well as for private use. The Tour badge on the rear of this particular Dzire informs that this is the commercial variant that might be powered by a CNG powertrain. Nevertheless, we would like to discuss the perils of driving in snow in this post, especially if you have no prior experience.
You may also like: Mahindra Major Rescues Imported Hummer H2 Stuck in Water
You may also like: Overspeeding Maruti WagonR Falls into Sewer, Onlookers Rescue Driver From Drowning
Maruti Dzire Hanging on the Side of Road in Snow
This vlog has been uploaded on YouTube by Mountain Riders. The visuals show a Dzire hanging over the side parapet. These parapets are what act as barriers between roads and cliffs in the mountains. That becomes evident from the video. The cliff below is hundreds of feet deep. There was no chance of survival had the sedan fallen in it. One has to consider this a miraculous escape as the Dzire is hanging just a couple of feet apart from falling.
You may also like: Watch the Humble Swift Hatchback Easily Drive on Snow!
The YouTuber has an Isuzu V-Cross pickup truck. These off-roading machines are quite popular in the mountains. Their off-roading and towing prowess are very impressive indeed. The people around the hanging Dzire decide to tow the sedan to the pickup truck to pull it out of the parapet. On the first attempt, the rope comes undone. The vlogger ties it securely and tightly the second time. Without much effort, the pickup truck is able to pull the sedan back safely.
You may also like: New Maruti Brezza Aces Snow Drive in Ladakh – Why NOT To Do It
Driving in Snow
It looks like a great way to enjoy while driving in the snow, but one must measure the risks associated with it. Most people, especially tourists who are not residents of the mountain take their regular cars to places with snow. However, most cars are not designed to be driven on the snow. Moreover, people have no expertise in it either. That is what leads to situations like these. We would like to advise our readers to always prevent such scenarios. While the thrill looks exciting. it could very well turn fatal in no time.
You may also like: WATCH FWD Tata Harrier Glide On Snow Like a BOSS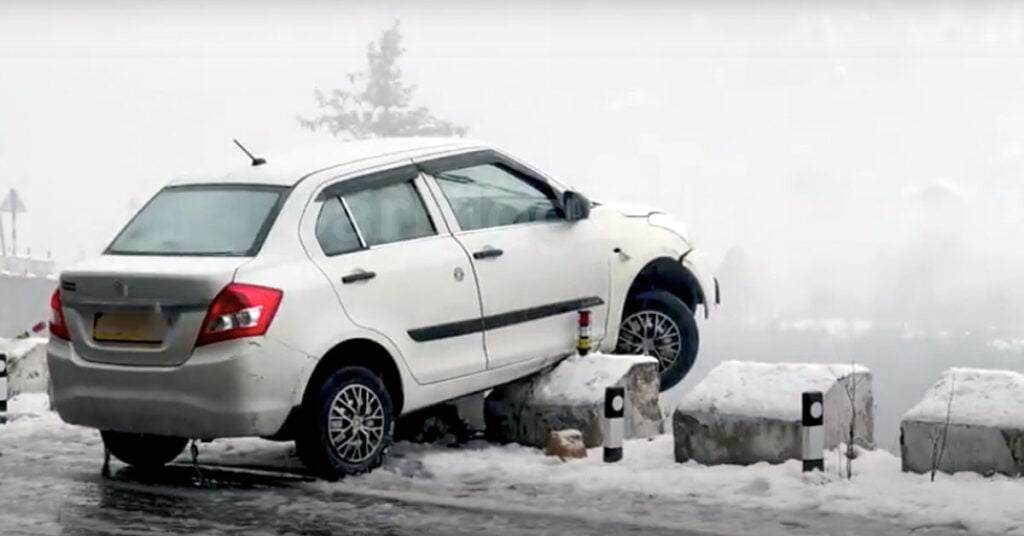 Disclaimer- The embedded videos/ external content is/are being used as a convenience and for informational purposes only; they do not constitute an endorsement or approval by Car Blog India of any of the products, services, and /or opinions of the corporation or organization or individual. Car Blog India bears no responsibility for the accuracy, legality, and/or content of the external site or for that of subsequent external videos/ external content. Contact the external publisher for answers to questions regarding its content.
Join our official telegram channel for free latest updates and follow us on Google News here.