In a major security lapse, a Maruti Dzire of the ground staff of Go First came under an Airbus belonging to Indigo
A pretty serious accident was reported at the Indira Gandhi International Airport, Delhi recently when a Maruti Dzire of the ground staff of Go First airlines came under an IndiGo aircraft parked at the airport. The compact sedan carried crew members and pilots, all of which came out the vehicle scratches. However, the incident caused chaos at the airport. The Airbus A320 Neo aircraft was prepping for a flight when the car collided with its front wheel.
You may also like: Mahindra XUV700 Turns Turtle in High-Speed Accident, Driver Safe
You may also like: First Accident of Mahindra Scorpio N Post Price Release
Fortunately, a major accident was averted as the aircraft was not in motion. Also, even though no one got hurt in this mishap, the incident shook everyone at the airport. It must be noted that the international terminal of the Delhi airport works at full capacity round the clock. The service staff of many airlines work overtime to ensure things run like clockwork. In such a scenario, it's not uncommon for the workers to face fatigue. And this is exactly what could have happened here. It looks like the overworked driver of the Maruti Dzire dozed off behind the wheel, thereby completely missing the parked Airbus and colliding with its front wheel.
Strict Speed Limit Saves the Day
However, the stringent safety norms at the terminal saved the day. The speed limit for vehicles of the ground staff is 15 kmph on the movement area and Baggage Handling Area, and 30 Kmph on the perimeter road. Therefore, the low speed crash didn't result into any damage to the landing gear of the aircraft. Moreover, the low speed ensured that the occupants of the Maruti Dzire stayed safe. Some people were quick to shoot the video of the aftermath of the incident. Also, the DGCA is investigating this incident. So far, preliminary report suggest carelessness of the Dzire's driver to be the reason for this crash.
You may also like: 3 Gruesome Accidents That Show Maruti Should Send New Baleno to G-NCAP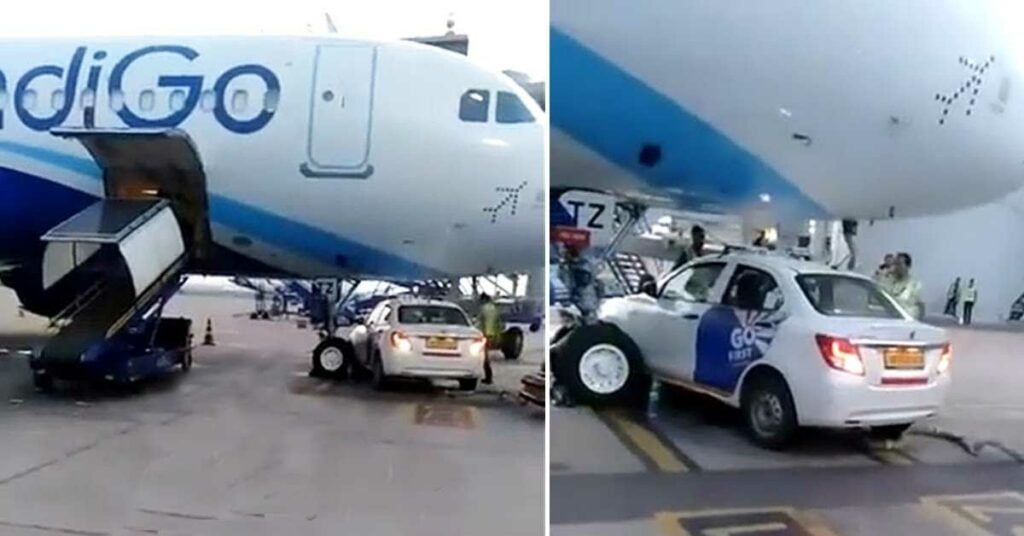 You may also like: Tata Altroz Bent From Middle in Latest Accident- SHOCKING
That said, we're happy that no one got hurt in this rather bizarre incident. As aforementioned, the international terminal at the Delhi airport has been working in full capacity and is, in fact, facing shortage of manpower and space. In such a scenario, it's not surprising for the overworked staff to err. We're hopeful that the authorities would take appropriate actions to avoid more such goof ups.
Join our official telegram channel for free latest updates and follow us on Google News here.