Maruti e-SURVIVOR is an AWD electric mobility solution of the future. Could provide design cues for future models like the all new Gypsy
At the ongoing Auto Expo 2018, Indian carmaker, Maruti Suzuki India Ltd has unveiled the e-SURVIVOR at the Auto Expo 2018. The new design study features an all-wheel-drive, all-electric SUV that showcases the company's all-wheel-drive heritage. That combined with the future of mobility, Maruti Suzuki aims to showcase what the e-SURVIVOR or the future of all-wheel-drive electric mobility would be all about. Slated to be introduced by 2020, the e-SURVIVOR is expected to one of the company's first introductions. Although, from concept to production, there would be changes that can be witnessed to make it a more practical offering in the SUV segment of the future. The Maruti e-Survivor will likely provide design cues for future models like the all new Gypsy.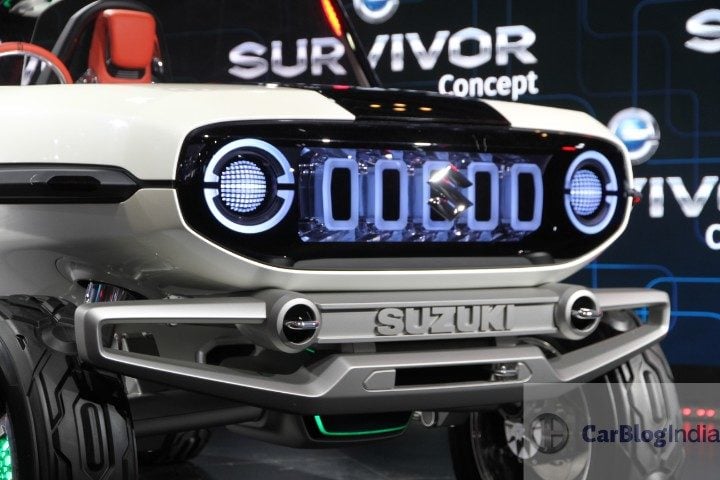 Also See – Upcoming Maruti Cars in India | Maruti at Auto Expo 2018
So, basically, some of the features that are present in the Maruti e-SURVIVOR concept will be carried forward to the production models such as the all new Gyspy. These include the all-wheel-drive system which can control power to each wheel independently, off-road capability with small overhangs and minimalistic front as well as rear bumpers. The wheel arches accommodating the large wheels will also aid in the e-SURVIVOR's off-road capability.
The Maruti e-SURVIVOR concept measures 3,460 in length, 1,645 mm in width and 1,655 mm in height. The pure electric powertrain is also expected to bring the maximum possible range using the minimum possible battery consumption, according to Maruti Suzuki. The Li-ion batteries that would be used for the production model of the e-SURVIVOR Concept will be manufactured by the company itself in association with other auto component manufacturers.
Maruti e-Survivor Concept Could Help Shape the

All New

Gypsy – Images
So, what do you think of the new Maruti e-Survivor concept SUV? DO you think it will spawn the all new Gypsy in future? Share your views with us by commenting below. Also, stay tuned to Carbloginida for news updates on the launch of the Toyota luxury MPV inIndia.