While we talk so much about car sales, it becomes critical to discuss the revenues, profits and losses too.
The quarterly financial reports show that Maruti made a profit of Rs 1,013 Cr while Tata Motors sustained a loss of Rs 5,007 Cr. These are critical statistics showing how the companies are doing outside car sales. The mere number of cars sold doesn't represent the full story. Tata Motors is the largest Indian carmaker and has experienced increased sales month after month. But it has not translated into profits. The rise in input costs and supply chain issues have caused that.
You may also like: New-Gen Maruti S-Presso Visualised With Tasty Retro Looks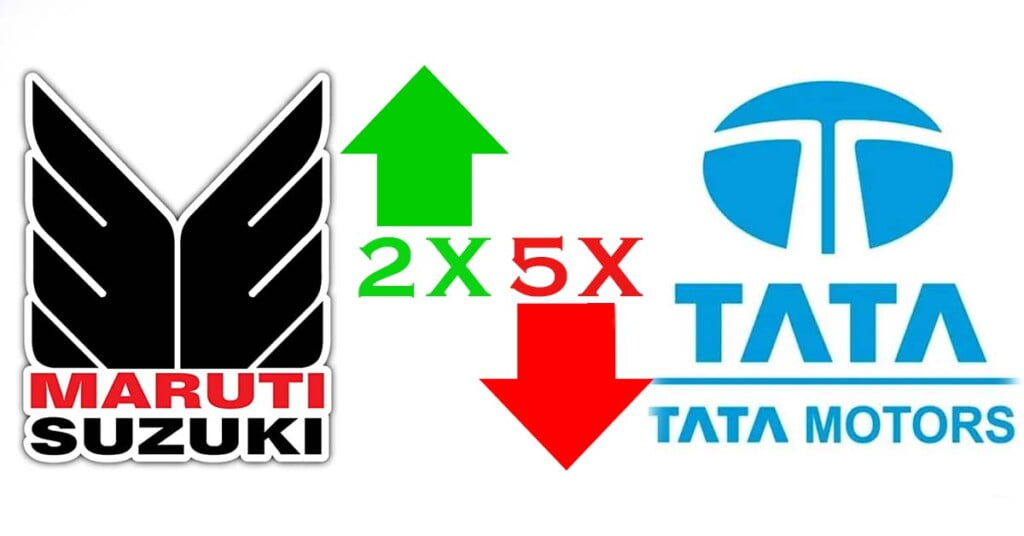 You may also like: 2024 Maruti Swift Leaked Pre-Maturely?
Maruti in Profit & Tata in Loss After Q1 Report
The June Quarter turned out to be a mixed bag for the carmakers. While Maruti Suzuki experienced an increased revenue from Rs 16,798 Cr to Rs 25,286 Cr compared to a year ago, Tata Motors also experience a surge in revenue from Rs 66,406 Cr to Rs 71,934 Cr in the same time period. However, Maruti Suzuki generated a profit of Rs 1,013 Cr compared to Rs 441 Cr in the same quarter last year, whereas Tata Motors incurred a loss of Rs 5,007 Cr compared to Rs 4,451 Cr loss last year. This reflects how well the internal operations in a company are managed by the two auto-giants.
You may also like: WATCH FWD Tata Harrier Glide On Snow Like a BOSS
The Ebit margin for Maruti was 5% for this quarter while it was a healthy 7.4% for Tata Motors. Both carmakers had to increase the selling prices of their vehicles in order to offset the rise in input costs. These include raw materials, logistics, electronics, etc. In fact, the supply chain disruption caused a delay in the manufacturing of 51,000 vehicles for Maruti Suzuki. This has resulted in a backlog of 2,80,000 cars pending to be delivered to the customers for Maruti.
You may also like: Tata Harrier Facelift Looks Snazzier in Latest Illustration
Also, Maruti feels that due to the rise in prices, the entry-level car demand is shrinking which is why it aims to enter the large vehicles segment. The first step in this direction will be the launch of the recently unveiled Toyota Hyryder-based Maruti Grand Vitara. It will compete in the highly lucrative mid-size SUV segment rivaling the likes of the popular Hyundai Creta and Kia Seltos. Let us see how well the customers receive the Grand Vitara as the growth in the SUV segment overall is on the rise.