Maruti Suzuki India Ltd (MSIL) has been the largest-selling carmaker in the country for many years now. No wonder, then, that any development associated with the carmaker is quick to become trending news. More often than now, these news pieces even get viral and reach crores of internet users. So, no wonder when the news of the Maruti Suzuki 40th anniversary celebration offer went on to reach millions of internet users within minutes of its release.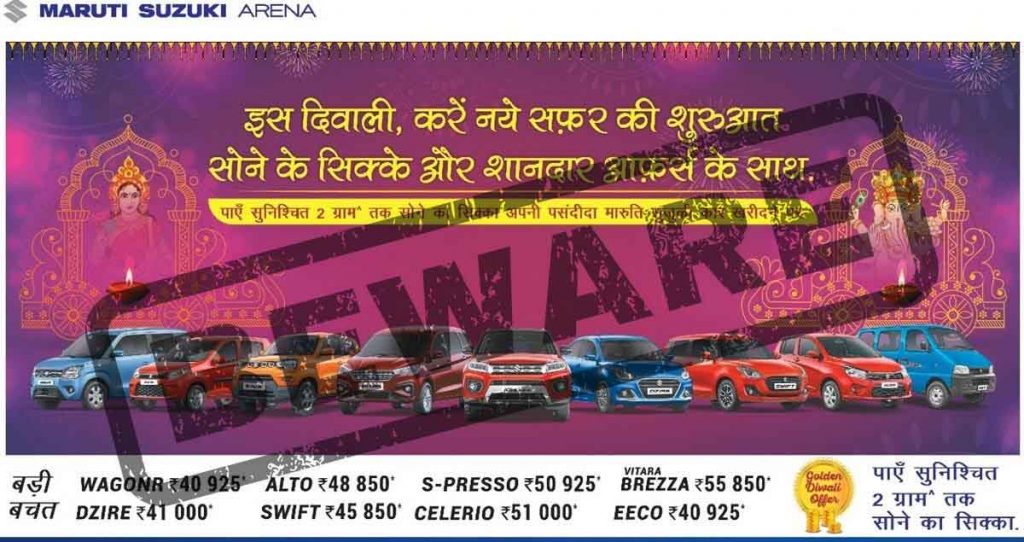 Also Read- Damaged Kia Seltos Delivered Despite Repeated Requests For Fresh Car
Sadly, however, this celebration offer has turned out to be a huge scam aimed at duping unsuspecting internet users. Of later, such 'commemorative offers' have become the weapon of choice for many cybercriminals who are always on the prowl for duping unsuspecting internet users.  Earlier this year, we saw something similar in the name of an 'offer from Tata Motors and this time around, it's Maruti Suzuki whose name is being used for the scam. 
Basically, the fraudsters create a site that looks like an official page from Maruti Suzuki. The internet users click on the link thinking it's an official website from Maruti Suzuki. On visiting the webpage, they are notified of a commemorative offer on the Maruti Suzuki 40th anniversary. Many who choose to continue are then led to phishing page where one is required to enter sensitive data such as Credit Card numbers and CVC codes. 
Also read: Kia Seltos 30,000 km Service – Maintenance Cost!
Of course, every important piece of information that is submitted ends up in the possession of cyber fraudsters who can then either sell these details to some other cyber-criminal or use it to steal your money. These scamsters use promises of expensive gifts such as expensive wristwatches and mobile phones to lure people into submitting the details. However, one must stay careful and not get lured by this Maruti Suzuki 40th anniversary celebration scam.   
Also read: Toyota Fortuner vs Kia Seltos Drag Race – Who Will Come Out On Top?
Stay tuned to CarBlogIndia for the latest from the world of cars and motorcycles!
Join our official telegram channel for free latest updates and follow us on Google News here.