Maruti Suzuki India sold 1,00,415 cars in April 2012 posting an increase of 3.4% over the sales of April 2011 which stood at 97,155 cars. Although this is not a significant hike, but maintaining over 1 Lakh sales mark in April 2012 is itself a big deal in the Indian auto market when the car prices as well as fuel prices are at their all time high. The domestic sales were up by 3.6% to 90,255 units while the export sales were up 1.5% to 10160 units in April 2012 on year-on-year basis. In the same month last year, Maruti Suzuki sold 87144 cars in domestic markets and exported 10011 units from India.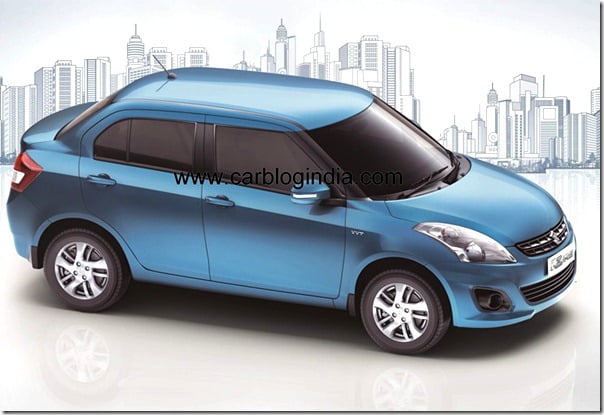 image – 2012 Maruti Swift Dzire
One of the interesting shifts is that Maruti's small car sales are going down while the compact segment is on a rise. The sale of Maruti Swift and Maruti Swift Dzire are main drivers in the sales. The Dzire sold 15,510 units in April 2012 which is a rise of about 32% over the April 2011 sales of 11797 units. The ageing Sedan Maruti SX4 is experiencing a big drop in sales for past few months because of stiff competition from other brands. In April 2012, Maruti SX4 sales dropped about 70% to 634 units compared 2102 units sold in April 2011. The not-so-popular-in-India luxury sedan Maruti Kizashi sold only 3 units in April 2012. We will keep an eye on the latest updates from Maruti Suzuki, you can check the latest updates of Maruti Suzuki India news here.