Authorities keep devising creative ideas to attract people's attention in order to make them aware of the safety regulations on the highways.
In a weird turn of events, a Maruti Swift was hanged on a pole making it serve like a sign board. The authorities or personnel who have performed this act represent a witty, practical and unconventional way of grabbing people's attention. Indian highways are very unpredictable in terms of driving mannerisms or wild animals. Hence, road safety is a huge concern and we, unfortunately, lose thousands of lives every year on our roads. Hence, such a trick could work to direct drivers' attention toward the speed limit and road safety.
You may also like: Maruti Baleno Delta vs Swift VXi – Which is Better VFM?
You may also like: Maruti Suzuki Swift vs Super Glue Challenge is a Funny Watch
Maruti Swift Sign Board
As per the information in the video, this case has been reported from Jabalpur Highway in Madhya Pradesh. The highways in MP are quite renowned for being great but people complain regularly about wild cows crossing or sitting on the roads. This could be understood since MP has large uninhabited areas and jungles through which the highways have been constructed. Therefore, animal crossings on highways are a rather common sight. The sign board on which the partially dismantled Swift rests reads 'Savdhani Hati, Durghatna Ghati' on one side.
You may also like: Next-gen 2023 Suzuki Swift Teased Through Gran Turismo Race Car?
On the other side, it says something that translates to drive slowly and stay safe. Now, one has to agree that people driving on the highway can't miss an entire Swift hanging on a pole and would throw a glance at it. That is how the message will get delivered to them. This could be regarded as a practical but unconventional method of raising awareness regarding the safety regulations in our country. People need such messages to get reminded of what could happen if they overspeed looking at the pity condition of the car.
You may also like: 5 Videos That Prove Maruti Swift Punches Above its Weight!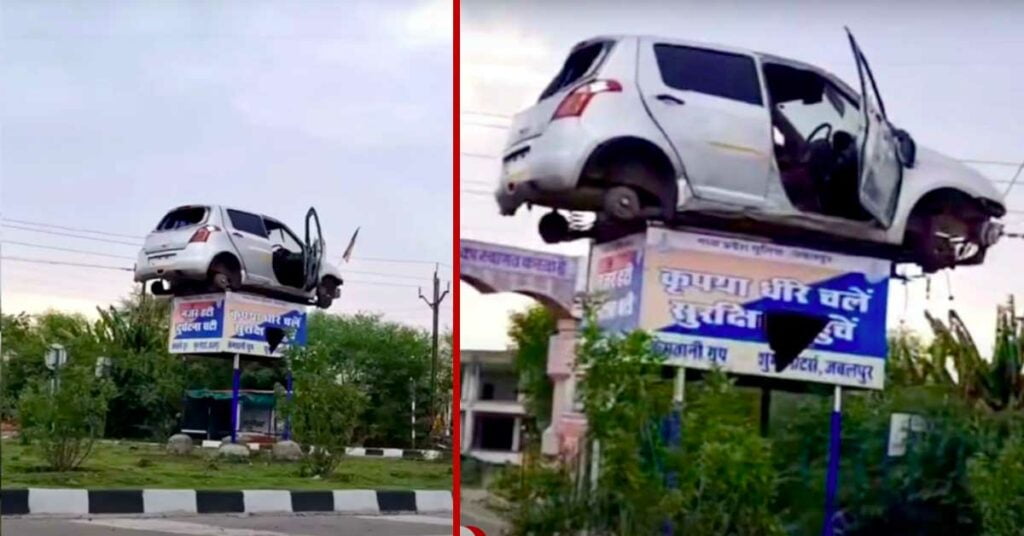 Finally, all of us must collectively make an effort to ensure that every citizen follows the traffic rules in order to make our roads a better and safer place. Following traffic rules and avoiding overspeeding are the two simplest and the most effective ways to prevent a ton of unfortunate incidents on the roads. Let us take this pledge together to enhance road safety in India.
Disclaimer- The embedded videos/ external content is/are being used as a convenience and for informational purposes only; they do not constitute an endorsement or approval by Car Blog India of any of the products, services, and /or opinions of the corporation or organization or individual. Car Blog India bears no responsibility for the accuracy, legality, and/or content of the external site or for that of subsequent external videos/ external content. Contact the external publisher for answers to questions regarding its content.
Join our official telegram channel for free latest updates and follow us on Google News here.