It looks like a Maruti Swift owner wanted to verify 2-star G-NCAP score of his car and hence, purposefully rammed into a pillar
Recently, we told you about people who have taken to some bizarre ways to 'test' the build quality of their vehicles by kicking, punching and pushing the sheetmetal. Today, though, things have got to another level as a Maruti Swift owner can be seen purposefully driving into an electricity pole in what seems to be an attempt to verify the 2-star G-NCAP score of his vehicle. It must be noted here that there has been an increased focus on the G-NCAP ratings of many popular cars have managed to achieve in recent times. So far, vehicles from Tata Motors have made it a point to ace the NCAP tests while small cars from Maruti Suzuki are yet to impress us with a high G-NCAP score. Crash test results from the testing body notwithstanding, people have definitely resorted to totally senseless ways to check the safety quotient of their vehicles.
You may also like: Forget NCAP, These Guys 'Test' Build Quality by Kicking and Pushing Cars
You may also like: Tata Tiago Justifies Its 4-Star GNCAP Score
The video above shows a white-coloured Maruti Swift, complete with body decals and aftermarket alloy wheels, being driven into an electricity pole at a pretty low speed. The video claims that the owner of this car wanted to check the crashworthiness of his vehicle. Certainly, he wasn't too sure about the 2-star NCAP score of his car and wanted to take things in his own hands to check the sturdiness of his vehicle. So, he drives into the metal pole at a pretty low speed and the front-end of the Swift can be seen taking a pretty big hit as its bumper as well as the hood is seen getting deformed. Meanwhile, without attempting to find a scientific explanation to this rather unscientifically carried out test, the commentary of the video criticizes the hatchback for the 'poor' build quality. Also, it goes without saying that such activities are not just illogical but can even cause injury to self or other road users.
It must be noted here that engineers design and develop cars with sufficient crumple zones to protect the occupants in an event of a crash. All modern cars today come with strong side pillars for maximized stress and load transfers, airbags, and other safety kits to keep the occupants of the cabin safe. While the safety equipment plays a role in maximising the safety net to the occupants, the crumple zones help minimize the energy transfer to the cabin. The bumpers, fenders and the bonnet are specially made to absorb the maximum possible energy in an event of collision. Contrary to the belief, they are not meant to remain rigid on impact. Hence, purposefully driving into a pillar to check the safety quotient of a vehicle makes absolutely no sense.
You may also like: Tata Nexon Tests Build Quality of Road Divider – VIDEO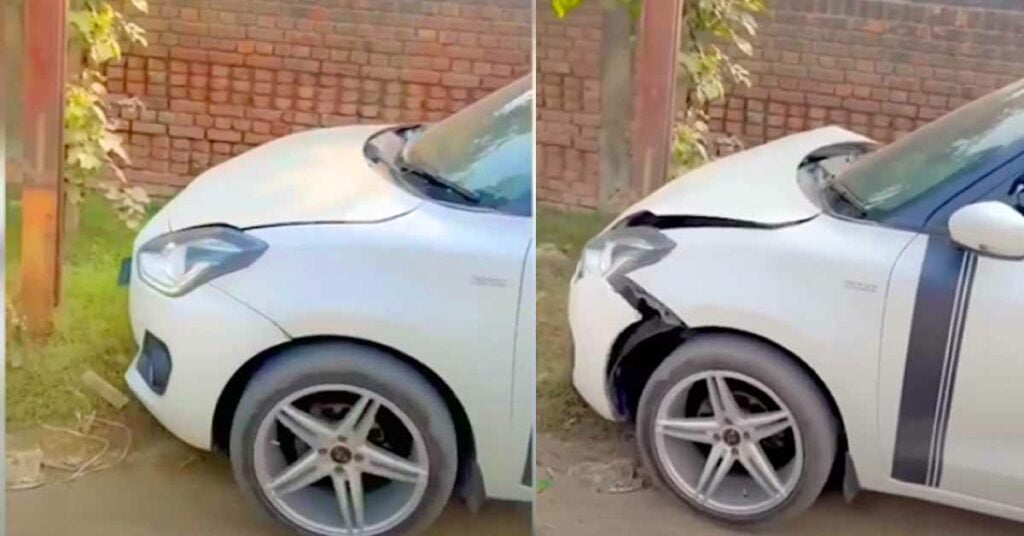 You may also like: 2022 Maruti XL6 vs Old Model Comparison
We urge our audience to stay away from such activities and even avoid forming opinions based on such senseless acts. There's surely no harm forming your judgement on the basis of G-NCAP ratings but the activities of such self-proclaimed experts should be simply laughed off.
Join our official telegram channel for free latest updates and follow us on Google News here.