Maruti Swift is one of the highest-selling cars in India ever but you might see too many with such colossal alloy wheels.
This has to be India's only Maruti Swift with massive 22-inch alloys. Swift is the most popular hatchback in the country. It has retained the top spot for years now and the people have still not grown tired of the product. Maruti has ensured that it kept updating it from time to time. However, the aftermarket car modification houses also play a crucial role in making any vehicle stand out from the crowd. Alloy wheels are the most common and the easiest way to lend your car a unique appearance.
Maruti Swift with 22-inch Alloys
The video clip has been uploaded by Swift_lover0037 on Instagram. Here, the hatchback is seen playing in the mud and slushy water. Now, one doesn't associate Swift with any sort of off-roading adventure but this video clip shows a different side of Swift. However, we don't recommend you do this due to safety reasons. Also, there could be damage to the vehicle which is not designed for any sort of off-roading. However, what stands out despite the car being covered in mud are the turbine-styled huge 22-inch alloys. They lend the hatchback a unique appearance.
However, we must caution our readers about the downsides of installing oversized alloy wheels on regular cars. With such wheels, the tyres get wider but the sidewall becomes thinner. Such tyres are called low-profile tyres which are generally found on sportscars or performance cars. The reason is that they offer enhanced traction and grip which is useful when you are negotiating corners at high speeds. However, the ride quality is severely compromised. In performance cars, the suspension is designed in such a way to compensate for that.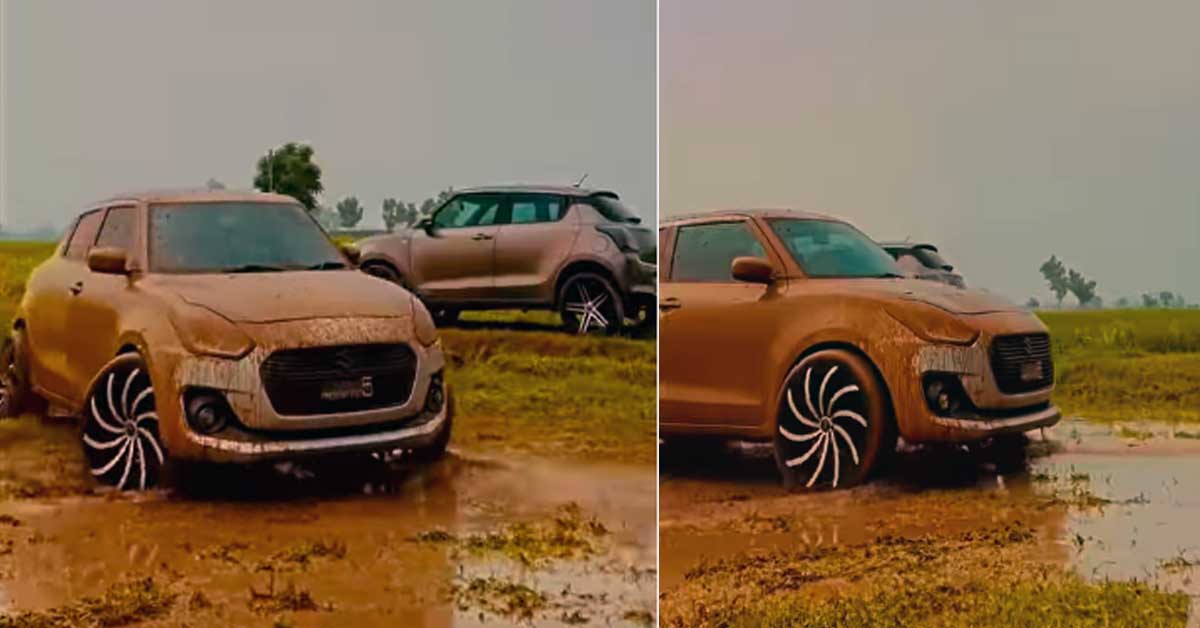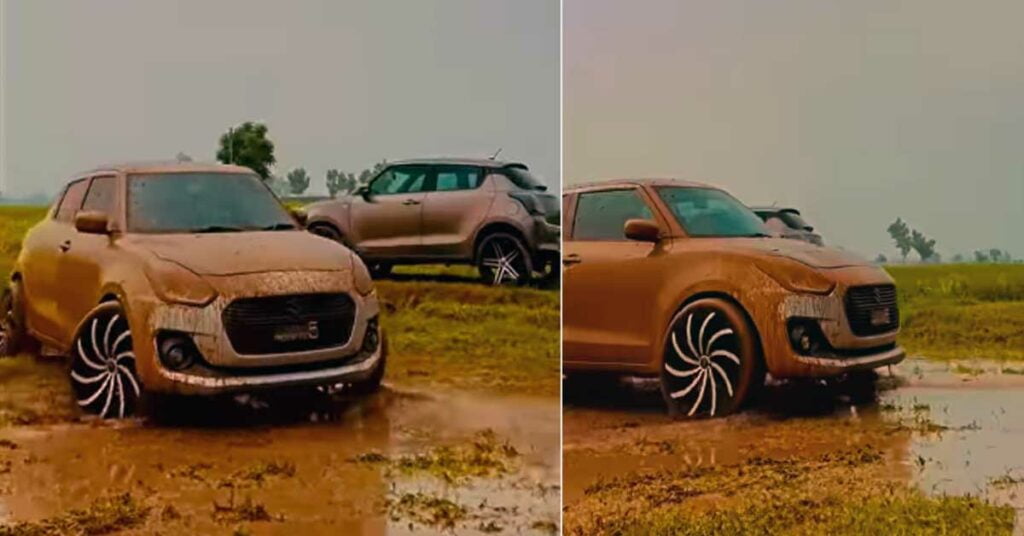 But in regular cars, it is not so. Hence, the tyres don't have enough sidewall for cushioning which allows thuds to enter the cabin when going over rough patches of roads. Additionally, due to the increased weight, the fuel efficiency is reduced because the engine has to churn out more power to move the vehicle. For that, more fuel is consumed. Therefore, if you are doing it for aesthetics alone, it might work, but it is not a great idea otherwise.
Join us for FREE NEWS Updates on our Whatsapp Community or our official telegram channel.