Maruti Suzuki has finally launched the much awaited diesel sedan, the Maruti SX4 Diesel today at an introductory price starting at Rs. 7.74  Lakhs for VDi variant Ex-showroom Delhi. The Maruti SX4 Diesel looks identical from outside and has a powerful turbo charged Multi-jet CRDI diesel engine from Fiat. In this post, we will share with you Detailed Features, Specifications, Variants and Price of Maruti SX4 Diesel in India. It boats of having best in class mileage of 21.5 KMPL on Diesel which makes the running cost very low. The Super Turbo DDiS engine will be manufactured at Suzuki Powertrain India Limited, the Manesar-based joint venture of Suzuki Motor Corporation, Japan and Maruti Suzuki India Limited. This joint venture manufactures diesel engines for Maruti Swift, Maruti Swift DZire & Maruti Ritz and has an annual capacity of 300,000 units.
Maruti Suzuki SX4 Diesel India Features
Impressive fuel efficiency of 21.5 kmpl
This is the first car in the country to be certified as 'OBD-2' compliant. OBD refers to On Board Diagnostics.
OBD-2 informs the customer of any malfunction in the emission control system which may be leading to undue increase in exhaust emissions.
First popular sedan to sport a Petrol, Diesel and CNG variant
The SX4 Diesel is cleaner and more fuel efficient than all comparable cars in its class
The high torque at lower rpm levels makes SX4 Diesel highly suited for city driving conditions as well.
Super Turbo engine, with a linear acceleration curve, provides a consistent and smooth drive.
SX4 Super Turbo Diesel is high on power and performance while being low on emissions. SX4 Diesel offers an economical and punchier ride.
Adequate noise suppressants improve the NVH performance and make the cabin silent and comforting.
The suspension and brakes of the SX4 Diesel Super Turbo have been suitably modified to account for the heavier engine and the changed weight distribution of the car.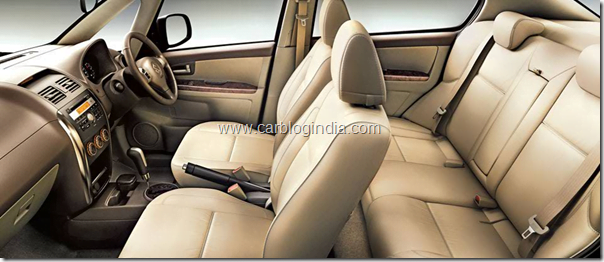 Maruti Suzuki SX4 Diesel India Specifications
The Super Turbo DDiS engine
90PS of peak power at 4000rpm
Maximum torque of 200Nm at 1750rpm
Variable Geometry Turbocharger delivers higher efficiency and reduced emissions, besides instant power. Depending on requirement, the vanes in the turbocharger change their angle to provide optimum air flow. This optimizes efficiency across the engine rpm range.
The high pressure fuel injection system delivers fuel at up to 1600bars. The high pressure pump has an in-built flow control mechanism to improve efficiency, while adding power.
The high pressure pump, fitted on the engine, is equipped with an in-built 'flow control mechanism', further improving fuel utilization.
The Super Turbo DDiS engine uses lower viscosity engine oil (SAE 5W40), which enhances lubrication for smoother running.
The Super Turbo engine is controlled through a remapped ECU which continuously communicates between the engine and the user.
The engine has been calibrated for drive pleasure and offers excellent acceleration of 0-100 km in just 14.5 seconds.
5 Speed Manual Transmission
Maruti Suzuki SX4 Diesel India Variants and Colour Options
Maruti Suzuki SX4 Diesel comes in 3 variants:
Maruti SX4 Diesel VDi
Maruti SX4 Diesel ZDi
Maruti SX4 Diesel ZDi with leather upholstery
Following color options are available in SX4 Diesel:
Azure Grey
Pearl Arctic White
Oyster Blue
Midnight Black
Clear Beige
Silky Silver
Maruti Suzuki SX4 Diesel Price In India
Maruti SX4 Diesel is priced at Rs. 7.74 Lakhs Ex-showroom Delhi for VDi variant.
Maruti SX4 Diesel is priced at Rs. 8.62 Lakhs Ex-showroom Delhi for ZDi variant.
More Related News