Mercedes Benz India today launched its City Bus in Indian market at Pune. The buses will be built in Chakan plant of Mercedes Benz. This is the first ever Intra-city public transport vehicle from Mercedes Benz India. Apart from the City Bus, Mercedes Benz is already selling 2-axle and 3-axle inter-city coaches in India which are quite luxurious and comfortable for long travel. The nearest competitor of Mercedes Benz India in this segment is Volvo buses. Also not to Forget, Tata Motors, the Indigenous  vehicle maker has also launched some of the finest buses in India few months back which had both City Buses (Ultra) and Inter-City coaches (Divo) to compete in this relatively less crowded segment.
Daimler also announced the appointment of Mr. Markus Villinger as the Head of Buses for India. With rich experience in Commercial Vehicles business with Daimler, Mr. Villinger will take over the Operations and will be responsible for overall bus business of India with immediate effect.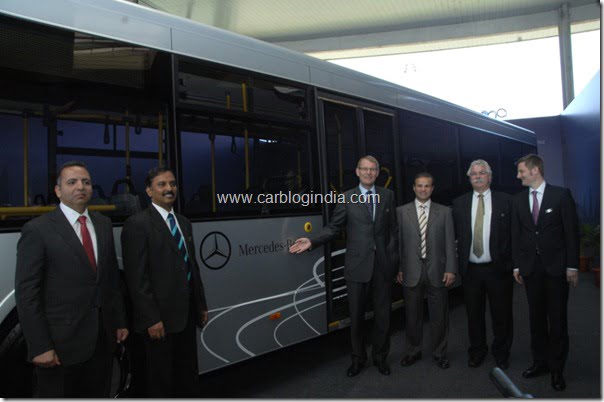 image – L-R : Mr. Maged Rasmy ( Managing Director , MCV India), Srinivas Chilukuri ( Head of General Manager Bus sales India), Mr. Hartmut Schick ( Head of Daimler Buses ),Mr. Karim Ghabbour (Founder and Managing Director, MCV) , Mr. Peter Honegg , ( CEO& M.D Mercedes Benz India Ltd. ) and Mr. Markus Villinger ( Head of Daimler Buses, India).
Indicating the high focus for the Indian market, Mr. Hartmut Schick, Head of Daimler Buses, commented,
"Our 2-axle and 3-axle buses have been very well received in the Indian market. Our foray into city buses will now enable more and more people to 'Travel with the Star'. We will participate in the Indian market growth by expanding our bus business with a superior-quality low-entry city bus for the Indian market. The Mercedes-Benz City Bus we present today is hence key for Daimler Buses' strategy for India. As the inventors of buses and one of the largest bus makers of the world, we are confident that our solutions will appeal to the demanding Indian customers".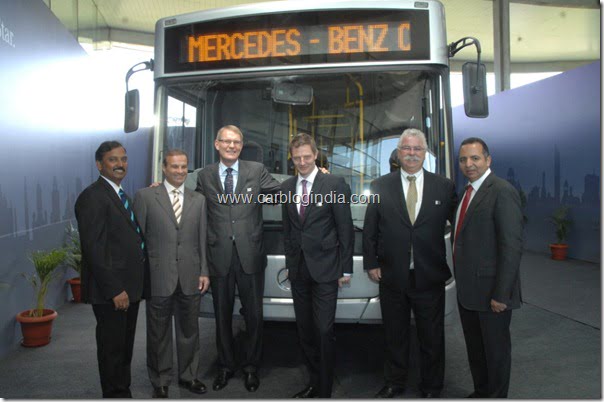 image – Launch of Mercedes Benz City Bus At Pune India on 9th March 2012
Speaking on the occasion, Mr. Markus Villinger, Head of Daimler Buses India commented,
"India is a fascinating market and there is a rising demand for robust, reliable and efficient city bus transportation. Our City Bus is designed to fulfill these requirements. The respect for brand Mercedes-Benz in India is legendary, and we shall try to deliver as far the expectation of our discerning customers and their passengers in India. Our production line at the Pune plant combined with body-building from our captive partner MCV, will ensure our uncompromising standards of quality are maintained in India. I am extremely excited to be part of this growth story and hope together we can realize our ambition to make more people in India 'Travel with the Star'".
Features And Highlights of Mercedes Benz City Bus In India
Striking exterior and low entry design:
The Mercedes-Benz City Bus has a striking appearance imbibing fresh and contemporary design cue that sets new standards in the city bus segment in India. The equally appealing spacious interiors combined with low entry design facilitate ease of entry and exit for passengers which will enhance their feel good factor. The unique low entry design coupled with wheel chair ramp of the City Bus ensures that passengers with restricted mobility can get onboard without difficulty.
Spacious and comfortable interiors:
The Mercedes-Benz City Bus redefines the standards of city buses in terms of interiors, comfort, space and user friendliness. The high comforting cushioning, multiple charging points, powerful air-conditioning and the destination board add on to the comfort and convenience of the passengers.
The new City Bus is also thoughtful about the driver's comfort and convenience resulting into a safer drive. The driver's cabin is smart, ergonomical and safe with pneumatic seats and all important switches are conveniently accessible on the panel.
Powerful and fuel-efficient engine:
Built with high quality components, the Mercedes-Benz City Bus is backed up by stringent Mercedes-Benz quality at the same time it offers an unmatched economic package for the customers. The low entry City Bus is powered by a proven and robust OM 926 Diesel engine with 252 BHP of power and features highly economical drive system using BlueTec diesel technology and offers a wide choice of optional equipment making it an ideal vehicle addressing the growing public transport requirements.
Suspension and ride quality:
State-of-the-art air suspension of the Mercedes-Benz City Bus increases the passenger comfort and the excellent stability and ride comfort of the City Bus is enhanced by  Mercedes-Benz bus-type air suspension. Similar to our concept in Mercedes-Benz coaches which is well appreciated by all our customers.
High fuel efficiency:
The Mercedes-Benz City Bus has high fuel efficiency and is ahead of competing products due to an efficient and powerful engine, an optimum weight factor, smartly developed aerodynamics and rolling resistance. This results in higher fuel efficiency and enhanced profit for the operator.
Optimal maintenance:
The extreme ease of maintenance translates into long maintenance interval and significantly reduces the downtime which makes the Mercedes-Benz City Bus an ideal choice for operators.
Production Quality:
Stringent quality and quality assurance accompanies the entire production process of the City Bus. The quality production standards that are being applied in making the buses in India are similar to that applied in rest of the world. Mercedes-Benz's quality standards in product development have created benchmark and reinforces Daimler's prowess in bus manufacturing. This City Bus is the result of a multi stage development and testing process. The City Bus has gone through rough road testing and endurance testing along with overall performance testing and fine-tuning.
Safety:
The City Bus fully complies with the requirements of bus body code, which aims at regulating the diverse Indian bus body building landscape to ensure high passenger and driver safety. Mercedes-Benz City Bus is the first bus to be certified with bus body code certification in India.
Price of Mercedes Benz City Bus In India
The base version of the Mercedes-Benz City Bus is priced at INR 9,000,000 ex-factory Pune.
check out more-