MG Hector has performed exceedingly well in the unfortunate incidents so far and this latest one is a worthy addition to that list.
This latest crash of the MG Hector might well point toward a full 5 star GNCAP rating as and when the car actually goes to NCAP test bed. Hector initially enjoyed a ton of success due to being a large SUV with modern internet and connectivity features at an attractive price. It experienced decent sales and is now ready for a facelift. However, it has not been crash-tested yet. Nevertheless, its real-life performances in such situations have been quite impressive and largely positive. Let us check out what happened in this latest crash.
You may also like: Mahindra Thar (NCAP – 4-star) Jumps Divider and Hits MG Hector
You may also like: 2022 MG Hector SUV – What It Could Look Like
Is The MG Hector A 5 Star SUV?
This video has been posted by Prateek Singh on his YouTube channel. He regularly posts such content in order to raise awareness among Indian car buyers regarding the importance of safety ratings in cars. According to the information in the video, this incident has been reported from Goa. The driver was travelling at a speed of around 80-90 km/h. However, the surface was wet due to the rains. As a result, the SUV skidded and crashed to the side of the road. However, no one was gravely injured as confirmed by the information in the video.
You may also like: 2022 MG Hector Facelift to Look Like Wuling Almaz RS?
The damage to the body of Hector is surprisingly quite limited despite this being a high-speed accident. The front windshield and sunroof seem to have suffered the most damage. The side pillars and body components are very much intact and absorbed the impact pretty well. All these point toward a strong build quality. That is also the reason why a lot of people believe that Hector has the potential of scoring 5 stars at the GNCAP. We will just need to wait for the final test to get the official rating.
You may also like: MG Hector Facelift To Get Biggest Touchscreen in Industry
In conclusion, we would like to direct the attention of our readers toward the relevance of following traffic rules and preventing overspeeding at all costs. Most road accidents happen as a result of driving at high speed. Therefore, we must strive to curtail our speeds while driving on the highways in order to ensure that our roads become safer and that we don't lose too many people to road mishaps year after year.
You may also like: Will MG Hector Pass Cold Start Test in -3 Degree Celsius?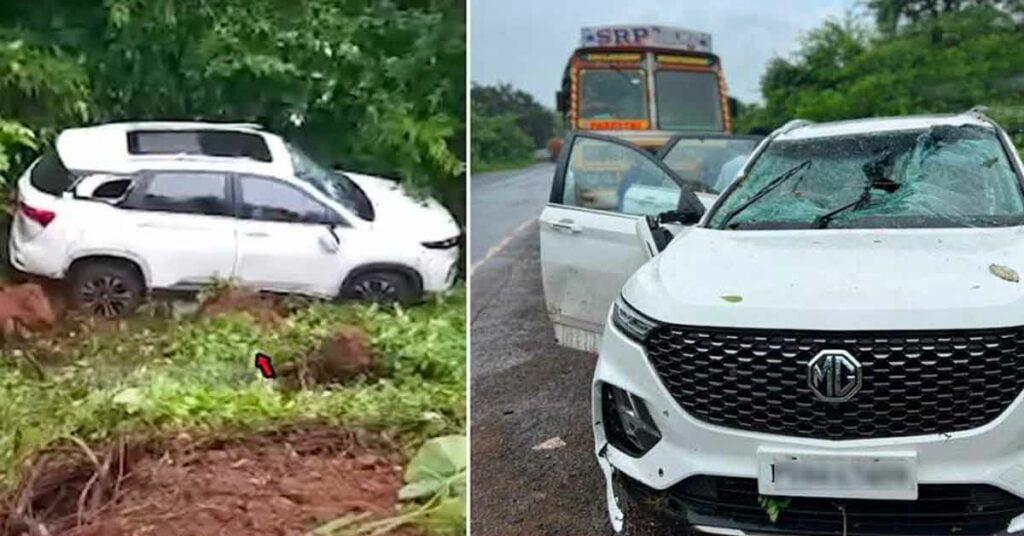 Disclaimer- The embedded videos/ external content is/are being used as a convenience and for informational purposes only; they do not constitute an endorsement or approval by Car Blog India of any of the products, services, and /or opinions of the corporation or organization or individual. Car Blog India bears no responsibility for the accuracy, legality, and/or content of the external site or for that of subsequent external videos/ external content. Contact the external publisher for answers to questions regarding its content.
Join our official telegram channel for free latest updates and follow us on Google News here.