In one post on Facebook, a MG Hector owner is frustrated at the quality of the SUV. MG has found many customers for the Hector primarily due to the internet-enabled connected car tech and other modern features it offered. It was among the first cars in India to have dedicated internet. That caught the attention of many new customers who were tech-savvy. However, many owners also complained that despite offering so many features, the quality of the products and components inside the vehicle were not high quality. This incident further strengthens that point. Let us take a look at what the entire issue is.
Also read: Fashion Photographer Stuck With Unreliable MG Hector at Midnight Calls Her SUV a 'Cosmetic Car'!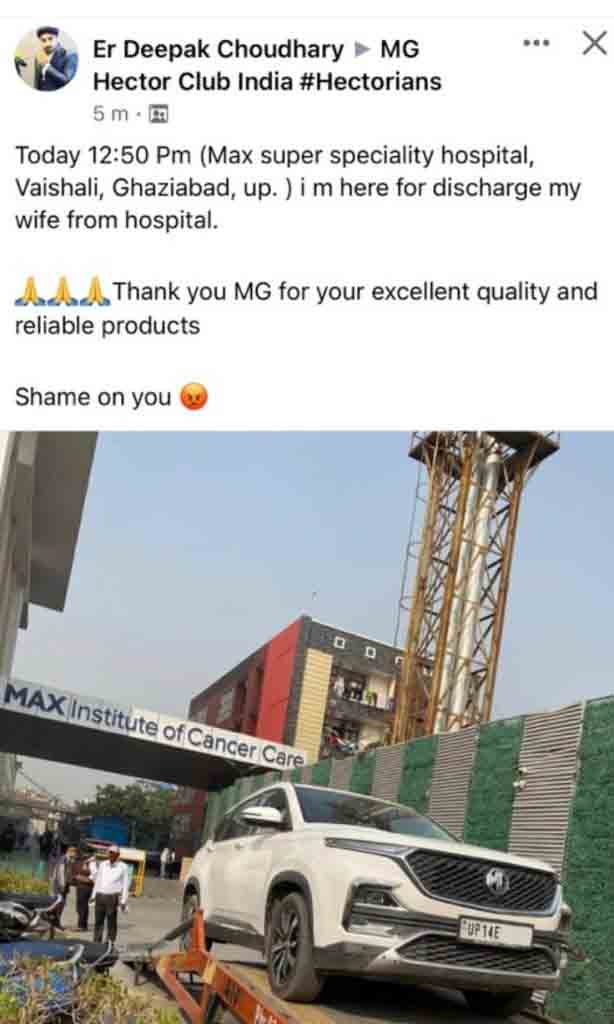 Hector Owner Frustrated With The Quality of SUV
A certain Deepak Choudhary, who is an engineer by professional according to the designation in his name on Facebook, shared his terrible experience with his MG Hector. He went to the hospital in Ghaziabad to pick his wife after she was discharged from the hospital. This, as one would imagine, is a crucial time when a lot of care is required as she had just been discharged. However, Deepak found that his car has some issue and he couldn't use it. He had to call the RSA to get it towed away to the service workshop. He doesn't mention what exactly was the problem. But he clearly criticizes the quality and reliability of MG products. His frustration and anger are visible through this post.
Also read: Ford EcoSport User Buys MG Hector – Unhappy With High Speed Dynamics!
Specs

The MG Hector comes with either a 1.5-litre turbo petrol engine with the option of hybrid powertrain for added efficiency, making 143 PS and 250 Nm or a 2.0-litre diesel that makes 170 PS and 350 Nm. The petrol engine could be mated to either a manual, CVT or DCT automatic gearboxes. The diesel only comes with a manual transmission. The prices of the Hector start from Rs 13.49 lakh to Rs 19.35 lakh, ex-showroom. The chief rivals of the Hector include the likes of Tata Harrie and the recently launched Mahindra XUV700 (in the 5-seat configuration). Situations like these warrant the MG Hector owner to be frustrated by the quality of the products. There have previously been cases where people have regretted buying an MG product.
Also read: MG Astor vs Hector Comparison – Which One Should You Buy?