Here is a post with a comparison between MG Astor and Hector. The question is which one suits you better. Now that MG has offered an alternative to people who are not looking for a huge SUV like Hector but want to stick to MG, it is only natural to compare the two. Let us try to answer the question if you really need a larger SUV or the relatively smaller one might just be good enough?
Also read: MG Astor vs Hyundai Creta vs Kia Seltos Comparison – Specs, Features & Dimension!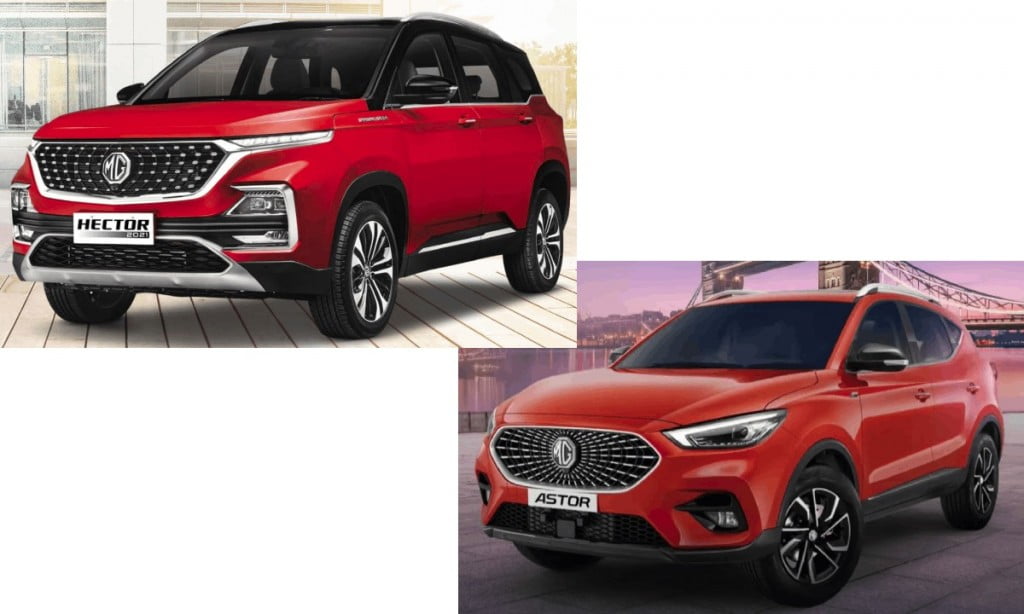 MG Astor vs Hector Comparison – Dimensions
| | | |
| --- | --- | --- |
| Dimensions (in mm) | Astor | Hector |
| Length | 4323 | 4655 |
| Width | 1809 | 1835 |
| Height | 1654 | 1760 |
| Wheelbase | 2580 | 2750 |
As is clear from the table above, the Hector is substantially larger in overall dimensions than the Astor although both these SUVs are technically a part of the mid-size SUV segment. The main difference is in terms of length which also impacts the wheelbase. It is clear from this that the boot space and cabin space are going to be huge in the Hector compared to the Astor. However, that is not to say that the Astor will not be spacious enough. But we will have to wait for the official launch to see how much space does the Astor actually offer.
Also read: MG Hector Owner Stuck in Leh Gets EXTRAORDINARY Support from MG
MG Astor vs Hector Comparison – Specs
Specifications
Astor
Hector
Engine
1.5L Petrol;
1.4L Turbo Petrol
1.5L Turbo-Petrol;
1.5L Turbo-Petrol with Mild Hybrid;
2.0L Diesel
Transmission
6-speed manual;
CVT / Automatic
6-speed manual;
CVT / DCT (P)
Power
110 PS / 140 PS
143 PS (P) / 170 PS (D)
Torque
144 Nm / 220 Nm
250 Nm (P) / 350 Nm (D)
Well, it is clear from the numbers above that the bigger MG is a bit more powerful too. Also, Hector is the one with the diesel engine. The petrol engine of Hector and turbo petrol engine of Astor are somewhat similar in power and torque figures but Hector still has a slight edge. It is expected because the size of the Hector is significantly more than the Astor. Hence, the actual difference while driving on the road might not be huge.
Also read: MG Hector Owner Urges NOT TO BUY The SUV – Lists Out Many Issues
Features Comparison
While the MG Hector might well have a slightly longer features list than the Astor, but the latter has the more modern tech on offer. This includes the first-in-segment Level 2 ADAS (Autonomous Driver Assistance System) features comprising of Automatic Emergency Braking, Forward Collision Warning, Adaptive Cruise Control, Lane Keep Assist, Reverse Parking Assist, Lane Departure Warning, Speed Warnings and much more. In addition, the Astor also comes with the personal virtual AI Assistant which enables various services like Wikipedia Info, Jokes, Navigation Support, Play Music, Hold Conversations, Safety Warning, Hinglish Language. It may be possible that MG might bring these features to Hector too.
Also read: First-ever MG Hector With GOLD WRAP – This is it!
Verdict
Although the prices of the Astor are not out yet, it is safe to conclude that a lot will depend on that. It is clear that the Hector is the bigger and more powerful SUV of the two and the Astor has more modern tech features. But whether it makes sense to go for the Hector or will the features and tech on Astor be more than enough for you will be decided by the price difference at the end of the day. The only question is, will the price difference warrant you to go for the Hector or not?
Also read: Will MG Hector Beat Kia Seltos in NCAP Safety Tests?
So, what's your take on our MG Astor vs Hector Comparison? Let us know by commenting below. Also, stay tuned for more on the recently unveiled compact SUV from MG Motor India.