MG Hector and Hyundai Venue are both loaded with advanced connectivity features, making them the earliest ones in the connected cars segment.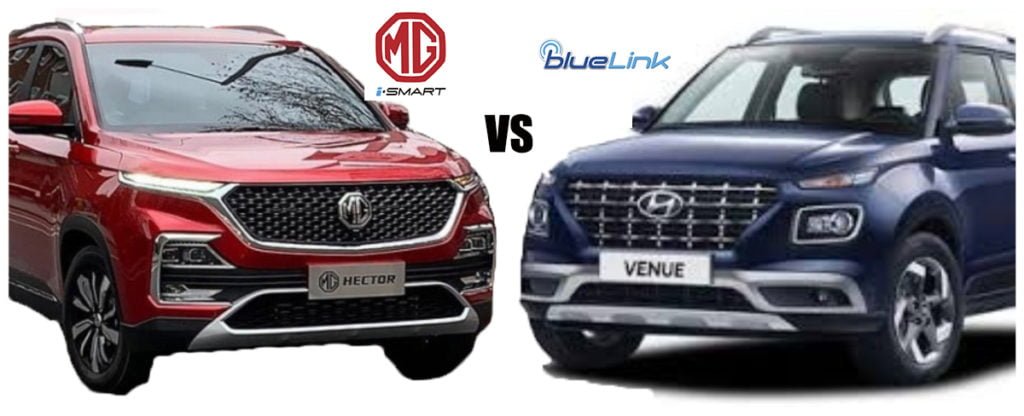 Hyundai Venue is all set to be launched on 21st May in India, followed by the global launch later. The upcoming compact SUV is much popular, mainly because of the extensive list of features offered.
On the other hand, MG Motors is also set to make its debut in India, with their SUV MG Hector. The features list is extensive over here as well, but the connectivity options are another level.
Advanced connectivity options with their smart infotainment systems put these two popular SUVs against. An in-depth comparison is not possible here as we haven't driven them when we write this, but we have seen the connectivity features of both the cars in person and hence we can compare the connectivity features of these two connected cars.
Also Read: This is what the MG Hector SUV is going to look like- Connectivity features
MG Hector will be available with the iSMART system, which is based on Android. It comes with embedded eSIM connectivity solution, maps and navigation services, voice assistant, pre-loaded infotainment content, emergency services and built-in apps. Smart devices which use Android-based OS like the iSMART are more versatile and support installing apps and improving the functionality of the system via OTA updates, but these systems are also more vulnerable to software glitches.
The Hyundai Venue gets Blue Link technology, which already comes on the global models. It uses a more of a closed and dedicated system, which offers many similar services and features that come on Hector. Both the systems are accessible via a Smartphone App. The Venue also uses an eSIM based connectivity. The closed systems like BlueLink do not have much versatility like installing new apps to extend the functionality of the system, but they are more secure and less likely to develop software issues.
Hyundai Venue BlueLink Features List
Auto Crash Notification
SOS/Emergency Assistance
Road Side Assistance
Panic Notification
Stolen Vehicle Tracking
Stolen Vehicle Notification
Stolen Vehicle Immobilization
Remote Engine Start/stop
Remote Climate Control
Remote Door Lock/ unlock
Remote horn honk and light
Remote Vehicle Status
Find My Car
Share My Car
Auto DTC Check
Manual DTC Check
Monthly Health Report
Maintenance Alert
Driving Information / Behavior
Push Map to car from App
Push Maps by Call Center
Live POI Search
Live Traffic Information
Share The Destination
Live Car Tracking
Destination Set in Link with Schedule
Location Sharing
Geo-fence Alert
Speed Alert
Time Fencing Alert
Valet Alert
Idle Alert
Voice Recognition – Indian English
MG Hector iSmart Features List
10.4-inch vertical touch screen infotainment
Integrated OS based on Android
Over-the-air updates (OTA)
Built-in connectivity solution
Built-in Sim Card Slot
Remote Tracking, Geo-Fencing, Automated Emergy Response, Music and Content streaming, Updated Maps and Real-Time Navigation
Privacy and Cyber Security
AI-based voice assistant
Emergency Call
Pre-loaded Gaana.com
Weather Apo
Mobile
Vehicle scanning to check pre-defined parameters
Fuel level & vehicle range
Lock/ unlock status
Lock/ unlock the vehicle remotely
Remotely switch on the Climate control
Find my car [Honking/Lights blinking/walk or drive to car]
Security alert
Abnormal tyre pressure notification
Vehicle Management
iSMART Smart Drive
Speed Alert
MG Network information
Departure Notification
Also Read: Hyundai Venue Variant Wise Features Revealed – List
Hyundai Venue BlueLink VS MG Hector iSMART- Which Is Better?
While it is not a clear apples to apples comparison as these two systems are quite different from each other, they both offer some common features. The end goal of both smart car systems is to offer connectivity, safety and convenience to the user. Both the systems offer safety, communication, tracking, vehicle diagnostics and voice recognition features, they both do it in their own different ways.
While it is quite subjective and some people may like one over the other, but we feel that both systems do justice to the hype and buzz they have created among potential customers. While iSmart is more versatile and open, the BlueLink seems more robust. We will share an in-depth comparison after we have experienced both of them in person, so make sure to stay tuned.