While this may be an old accident, but see the extremely solid build quality of the Tata Safari after surviving a crash with a MiG 27 Fighter Aircraft!
In 2016, small but important news came flashing in. The headlines told that a MiG 27 fighter aircraft had crashed just some time after taking off from the Jodhpur air base. The crash happened in Jodhpur itself where it developed a technical slag and crashed into a residential area. Fortunately, both the pilots were able to eject themselves and save their lives. However, there's another interesting piece that caught our auto-enthusiastic eyes.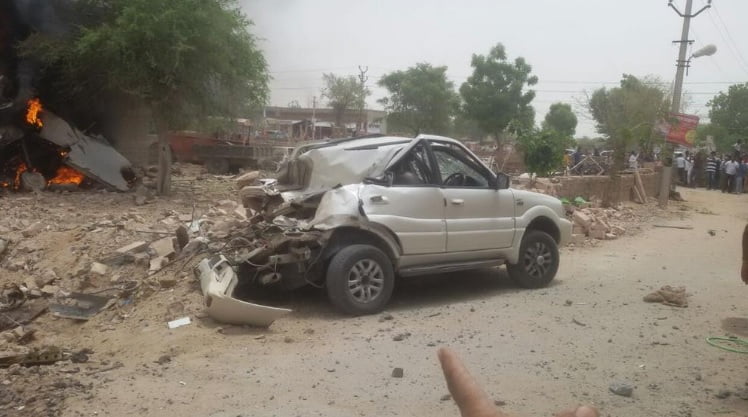 After crashing through a house, the fighter plane also crashed into a parked Tata Safari. Imagine, your car being crashed by a MiG 27. The impact came on the back and damaged the car completely. As you can see, the complete rear portion including the rear seats have been crushed. The impact indicates clearly that the plane crashed from the side panel itself, probably with its bottom scraping the roof of Tata Safari.
Also Read: Tata Safari Loses Control And Falls 30 Feet In The Canal – See The Impact
However, if you notice, the platform of Safari is still not that damaged even from the back. The alloy wheels are in place, all four of them. Even the car has not toppled and stayed strong at the same place. Coming on to the front seats, the damage has been limited to the rear seats itself. While the roof no longer exists, but the front seats, bonnet and bumpers are still in place.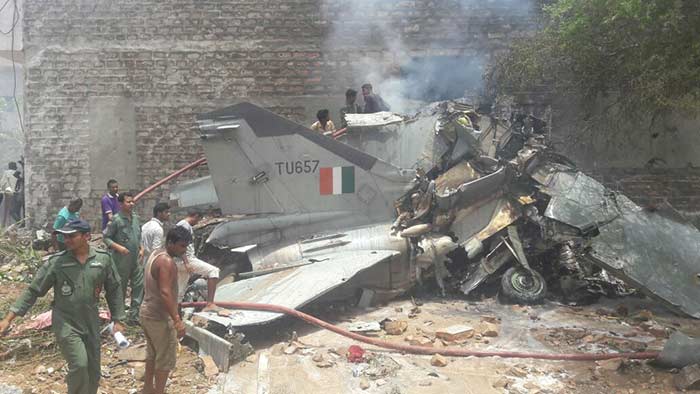 A fighter plane crashing on a car will definitely have major consequences, mostly the car getting completely crushed. But, here, the Safari took its damage but kept its firm stand on the ground. Obviously, the Army will compensate the owner of Safari as well as of the house it crashed in. After crashing, the MiG 27 caught fire but the pilots managed to douse off the fire instantly.
Over the years, many cars have gotten a lot safer for passengers. However, most of the safest cars come from Tata Motors itself. The manufacturer started paying attention to this detail a lot of years ago. Except for Nano, all the other Tata cars have proven their worth and strong build quality in many dangerous accidents. Right now, it has two 5-star rating cars and two 4-star rating cars in the lineup.