When was the last time you saw the iconic Rajdoot on the streets? Well, this video should be enough to make you feel nostalgic.
Rajdoot was an iconic motorcycle in the Indian market and this video tests the mileage and a top speed of the bike at 40 years old. The Yamaha Rajdoot entered into production back in 1982-83 with the 2-stroke engine. Being a popular offering for quite some time, the name faded away in the face of stiff competition from its 4-stroke adversaries. But this YouTuber has got his hands on one and decides to test the mileage and top speed of the bike.
You may also like: Check Out Race-Spec Royal Enfield Continental 650 in Action
You may also like: Yamaha RX15 Is The Best Of Both The Worlds!
Mileage & Top Speed of Rajdoot
The YouTuber ensures that the fuel tank of the bike is completely empty before commencing the ride. He pours a lubricant into the fuel tank before filling it up with 1-litre petrol. Then goes out to ride on a highway that is relatively empty. Firstly, he decided to test the top speed of the bike. It must be mentioned here that he rode the bike with his colleague. For all the tests, there were 2 people on the bike. They were able to achieve a top speed of 79 km/h, which is quite impressive. However, because the bike is 40 years old, they started noticing smoke coming out of the engine and tailpipe. This was, obviously, quite risky and dangerous, which is why they stopped the bike. After the bike was cooled, they resumed their test.
For the next phase, they were to ride the bike until the fuel tank gets empty. The speedo-meter of the bike was not working, so they decided to use a smartphone to gather information regarding top speed, total distance covered and average speed during the test run. When the bike finally came to a standstill, the YouTuber collected the data from the phone. The bike has covered a distance of 38.17 km on 1-litre petrol. Now, this is a great mileage figure for a 40-year old bike with a 2-stroke engine.
You may also like: Never Ever Use These Lube, Oil, Spray & Grease To Clean Brake Disc Rotor of a Bike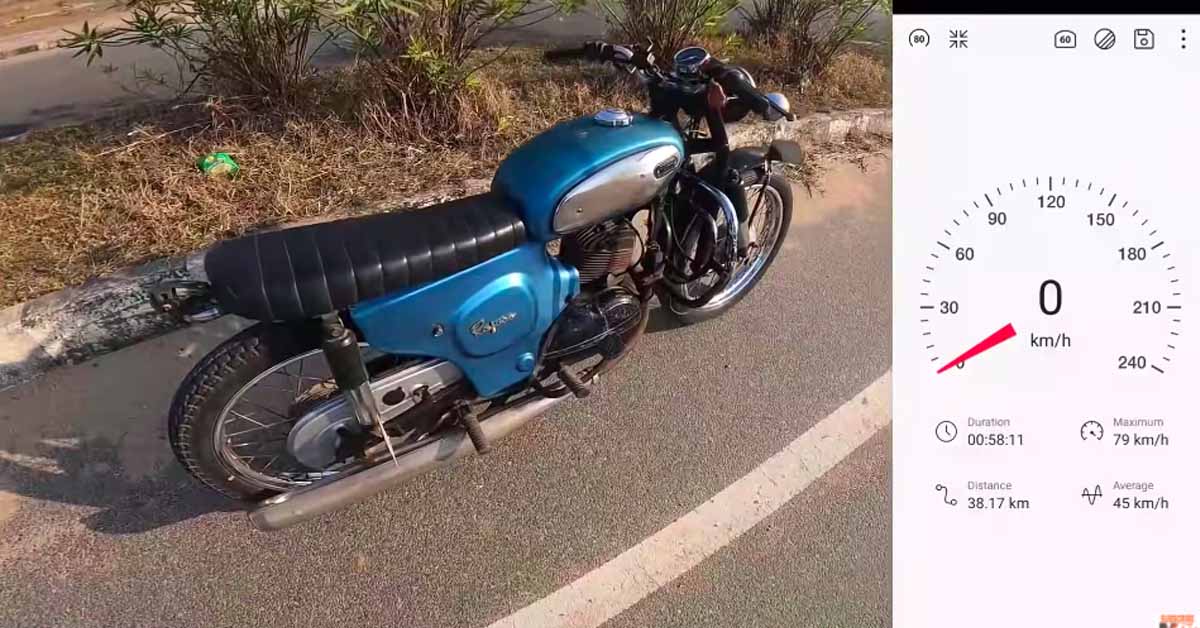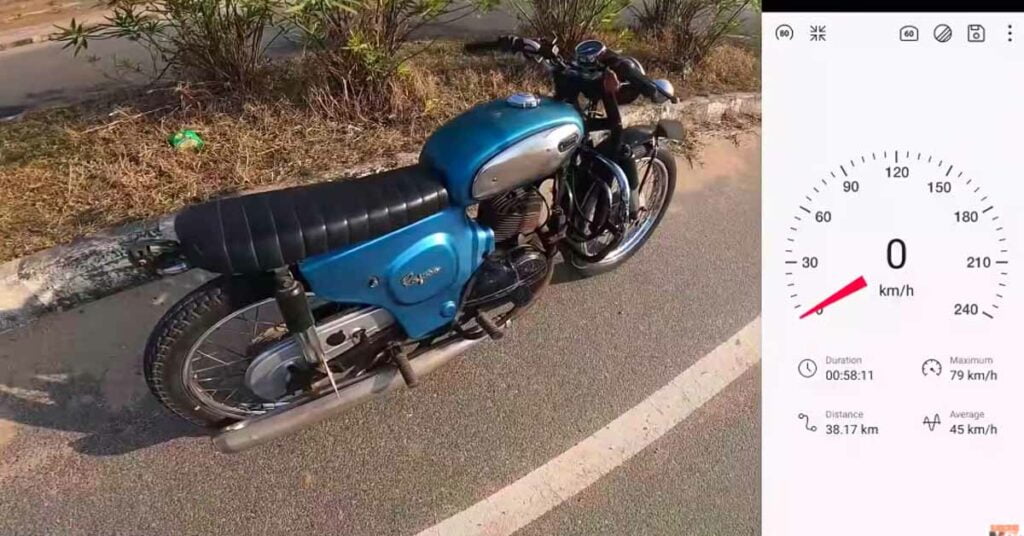 You may also like- Yezdi Adventure Owner REVEALS Why He Didn't Buy RE Himalayan
Specs
This bike came with a 173-cc air-cooled engine that outputs 9 hp and 13.5 Nm of peak power and torque. Interestingly, the gear and the kick on the bike is on the same side which makes you realise just how old this bike really is. How did you like this performance of the Rajdoot at 40 years old?
Join us for FREE NEWS Updates on our Whatsapp Community or our official telegram channel.