We are aware of how massive fan-following the star cast of the hit web series Mirzapur commands and this clip drives that point home.
The famous villain of the hit web series Mirzapur, Munna Bhaiya had a biker (fan) chase him around on the road while he was in his Mahindra Thar. Now, the fans following their favourite celebs is not an uncommon sight in our country. But the craze of the newer generation to idealize the web-series stars is relatively new. Mirzapur is one of the most successful web series for a couple of years now and its stars have found entry into Bollywood on the back of its success. That is possible only when people love the actors so much as seen in this video.
You may also like: Anand Mahindra Tweets Off-Roading is a 'Thar-apy'
You may also like: Mahindra Scorpio N VS Thar Drag Race Shows Shocking Results
Munna Bhaiya In His Thar Chased By A Biker Fan
The video clip has been shared as YouTube Shorts. Munna Bhaiya, aka Divyendu Sharma, was sitting in the passenger seat in his Mahindra Thar when a fan on a bike came alongside him and started waving. Concerned, Divyendu asked the biker to be careful. However, the fan was complimenting him over his performance in season 2 of the series. After exchanging his love for the actor, the biker said that he will DM the actor on Instagram. Divyendu is constantly seen asking the biker to slow down and ride carefully as all of this was happening while both of them were on the move.
You may also like: Mahindra Thar vs Mercedes G-Wagon Hardcore Off-Road Challenge
Mahindra Thar
The latest-gen Mahindra Thar comes with 2 engine options, a 2.2-litre turbo-diesel, and a 2-litre turbo-petrol. The oil-burner makes 130 PS/320 Nm of peak figures while the petrol makes 150 PS/320 Nm of max figures. Transmission options for both the powertrains are a 6-speed manual and a 6-speed automatic with a low-range box. You also get a transfer case and a mechanically locking centre differential. As far as the off-roading trips go, you are covered on all fronts in a Mahindra Thar.
You may also like: Can Mahindra Thar Tow a 7,500 kg JCB Backhoe Loader?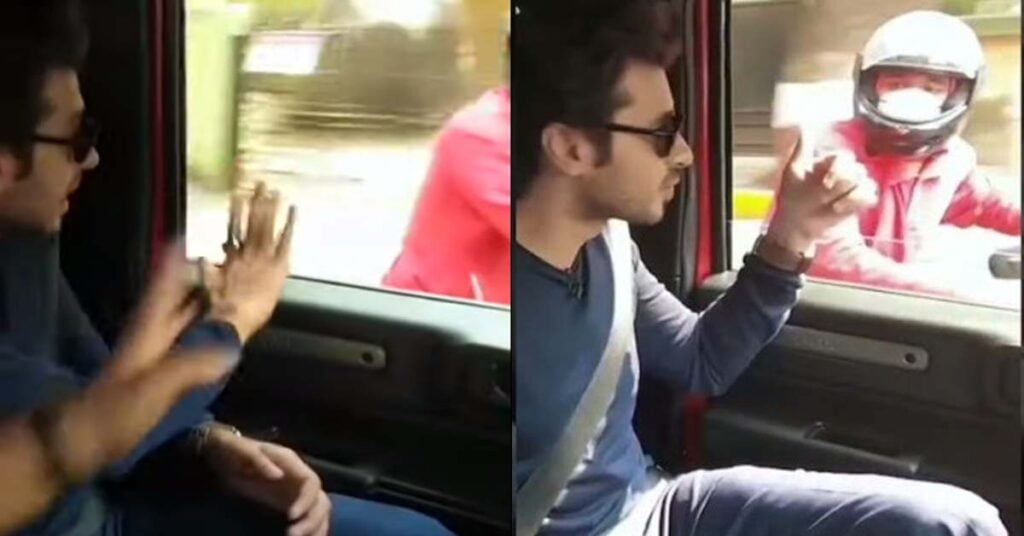 The prices of the Thar range between Rs 13.53 lakh and Rs 16.03 lakh, ex-showroom. The only direct rival is the Force Gurkha which has also recently received a new-gen upgrade. Mahindra also plans on bringing the 5-door version of the Thar for people looking for a more practical version of the SUV. Currently, the Thar houses 4 and the boot space is not that huge either. These issues will be resolved in the 5-door variant.
Join our official telegram channel for free latest updates and follow us on Google News here.