Rising fuel prices are forcing people to migrate to alternative fuel sources and CNG looks like a great option until the complete transition to EVs happens.
This video neatly captures the mileage test of the new Maruti Brezza fitted with an aftermarket CNG kit. In major cities, the infrastructure around CNG stations are established and well developed. Hence, it is a common practice for people to install aftermarket CNG kits in their vehicles to curtail their fuel expenses. This is especially true for people with a lot of running every month. The savings that come as a result of not using petrol is worth the price of the CNG kit and the compromised boot space.
You may also like: Maruti Brezza Given Side Vents to Complete Range Rover Looks
You may also like: New Maruti Brezza Hits Used Car Market at Upto Rs 1 Lakh Premium
New Maruti Brezza CNG Mileage
The video has been created by Real Review on YouTube. The owner has installed an aftermarket CNG kit on his new Brezza. He has been using such CNG kits for over 4 years on his previous vehicles as well. That has instilled confidence in him as he goes to the same shop to get the CNG kit installed in his new Brezza. For this test, he got his CNG tank filled and set the trip meter to 0. He was able to fill around 9 kg of gas and travelled around 360 km and there was still some gas left in the tank. Doing simple calculations yielded a mileage of more than 40 km/kg.
You may also like: Rod Cuts Through New Maruti Brezza in First Ever Accident, All Safe
Since the Brezza doesn't come with a factory-fitted CNG kit, there are no official figures regarding the specifications. However, the regular Brezza makes 103 hp and 136 Nm of peak power and torque. We know that installing CNG kits only slightly decreases the power and torque output. In regular city driving, the lower output doesn't make that much of a difference. However, in scenarios where sudden acceleration is required, it might feel slightly underpowered. That is typical of all CNG vehicles.
You may also like: 2022 Maruti Brezza Top Speed Stability Test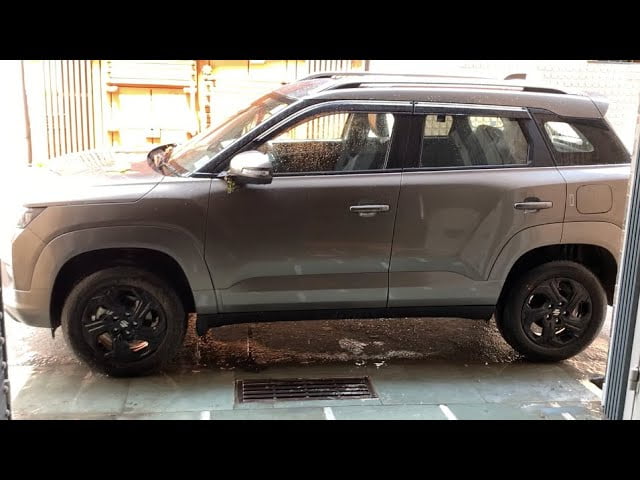 CNG powertrains are emerging as great options in the absence of affordable EVs. We know that the transition to electric cars will take a while but the fuel prices in the meanwhile will keep on rising. Our government is also focusing on flex-fuel options like E20 so that the dependence on crude oil imports reduces. Let us see how the CNG vehicle segment grows in the future.
Disclaimer- The embedded videos/ external content is/are being used as a convenience and for informational purposes only; they do not constitute an endorsement or approval by Car Blog India of any of the products, services, and /or opinions of the corporation or organization or individual. Car Blog India bears no responsibility for the accuracy, legality, and/or content of the external site or for that of subsequent external videos/ external content. Contact the external publisher for answers to questions regarding its content.
Join our official telegram channel for free latest updates and follow us on Google News here.