There are times when car drivers and passengers get extremely lucky in an unfortunate event and this case can certainly be classified under that category.
In this video, a Maruti Brezza is seen involved in an accident where a steel/iron rod is seen pass through it. Brezza is one of the handful of products from Maruti that boasts a healthy 4-star safety rating at GNCAP. While the updated 2022 model of the Brezza comes with a lot of changes on the outside and inside, there is no reason to believe that the safety aspect would have been compromised. And that is proved in this video, in a way. Read the details here.
You may also like: 2022 Maruti Brezza Top Speed Stability Test
You may also like: Doctor Drives Maruti Brezza Into Canal After Following Google Maps
Maruti Brezza Rod Accident
The video has been posted by Prateek Singh on YouTube. His aim is to post such content to raise awareness among Indian car buyers and owners regarding the importance of opting for cars with a high NCAP score. This incident has been shared with the YouTuber from Gujarat. This is arguably one of the first cases of the new Brezza being involved in something so major. As per the information, the collision was quite massive. There were two people in the car – a woman who was driving and a child. Thankfully, both of them are safe and were rescued by the local people around the incident.
You may also like: 2022 Maruti Brezza Given Kia Seltos-Like GT-Line Treatment
As far as the damage is concerned, the bystanders said that the compact SUV has sustained deformation at the front. However, the visuals don't offer a glimpse into the front end. But the most horrifying part is a steel/iron rod that is seen coming out of the C pillar. This rod must've entered the cabin from the front and somehow evaded the passengers and come out from the rear. We don't need to explain what would've happened if there was a person in between. The passengers can consider themselves lucky to have escaped this.
You may also like: Truck Drags Politician's Maruti Brezza For 500m, All Safe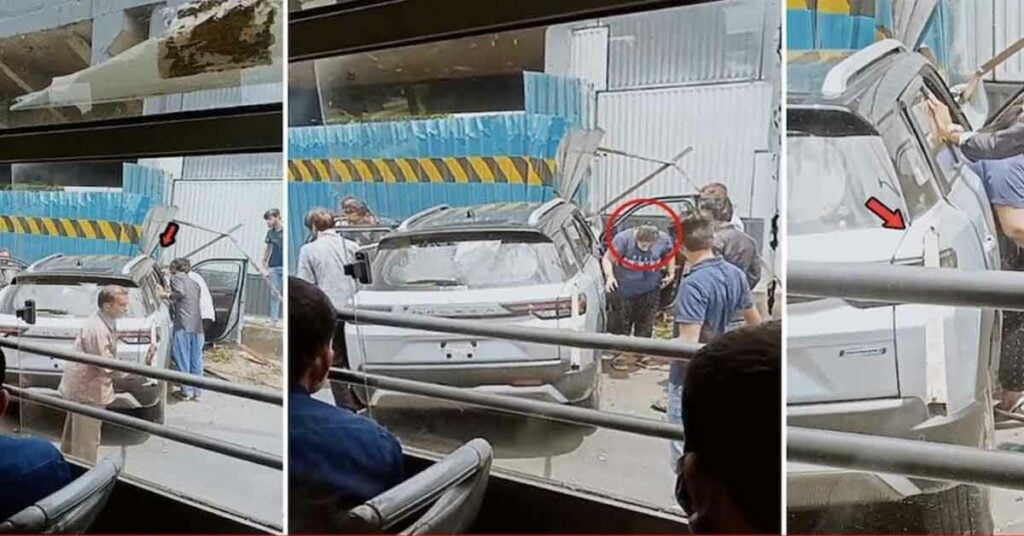 Finally, we would like to caution our readers regarding following traffic rules. The major reason for such situations continues to be overspeeding which is believed to be the case here as well. The driver must've lost control due to overspeeding and ended up hitting the components on a construction site. Nevertheless, if the speed would've been under control, perhaps this situation could've been completely avoided.
Disclaimer- The embedded videos/ external content is/are being used as a convenience and for informational purposes only; they do not constitute an endorsement or approval by Car Blog India of any of the products, services, and /or opinions of the corporation or organization or individual. Car Blog India bears no responsibility for the accuracy, legality, and/or content of the external site or for that of subsequent external videos/ external content. Contact the external publisher for answers to questions regarding its content.
Join our official telegram channel for free latest updates and follow us on Google News here.