Good news! Audi India has teased the new Audi RS5 Coupe in a post on their Facebook page. We do not have an exact date of launch, but we expect that the car will hit Indian roads by August 2013.
Audi had first launched the RS5 in India in May 2011, and was powered by a 4.2 litre V8, FSI (petrol) motor producing 450 BHP of power and 430 Nm of torque sent to all the wheels through a 7 speed S-tronic transmission and Audi's quattro system. The car could reach from a stand still to 100 KMPH in just 4.6 seconds, and could go on to touch an electronically limited speed of 250 KMPH. It was priced at Rs. 76 Lakh. The RS5, Audi's answer to the BMW M3 and the Mercedes-Benz C63 AMG, was a monster muscle car which could be driven everyday thanks to the low end torque and a 'comfort' ride setting.
Updated on 8th July 2013
Audi has launched the refreshed RS5 in India at a price of Rs 95.28 lakh (ex-showroom Maharashtra)
As we stated before, the RS5 is powered a 4.2-litre FSI engine that produces 450 BHP of power and 430Nm torque, 0-100 KMPH comes in 4.5 seconds and the coupe can hit an electronically limited top speed of 280 KMPH. The engine is mated to a seven-speed S-tronic dual clutch gearbox that can be manually changed via paddle shifters behind the steering wheel.
In India, the Audi RS5 will go against the likes of the Jaguar XFR, BMW 6 Series Gran Coupe, Mercedes-Benz CLS 350 and the Mercedes-Benz C63 AMG.
Updated on 27th June 2013
The new Audi RS5 Coupe doesn't get any different in terms of the engine, transmission and other mechanicals. It is still powered by the 4.2 litre V8 (which apparently is a close relative of the V8 powering the R8 supercar), the 0-100 KMPH time has been reduced by 0.1 second to 4.5 seconds and the top speed can be de-restricted to 280 KMPH from the standard 250 KMPH on special request. There is also a slight increase in fuel efficiency from 9.27 KMPL to 9.52 KMPL.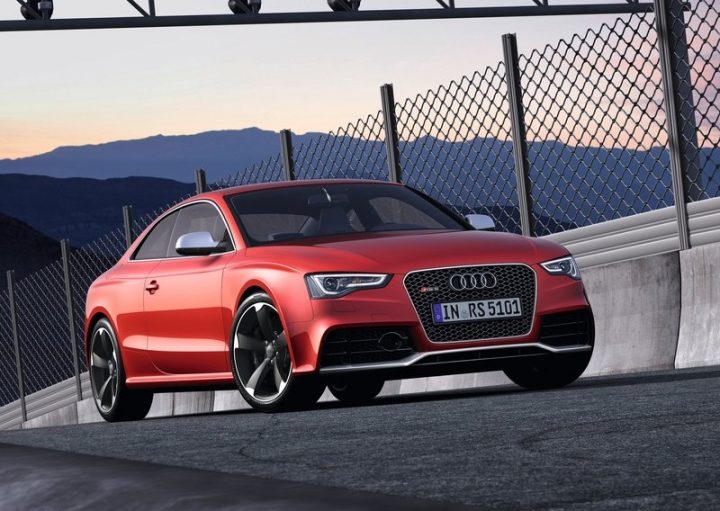 The major changes to the car, as you can guess from the image above (and if you have read the article on the previous RS5) are in the exterior design, interior design and the features that come as standard on this car. On the outside, the RS5 gets new LED headlamps, a slightly redesigned grille, a bolder front bumper and new tail-lamp clusters. There is spoiler, just like in the current car, in the rear hatch which extends electronically at 120 KMPH to keep the car stable. Apart from these features, there is nothing new design wise in the new Audi RS5.
Interior updates include a leather-wrapped multi-function flat-bottom sport steering wheel, redesigned controls, redesigned ignition key, redesigned gear lever knob, redesigned steering column stalks and redesigned buttons for Audi drive select and the optional MMI navigation plus. The interior trim remains fully black, just like the current car.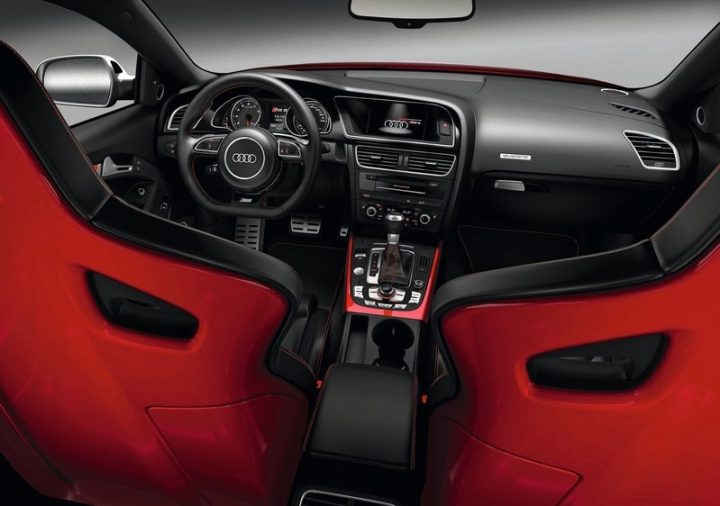 Standard equipment includes Audi's Parking System Plus parking assistance system, automatic air conditioning, an infotainment system connected to eight speakers, folding rear seats, etc. Optional equipment includes things such as a convenience key, panoramic tilting sunroof, three-zone automatic air conditioning, tinted rear windows and a power rear window shade. Assistance systems, the new driver information system with rest recommendation, Audi side assist, Audi active lane assist and the parking system plus with reversing camera, are also optional.
Another option is the top-of-the-line is MMI navigation plus, a control and navigation device with a large hard drive, a DVD drive, a seven-inch screen. If you are not satisfied with the regular speaker system in the car, you can order 14-speaker Bang & Olufsen sound system.
We do not have any details on the price of the car, we do not expect it to cost below Rs. 50 Lakh. We will keep you posted as and when news comes in about the new Audi RS5, meanwhile you can read about the cars that Audi will launch in 2013 on Car Blog India.