Chevrolet Korea has unveiled the  new Chevrolet Cruze 2013 at the Busan Auto Show in South Korea. The new Chevrolet Cruze 2012 looks very similar to the 2013 Cruze Station Wagon which was unveiled earlier in February 2012 in Geneva, in fact the front of the two cars is almost identical. In this article, we share all the details, pictures and some official videos of the New Chevrolet Cruze 2013 with you. We are expecting the new Chevrolet Cruze to hit Indian roads later in 2012 or maybe early 2013. Chevrolet Korea is promoting the Chevrolet Cruze 2013 with the slogan of "The Perfect Cruze".
The new Cruze is an upgraded and cosmetically uplifted version of the ongoing Chevrolet Cruze sedan which is sold in many countries around the world and is very popular globally in its segment. The new Cruze 2013 comes with many unique features like MyLink infotainment system which is a a 7-inch high-resolution touchscreen system which is used to play music, videos, movies etc. using a USB pen drive. The Mylink Infotainment system also connect with phones using the Bluetooth technology to use phone and multimedia features of phone using the car's MyLink system.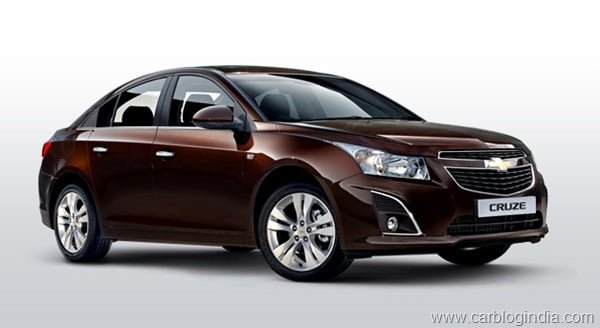 The New Chevrolet Cruze 2013 features a new front fascia with improved looking front bumper with lot of chrome treatment, sleeker and shaper chin, improved and more classy grille design, better looking alloy wheels, the rear of the car has also been improved cosmetically for a more shaper and dynamic look.
The New Cruze 2013 is powered by a 2 Litre turbocharged CRDI Diesel engine and does provide impressive performance as the present generation Cruze which delivers a power of 150 BHP and whooping torque of 327 Nm. The Indian version of 2013 Chevrolet Cruze is being speculated to more powerful engine with 2.2 Litre capacity which is used in present generation of Chevrolet Captiva.
Below are some official pictures and videos of the New Chevrolet Cruze 2013:
There have been speculations of the Cruze Hatchback coming in the premium segment in September 2011 and there were also some pictures of the same also released back then. We will update this article with latest updates, you can bookmark and return later to get more updates. Stay tuned for more on New Chevrolet Cruze 2013.
image and video credits – Chevrolet Korea Website and Facebook Page
Updated On 27th June 2012
Chevrolet Cruze 2012 Launched At Rs. 13.85 Lakhs Gets Engine & Feature Upgrades