This video highlights what great modification in a Force Gurkha could do. Basic and rugged in its original form, this luxurious treatment to its interior is impressive.
A Force Gurkha featuring a modified luxury interior is captured in this video on YouTube. The Gurkha is an off-roading monster that is hardly ever associated with comfort or luxury. Even in this new avatar, the prime focus remains on making a mega-capable off-roader but a lot of thought and effort has gone into making it a relatively comfortable vehicle for the occupants as well. But the aftermarket car modification players have innovative ideas to transform any vehicle. Here is a great example of it.
You may also like: WATCH First-Ever 2022 Force Gurkha vs New Mahindra Thar in Tug of War
You may also like: New Force Gurkha vs Mahindra Thar Comparison – Specs, Features & Design
Force Gurkha Luxury Interior Video
The YouTuber explains all the details in depth which are all focused on the inside. From the outside, there are no visible changes to the SUV. However, as soon as one opens the doors of the off-roader, everything is anew. Starting from the door panels, they are wrapped in deep tan leather materials along with wooden door handles, soft-touch material in place of the fabric. The wooden areas are all covered in glossy material that complements the otherwise matte finish overall. The upholstery is made from premium Nappa Leather with tan-brown colour and golden tan stitching. The steering wheel, which was originally hard plastic, has been covered with a wooden element with a glossy coating. It has been covered in black leather and golden tan stitching to match the cabin.
Apart from that, the entire dashboard area is turned deep tan with soft-touch material, the centre console has wood inserts with glossy finish, the wooden panel has also been installed between the two seats near the power windows buttons, the beading and carpet of the OEM have been kept intact which enables a wrinkle-free finish on the seats. The basic and rugged flooring has been given a premium treatment with black and golden 9D flooring with thick grass mats for easier cleaning. The rear also has two captain seats that are finished exactly like the front seats ensuring utmost comfort to the passengers.
You may also like: First in India – Old Mahindra Thar Modified Into Latest Model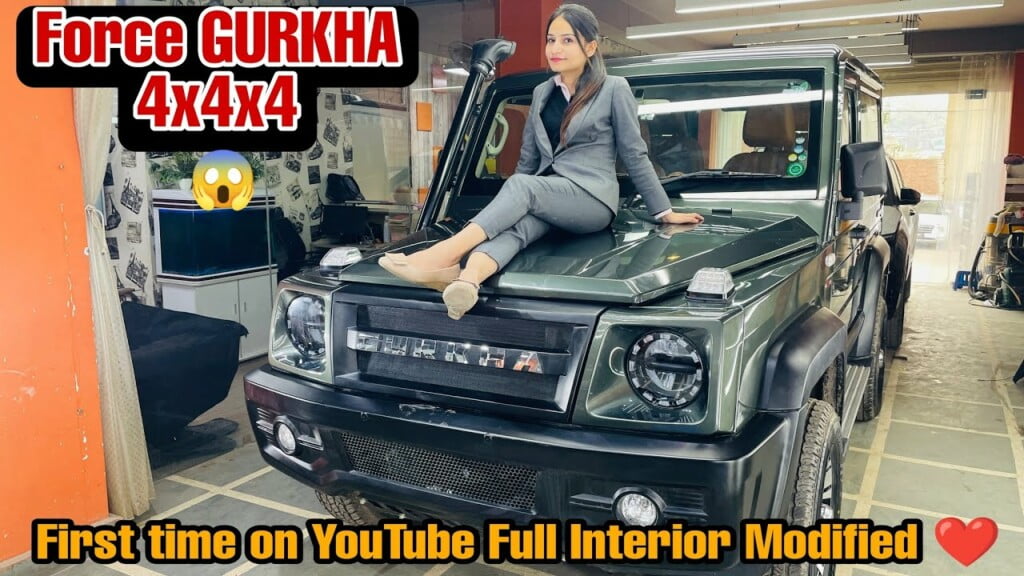 This is a great example to showcase just how transformative the car modification industry is. Something like this costs around Rs 25,000 – Rs 35,000 to do and the costs vary depending on the kind of material you choose for the interiors.