Here is a digital rendering of the Maruti 800 in a modern way that makes it look ravishing. However, it is not launching in India.
Maruti 800 is one of the most iconic cars in India that was discontinued back in 2014. Most of the fans of the car like it because of its compact dimensions and literally, the cheapest car to maintain. However, the 800 will not make a comeback in India because there are just too many hatchbacks of Maruti Suzuki in the market.
Here is a digital imaginative rendering of how the new Maruti 800 could look like. You can see a slight resemblance to the Honda E electric hatchback that is sold abroad. You have the same shape with all the sharp edgy lines. It actually looks like the original model with some minor tweaks to its overall styling.
Also Read: Maruti Suzuki Registers Zero Sales For The First Time In History- How?
You have the long bonnet and a rather ugly but memorable hunch on the back. Riding on those short wheels, its side profile is very similar to the OG. Then you have a new front grille with the '800' badging, a roof spoiler and not to forget, the Maruti logo. This is the original logo which was seen only in some of the cars many years ago.
Actually, the 800 was discontinued way back in India. Maruti then sold 1000 which came with a 1.0 Litre engine. It was slightly bigger than the 800 and came with a couple of more features. While the peppy look came with the 800 only, Maruti 1000 looked more family-focused.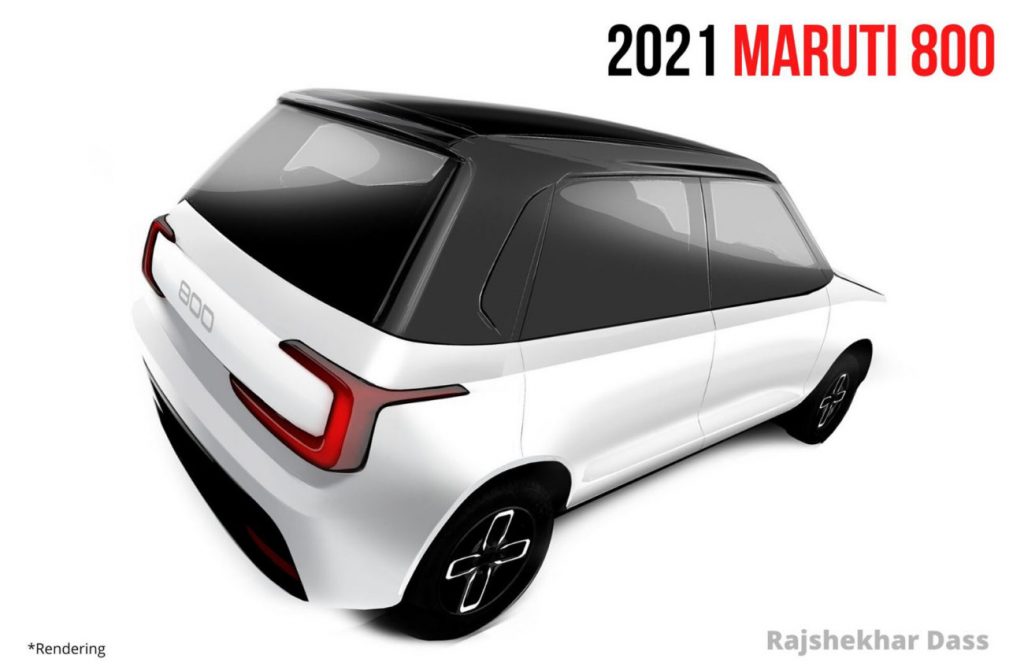 Many might remember that the 800 was very popular in the dirt races. Weighing just 650 kgs, it was very good at handling. It was also used in many races and the 90s kids might recall seeing them. The first model was launched in 1983 and is still alive, kept in very good condition.
Also Read: Watch Maruti 800 Modified Into A 2-Seater Convertible Sportscar – Video
Now, its replacement, Alto 800 is also towards the end of its lifecycle. There are reports which suggest that Maruti will discontinue the Alto 800 and Celerio by next year. They will be replaced by completely new cars with more features but the same engines. Maruti has already put a stop on the Alto K10.