Toyota Prius is a name which is worldwide synonymous with Hybrid cars. Since its inception in 1997, the Prius has become a household name in the western world. It has spearheaded Toyota's hybrid car programme that has now sold over 9 million units globally. The Prius itself has sold over 3.7 million units till date. In India, the Prius arrived in showrooms in 2010. While it may not be able to boast such impressive numbers here, in India, it works really well as a showcase of Toyota's prowess in the field of automotive safety and, more importantly, green technology. In November last year, we got a chance to take the new Prius for a short spin. Scroll down to read our first impressions of the upcoming model in our New Toyota Prius Test Drive Review here.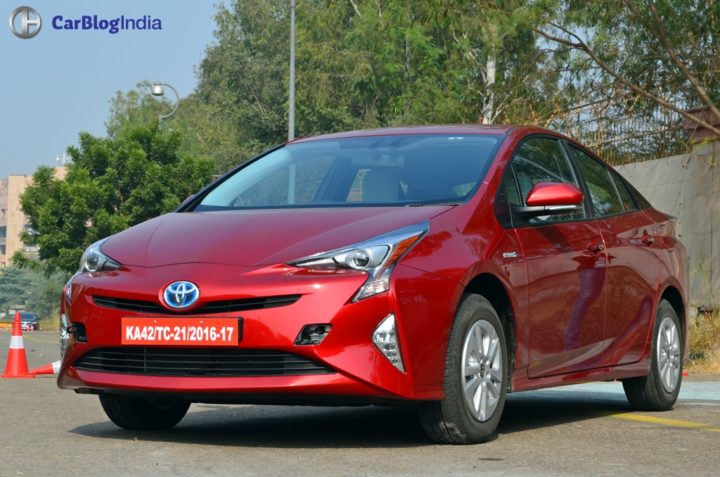 Looks Funky
The exterior of the latest Prius boasts a radical design. Its exterior now underlines the 'stand out from the crowd' design philosophy like never before. There are interesting design elements all around. The nose features a funky set of headlamps, complete with Bi-Beam LED units. LED daytime running lamps are placed at the edges of the bumper.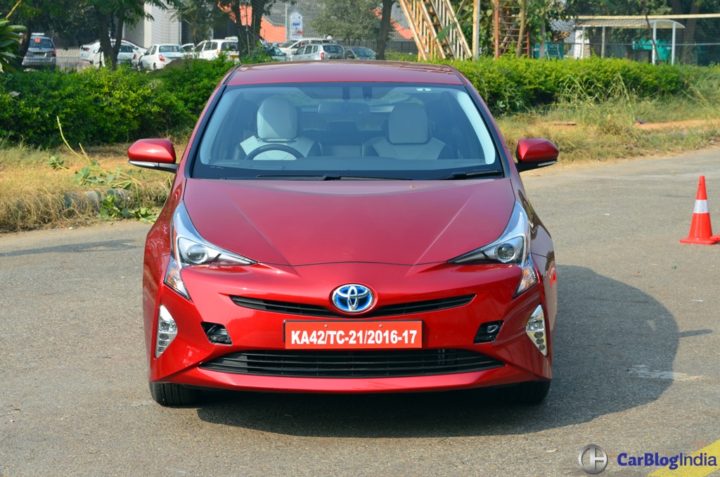 The side profile is as dramatic as the nose. It reveals the car's notchback shape, along with a handful of other interesting design elements, such as the floating roof and a steeply raking C-pillar. Designers have given the 2016 Toyota Prius a very interesting tail. While the rear end looks futuristic, it doesn't gel well with the rest of the car. The rear sort of juts out and lends the car a very tail -heavy appearance. As always, it is a matter of personal taste, really. More than anything else, one thing that's for sure is that the design guarantees exclusivity.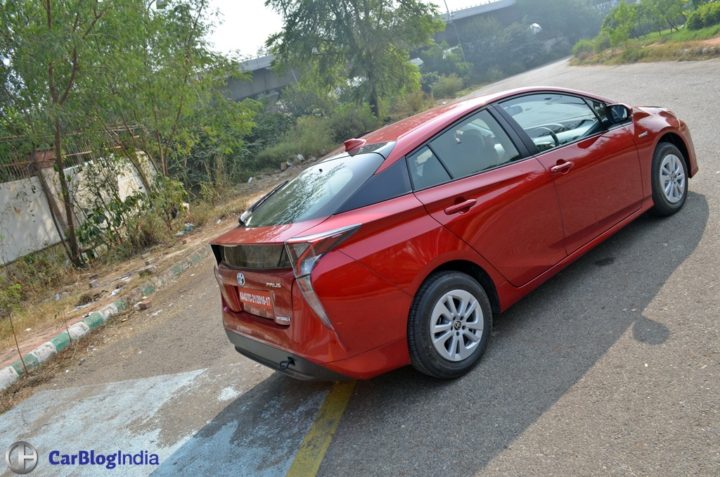 The interior of the Prius feature a black and white colour scheme. The split display from the previous model has been carried over. There's a larger touchscreen display this time around, but the JBL audio setup remains untouched. Placed below the aircon controls is the rather odd-looking gear selector. Overall, the cabin's space-age design is a reflection of the car's exterior. Lest we forget, the cabin offers comfortable seating for 4-5 passengers.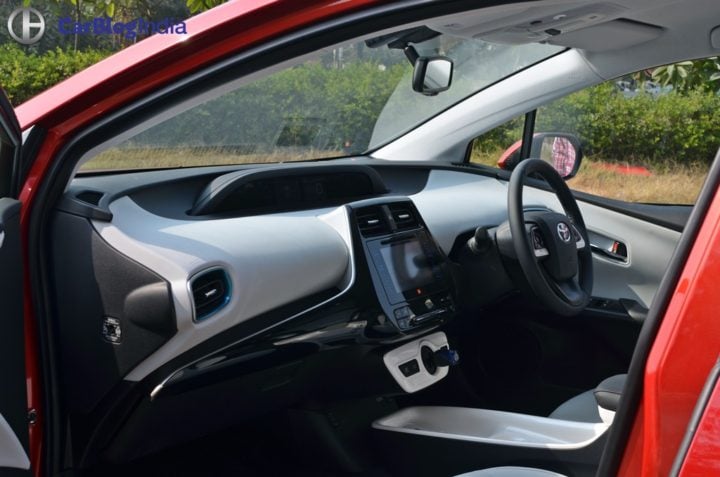 What's Under the Hood?
While Toyota has been tight-lipped about the exact specifications of the Prius in India, we doubt it will be too different from the model sold internationally. Being a hybrid, it draws power from a petrol and electric motor combination. The Petrol engine is a 1.8 L unit that produces 95 hp @ 5200 rpm and 142 Nm @ 3600 rpm. This works in conjunction with a 53 kW electric motor. An ECVT handles transmission duties. This combination offers decent performance in the urban environment. The acceleration is fairly brisk and the ECVT does a good job of transmitting power to the front wheels. More on this in our detailed New Toyota Prius Test Drive Review once we get our hands on one for a longer duration.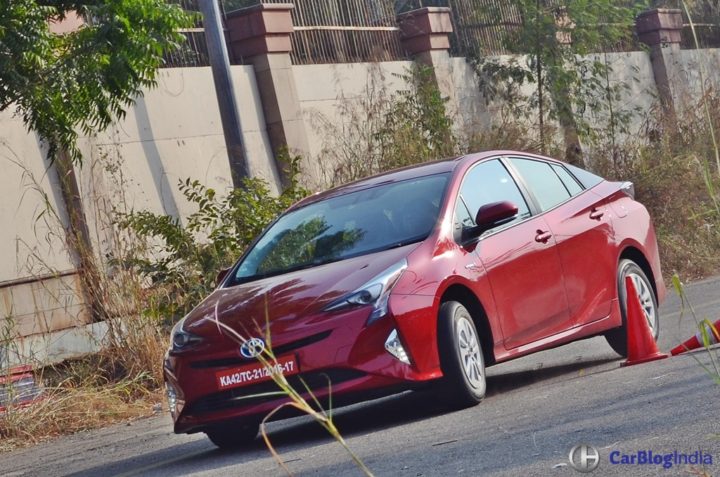 What's it Like to Drive?
The Prius is more of an urban car than a highway cruiser. So the suspension has been tuned keeping passenger comfort in mind. Among other things, we encountered a slalom course during our short drive. While the light steering and soft suspension mean it isn't a particularly sporty handler, it is clear that the Prius excels in the areas of maneuverability and comfort. Also, it boasts a very tight turning radius, which makes parking and getting in and out of tight spots a cinch. The Toyota Prius gets disc brakes on both ends. From what we were able to gather, the brakes performed well and the pedal has a nice gradual braking effect. Under hard braking, the Prius felt stable and came to halt without much drama. What is truly amazing is the way all the technological wizardry helps the Prius switch between electric power and petrol power really seamlessly.
Should I Wait for One?
The new Prius is priced at Rs. 38.96 lakh (ex-showroom Delhi). Such high pricing is courtesy of high import duties. That said, the Prius is one of the most highly celebrated cars in existence today, and it's simply too tough to overlook this. True, the asking price might be a little steep, but, the Prius guarantees exclusivity from its head-turning looks and strong green credentials. Get yourself a Prius, do your bit for the environment.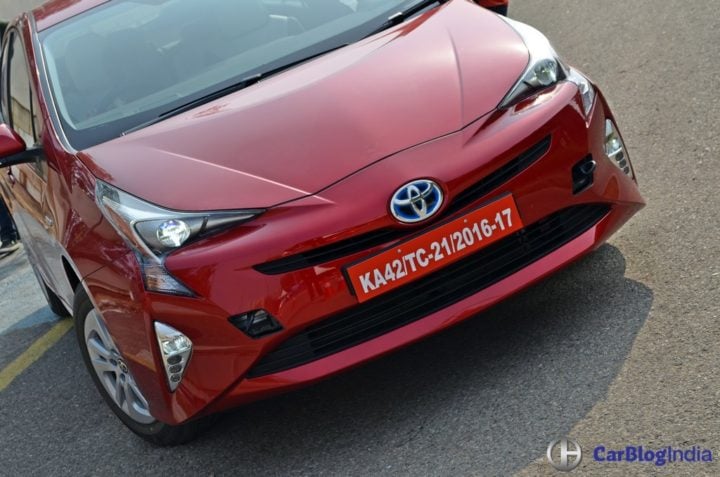 New Toyota Prius Test Drive Review
| | |
| --- | --- |
| Length x Width x Height | 4540 x 1760 x 1490 mm |
| Wheelbase | 2700 mm |
| Kerb Weight | 1395 kg |
| Wheel Type and Size | 15" Alloys |
| Boot Space | 696 litres |
| Fuel Tank Capacity | 43 litres |
| Engine Type/ Displacement | 1.8 L petrol + 53 kW Electric Motor |
| Power | 121 hp (Combined) |
| Torque | 142 Nm (Petrol) and 163 Nm (Electric) |
| Top Speed | -NA- |
| Acceleration (0-100 km/h) | -NA- |
| Transmission (Gearbox) | ECVT |
| Mileage | 26.27 KMPL (Claimed) |
What do you think of our new Toyota Prius Test Drive Review? Do let us know via the comments section below. Also, Stay tuned for a comprehensive New Toyota Prius Test Drive Review.
Join our official telegram channel for free latest updates and follow us on Google News here.