Toyota has been ruling the MPV segment for quite some time now and despite the slowdown in the overall market, the Innova is still selling good numbers. A few months back with the launch of Ertiga, the sales of Innova did show some drop but with the recent unavailability of Ertiga due to Maruti's plant shutdown, Innova is once again back in the business.
Although Ertiga is not a direct competitor to the Innova simply because of the price difference but a new car is heading towards the market and is expected to give Innova a run for its money. We are talking about Nissan Evalia which is all set to enter the market this month and here we are with a comparison of the two – Nissan Evalia Vs Toyota Innova.
Also read: Maruti Ertiga Vs Toyota Innova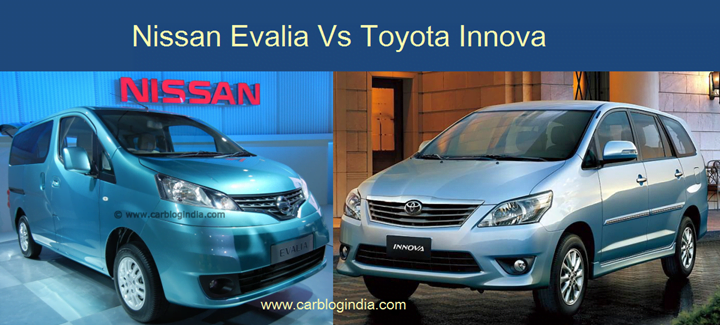 Exteriors Comparison
We have been seeing the Innova for years and over time Toyota has brought some changes to the car in terms of aesthetics. And the latest generation does look somewhat elegant and classy. The latest modifications made to the car's exteriors, though mild, give a new meaning to the car.
The Evalia on the other hand is a decent looking car with a new design. One very important thing about the Evalia is that its rear doors are sliding ones and not hinged ones. This makes the Evalia look more like a commercial vehicle as we have only seen such kind of door mechanism in Eeco, Versa and the likes. But since Evalia is an entirely different product, we do accept it with open arms.
Nissan Evalia MPV Dimensions
Length – 4400 mm
Height – 1880 mm
Width – 1690 mm
Wheelbase – 2725mm (95mm longer than the Nissan X-TRAIL)
Toyota Innova MPV Dimensions
Length = 4585 mm
Width = 1760 mm
Height = 1760 mm
Wheelbase = 2750 mm
In terms of proportions, as we can see, the Evalia is significantly taller but Toyota is longer, wider and even has a marginally longer wheelbase. So we can expect similar legroom amount in both the cars, while Evalia could offer more headroom.
Interiors Comparison
image – Nissan Evalia Interior
Evalia's interior design is new and nice to look at. There are cup holders on either side, a dashboard mounted gear stick, a simple centre console. Features list includes Dual Airbags on front seats (except for base XE variant), Disk brakes at front and drum brakes at rear, ABS and EBD with Brake Assist, Engine Immobilizer, Rear AC Vents on XL and XV trims , Rear Monitor Camera on top end XV, 2 Din Integrated Audio system with AM/ FM/ CD support, Central Locking system and Keyless entry, Power Steering, Tilt adjust power steering, Tables at the back of front seats, Alloy wheels on XV trim and many more.
image – Toyota Innova Interior
The Innova's dashboard design is quite interesting and the centre console is much better looking than Evalia's centre console. Features list includes Rear Defogger, Front Fog Lamps , MID (Multi Information Display) , Front Map Lamp (With Overhead Storage Console), Wooden Panel (Wood-like Finish), Rear Air Conditioner Ceiling Vents (For 2nd & 3rd Rows), Tilt Steering Column, Power Steering, Power Windows (With Driver side Auto Down), Power Door Lock, Audio System, Microphone + Amplifier, Audio,Mid & Bluetooth Phone Control on Steering, Keyless Entry, Back Monitor Camera with Display, ABS , SRS Airbags , Immobilizer etc.
If you are looking for space more than anything else then Evalia is certainly going to impress you as it can not only accommodate 7 people at once but also offers plenty of boot space at the same time.
Engine Comparison
Nissan Evalia Engine Specifications
1.5 Litre turbocharged K9K Diesel Engine
Peak Power of 85 BHP @ 3750 RPM
Peak Torque of 200 Nm @1900 RPM
5 Speed Manual Transmission
Fuel Mileage of around 20 KMPL
Power to weight ratio of 60 BHP per 1000 kg
Toyota Innova Engine Specifications
2.5 litre turbocharged CRDI diesel engine
Max power of 102 BHP @ 3600 RPM
Max torque of 200 Nm @ 1400 – 3400 RPM
ARAI certified mileage of 12.99 KMPL
5 speed manual transmission
Power to weight ratio of 61 BHP per 1000 kg
Evalia has a smaller engine with less power output but remarkably it has the same torque output of 200 Nm as Innova's engine. Another important thing to note is that Nissan claims to have achieved a good mileage figure of 20 KMPL whereas the Innova returns 13 KMPL only.
Performance & Handling
Innova used to have an upper hand when it comes to driving dynamics but we believe, Evalia will beat the Innova here. Evalia has an extremely light steering wheel, a small turning radius and small gear ratios which are perfect for city driving. The Innova is no doubt a good car, but Evalia is slightly better.
Price
Nissan Evalia Prices Ex-Showroom Delhi are as follows:
Nissan Evalia XE is priced at Rs.8.49 Lakhs
Nissan Evalia XE+ is priced at Rs. 8.92 Lakhs
Nissan Evalia XL is priced at Rs. 9.49 Lakhs
Nissan Evalia XV is priced at Rs. 9.99 Lakhs
Toyota Innova 2012 Price Ex-Showroom Delhi
Toyota Innova 2012 2.5 EV (Diesel) MS8Seater is priced at Rs.9,34,702
Toyota Innova 2012 2.5 EV (Diesel) MS7Seater is priced at Rs.9,39,231
Toyota Innova 2012 2.5 EV (Diesel) PS8Seater is priced at Rs.9,90,316
Toyota Innova 2012 2.5 EV (Diesel) PS7Seater is priced at Rs.9,94,845
Toyota Innova 2012 2.5 G (Diesel)8 Seater is priced at Rs.10,48,775
Toyota Innova 2012 2.5 G (Diesel)7 Seater is priced at Rs.10,44,351
Toyota Innova 2012 2.5 GX (Diesel)8Seater is priced at Rs.11,89,707
Toyota Innova 2012 2.5 GX (Diesel)7Seater is priced at Rs.11,85,177
Toyota Innova 2012 2.5 VX M(Diesel)8Seater is priced at Rs.13,89,308
Toyota Innova 2012 2.5 VX M(Diesel)7Seater is priced at Rs.13,84,884
The base pricing of the two cars differs by almost a 90 k which is huge amount. While the Evalia starts at 8.49 lakhs and ends at 9.99 lakhs, the Innova starts at 9.34 lakhs and ends at 13.89 lakhs. WHile Evalia is available in four variants only, the Innova comes in 10 different variants, with each grade offering both 7 seat and 8 seat configurations.
Car Blog India Verdict– Nissan Evalia Vs Toyota Innova
As of now, considering the features and pricing, the Evalia seems to be a smarter buy. But does it mean Innova is not worth its price? Innova is priced well but with the launch of Evalia things are going to get changed and people could start considering Evalia over Innova.
If space, fuel efficiency and ease of driving are your utmost concerns then Evalia will prove to be the best choice. Whereas if you are looking for comfort,  features and looks, and can sacrifice on mileage then Innova is car for you.
Join us for FREE NEWS Updates on our Whatsapp Community or our official telegram channel.