Nissan India posted its highest ever monthly sales in March 2012. This month has been a record breaker month in terms of sales for most Indian brands including larger players like Maruti Suzuki, Hyundai, Tata and medium players like Toyota, Ford, General Motors and Nissan has also been a part of this trend with its high value for money offering Nissan Sunny. Nissan Sunny is one car which is far more spacious that its class and offers very good feature at a very competitive price point with a choice of a highly refined and fuel efficient K9K diesel engine which puts out amazing torque levels which make this car a delight to drive.
In March 2012,  Nissan India reported its highest ever monthly sales in India with a record 5880 units sold. The March 2012 sales represent a massive 180% increase over the March 2011 figures of 2,101 units. It also outperforms Nissan's previous monthly record achieved in February 2012 when 5,371 units were sold. This is the third successive month in which sales have crossed the 5000-units mark, having first reached the milestone in January 2012, thus demonstrating Nissan's fast growing market penetration in India over the past 12 months.
Cumulatively, NMIPL sold 33,275 cars this year against 13,043 units in full year 2011, with the Made-in-India Nissan Sunny accounting for 14,164 units in the seven months after its launch in September 2011. The hatchback Micra sold 18,650 units during the full year 2011-2012 against 12,315 units the previous year, with other models selling 461 units.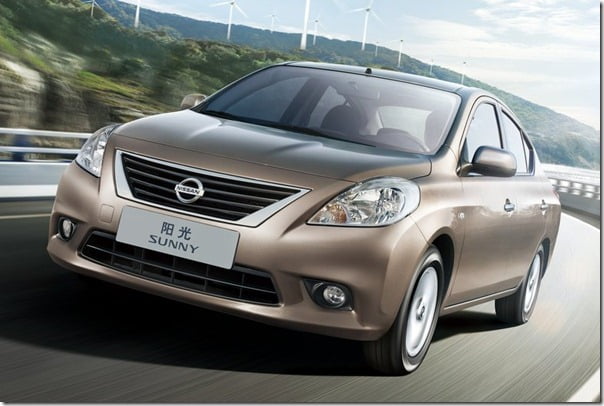 image – Nissan Sunny India
Nissan launched the popular diesel variant of the Sunny in January 2012. The all-new sedan led monthly sales for March with 4,153 units followed by the Micra with 1,680 units. Other models like the Nissan Teana, X-Trail SUV and the 370z sports car comprised the remaining sales.
Commenting on the annual sales figures, Mr. Ishida Takayuki, Managing Director, Nissan Motor India Pvt. Ltd. said:
"Our sales performance over the past 12 months suggests that Nissan as a brand is continuously capturing market share in India. Breaking the 5,000 sales mark after just 20 months of operation, and repeating the feat for three successive months is a milestone in our continuing development in what is one of Nissan's most strategically important markets. Our commitment to provide affordable and innovative models in the Indian market has fuelled sales over the past year and, importantly, locally-manufactured models account for more than 90% of our total sales. The models driving growth are produced here at our Oragadam plant in Chennai. From autumn this year, we will add the innovative Nissan Evalia urban-class vehicle to this portfolio, thus bringing a wider choice for our valued customers."
Mr. G.M. Singh, Vice Chairman & MD, Hover Automotive India (HAI), Nissan's sales and marketing partner in India, said:
"The unprecedented sales figures are indicative of growing customer satisfaction and faith in the Nissan brand and Nissan is committed to launching innovative models in the market as part of its strategy for India. The Nisan Sunny and Micra have already gained wide acceptance as high quality cars that are accessible and reliable and we look forward to reaching greater heights in our journey in India during the next twelve months."
check out more-
More Related News