We (Varun, who is narrating this travelogue, Mohit & Rohit) were recently on a short 4-day road trip from Delhi to Uttrakhand and back. This was a long due trip with friends (no kids and better halves) just guys, talking freely like our college days. And our stead on this trip was a spanking new Nissan KICKS. There are many reasons why this is our car of choice for this trip which I will explain along the post in terms of the features and performance this car has to offer for this trip. So let us begin with our travelogue.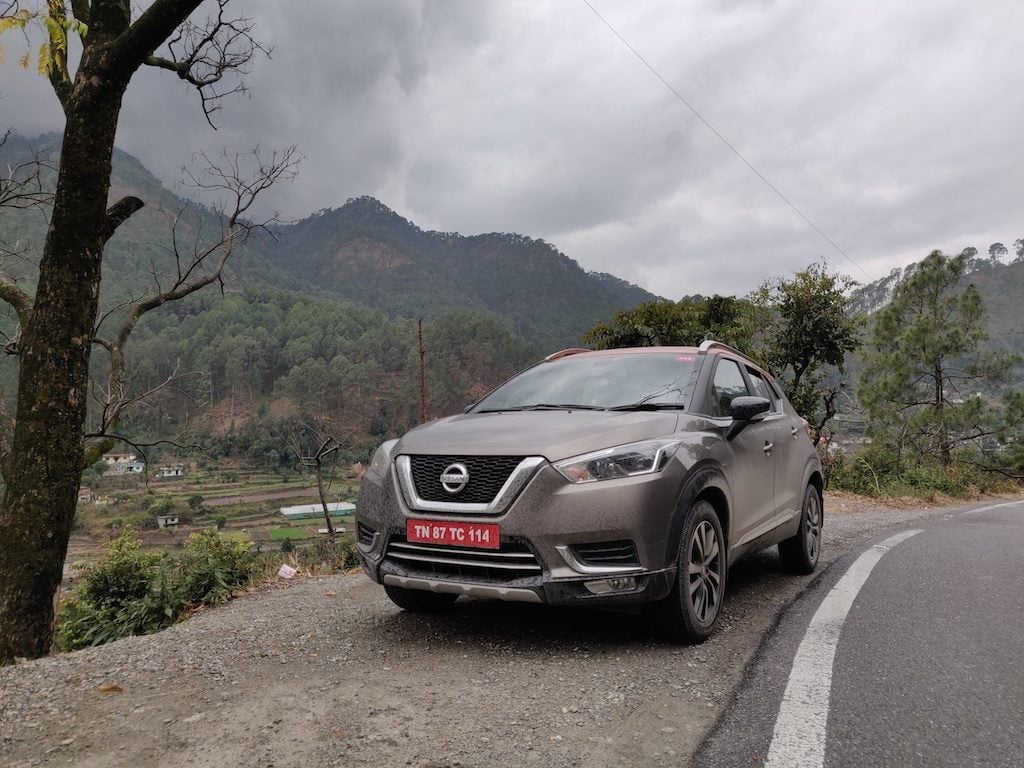 Day 1- Delhi to Ramgarh
We (surprisingly) started on time around 5:30 from Delhi and were well on our way towards our destination for the day (Ramgarh). I did not bother taking the wheel in the boring plains as my friends (Mohit & Rohit) were really getting the "KICKS" driving the car. To be honest the car seemed very well planted on the highway even at higher speeds (we went mostly up to 120 KMPH and not more considering the highways were not too safe for higher speeds). Sitting in the backseat I was quite comfortable with my 6 feet stature. And on top of that, the car has a spacious boot. Good enough even for a nice long family vacation.
After a quick stop for breakfast at Bikanerwala around 8 AM, we reached Bhimtal already by 12:30 PM. I took the wheel just before the mountains started (insert evil laughter), and was surprised by the surefootedness of the car even on winding roads. The steering is a bit on the heavier side but the feedback is very precise and gives you the right confidence to navigate tricky roads. Additionally on power front as well the car did not disappoint as I was never short of juice for overtaking even on inclines.
Just after Bhimtal, we stopped for a fantastic lunch at the I Heart Café (highly recommended). Post lunch we continued towards Ramgarh and after some sightseeing, we checked in to Solitude resort. Even though we were driving most of the day, we were in better shape than expected because of comfortable and plush seating in the car. The cabin is extremely quiet for a diesel car and very comfortable as well. The ride quality is surprisingly good for a car, which has a tall stance and has an urban-SUV/ crossover body. On top of it, we got some nice food and a great view of a thunderstorm in the mountains from our hotel window. On day 1 we did not get the view of the snow-clad peaks due to cloud cover. Finally, the day ended with a customary viewing of a boys-only movie Pyaar Ka Punchnama (don't tell my wife about it ;)).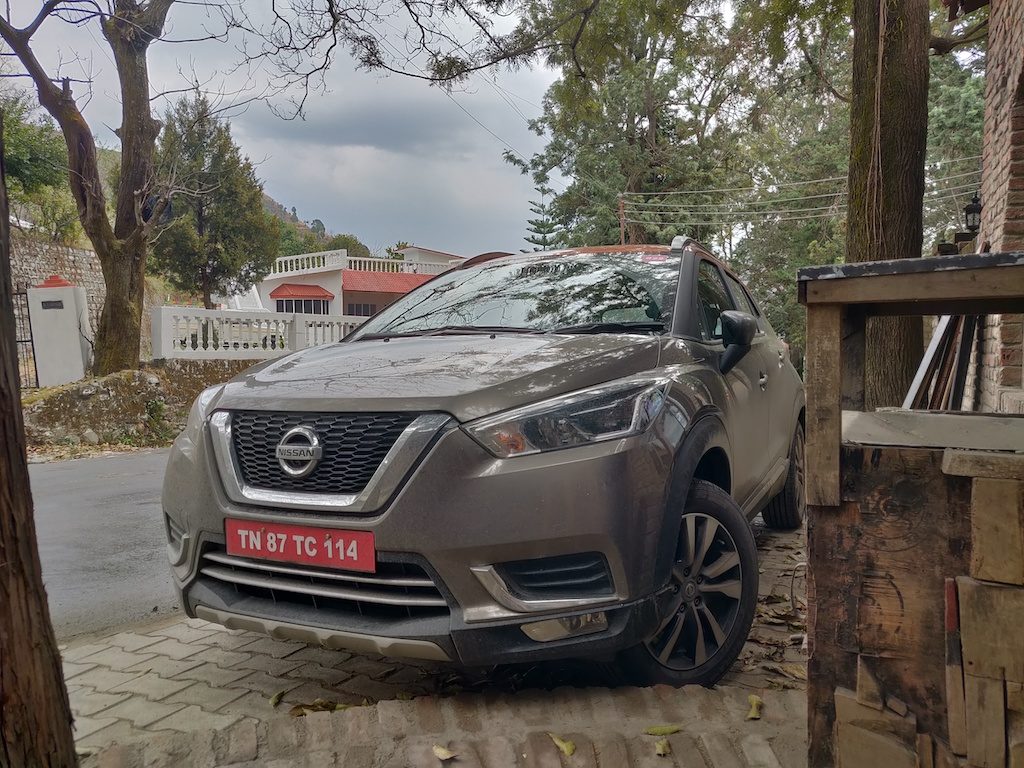 During my first day of experiencing the Nissan KICKS, I got to know of some key features, which really impressed me. This is not a comprehensive list, but the things I noticed within a few hours of being in this car. The quality of the interiors is very high and the car feels premium and comfortable. Besides being powerful and capable, the car is very quiet. The NVH levels are commendable and it is too silent in the cabin for a diesel car. Also, some impressive features on the inside are large 8-inch touch screen infotainment system with Apple Car Play and Android Auto. We did keep our iPhone hooked into the car for navigation with the Apple car play on. The automatic climate control is also helpful to keep a comfortable cabin temperature. The rear AC vents are helpful to keep the passengers in the rear seat comfortable.
The reverse parking camera system used in Nissan KICKS, called the Around view monitor which shows all around view of the car is very innovative and unlike any other car in this segment. This is a segment first feature and makes the car stand out.
There are also some very simple yet impressive touches like a leather-wrapped soft-touch dashboard and door trims which are not seen on any other car in this segment.
Day 2- Ramgarh To Sitla
Today's target was to have a slow start and reach Sitla at a leisurely pace (<50kms drive). The breakfast at the hotel was just amazing. Everything (including the bread) was made in-house and fresh. Since we had only two rooms occupied in the whole hotel, the service was very prompt and personal. So, after filling our tummies for the day, we checked out and started. Beginning with the nice climb from the Hotel parking to road (> 25% incline). Again the car did not grunt much even on a cold start. The engine and transmission performance of the Nissan KICKS has been very impressive even in the most challenging terrains.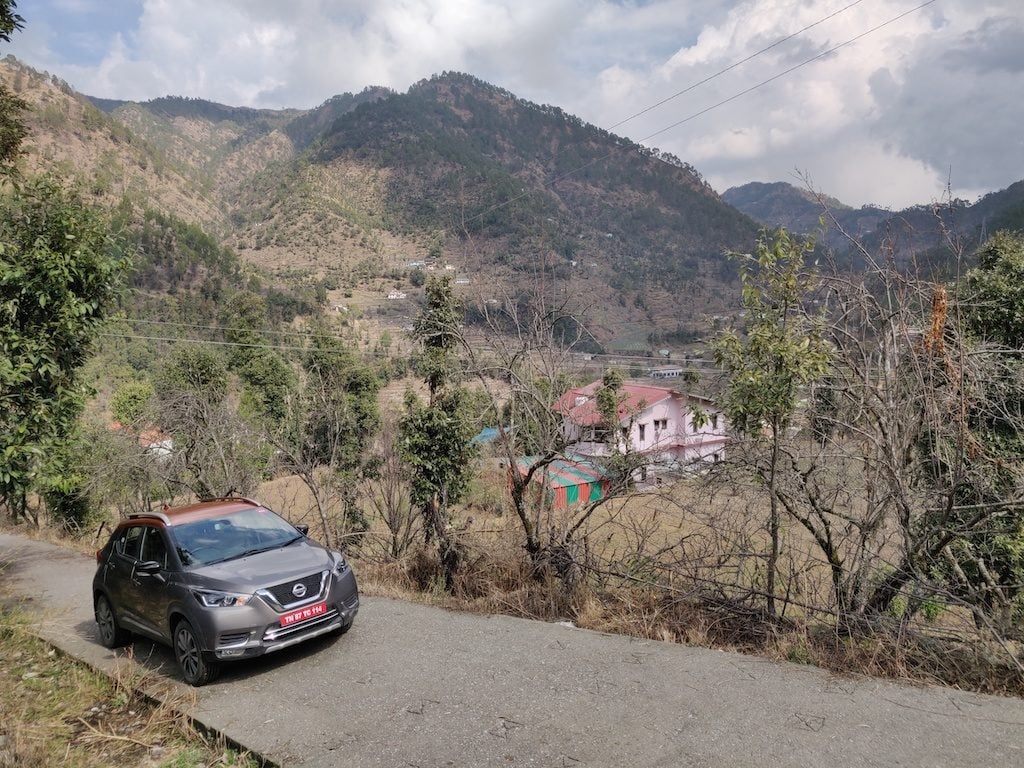 We visited a few places around Ramgarh and got caught in a hailstorm, however thankfully we were in the car at that time and driving dynamics didn't change much even on a wet muddy road. To be fair we were also driving really carefully but the grip and handling inspired confidence. While driving on the winding wet roads full of hailstorms, while it was still pouring badly, the car did behave very well with occasional Electronic Stability control light coming on occasionally, indicating that the stability control system in the car is kicking in at times to ensure that the wheels do not skid or slip. It was very reassuring to see that the car was very well planted and very precisely in control even on bad and wet roads. The weather gradually got better in about 2 hours while we continued our journey at a slower pace due to bad weather.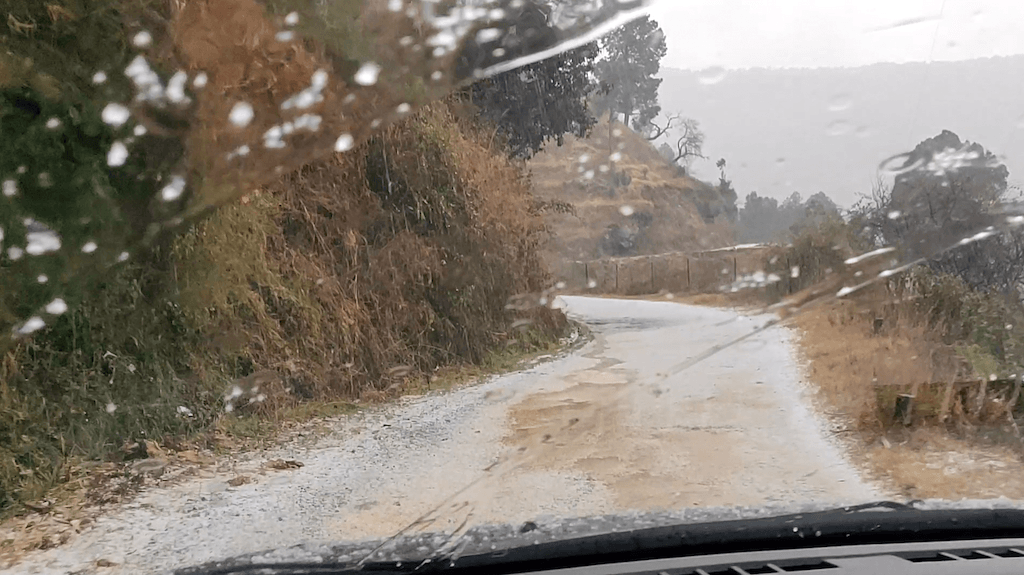 Finally, after a long day wandering around, we reached our stay for the night, Sitla Estate and checked in. Here we were the only guests so again the service was really exceptional. We were greeted in a lounge area with a real fireplace where we say down and had some evening drinks after a long day. Thereafter, we had a four-course dinner with a fireplace cosying up to the room. Time flew as conversations flowed effortlessly. Finally, it was time to go to bed.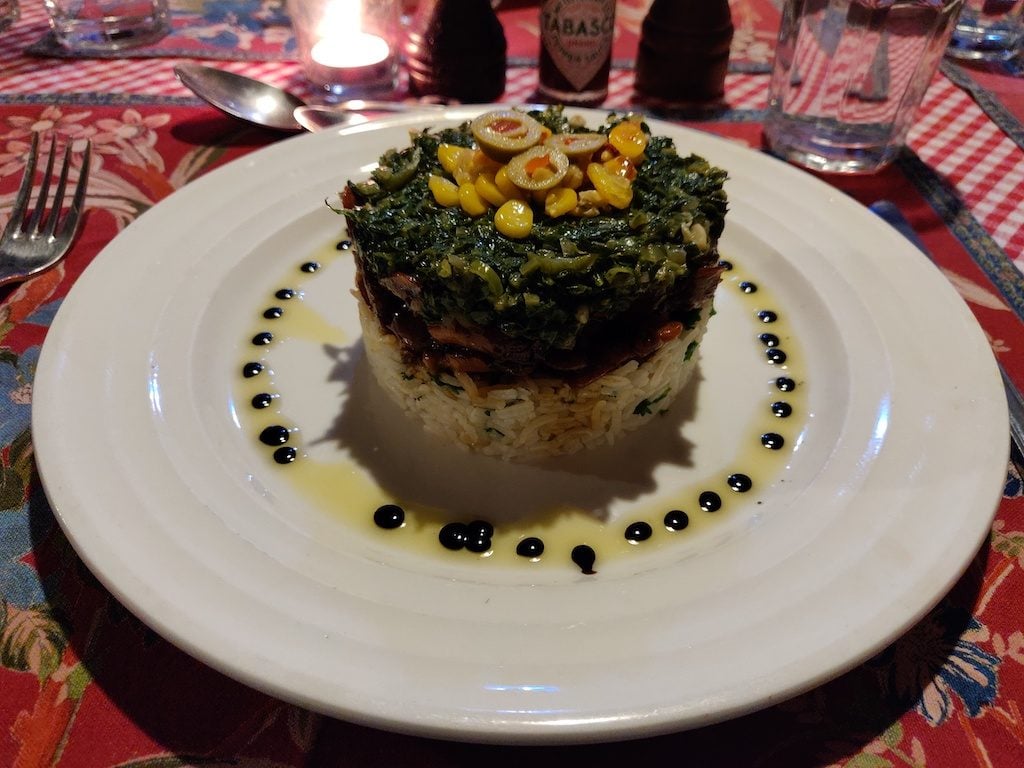 Stay for the next day was the Essence of Nature Resort near Ranikhet. On this day, during our journey through the hailstorm, I noticed the safety features of the car, which make it very appealing. The Nissan KICKS packs in a lot of safety with a sturdy body frame, Dual Airbags as standard across the range while the high-end trim comes with 4 airbags. There are ABS, EBD and brake assist across the trims. There is 6-way adjustable driver seat, rear defogger, Electronic Stability Control along with very capable suspension with large 17-inch alloy wheels which provide a strong grip on the road. Dual projector headlamps and a short turning radius of this car also helped a lot during night driving and taking tight manoeuvre around the mountains.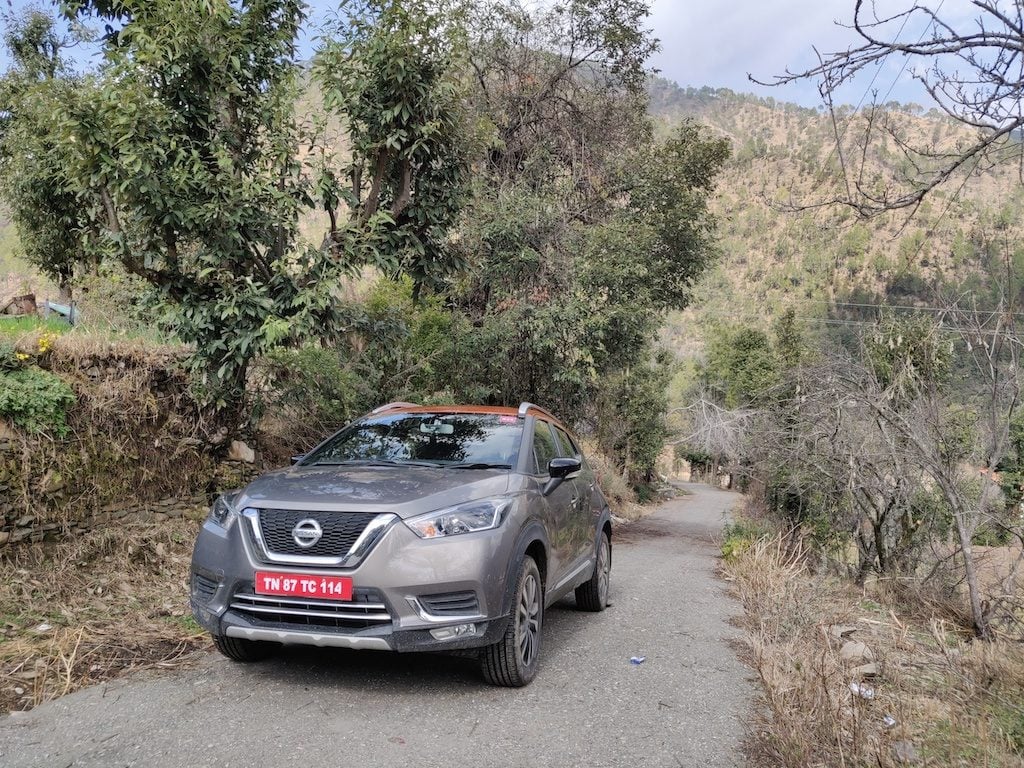 Day 3- Sitla To Ranikhet
The day started early and we were on the road by 09:00 AM. After some sightseeing around Sitla, we started our journey towards destination by 12:30. We had to cover over 100 Kms today and expected to take around 4 hours with stops. The roads around Sitla were amazing with proper markings and guardrails at most places, however, things started going south as we went further. At one point a bridge was under construction. There was a temporary road had to be taken which was nothing but a water crossing under the bridge. The water level was modest but having a car with class-leading ground clearance meant we did not face any issues. This ground clearance came in handy at numerous points during our journey in the mountains.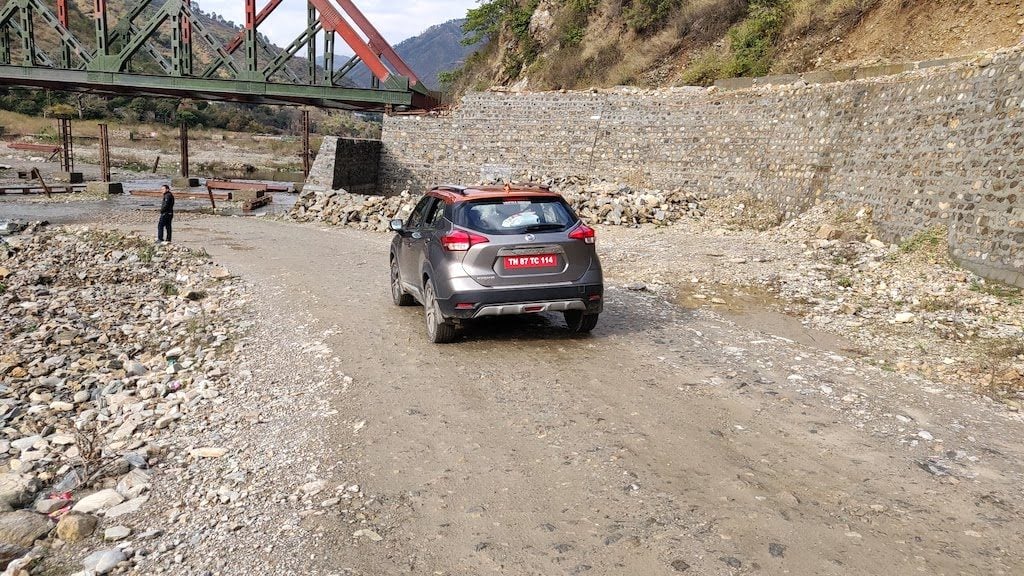 Today was all about driving on winding mountain roads and the car handled everything really well. On the way, we stopped at a small restaurant for some Maggi (the staple food for travellers everywhere). We filled three hungry guys with Maggi, tea and munchies for less than 200 Rupees and were on our way to the destination within 30 mins. Around 3 Kms before our destination, we saw that a kutchcha road going up the mountain had to be taken for the resort. It was a work in progress with no smooth surface visible. I had my doubts if we will finally get some underbody hits from the rocks lying in the middle. To be sure I walked up some distance to check how long it went like this and tried calling up the resort for alternate routes. But to no avail and we understood that this is the only way. We started really slow and the absence of any other traffic helped us. Surprisingly we did not get any underbody hit from the debris on the road, again, thanks to the large ground clearance of 210 mm. And thankfully the road turned from loose rocks to loose gravel after 1 Km. With still around 900 meters to go, we took a turn and on the right, we saw one of the most beautiful sunsets. We immediately parked the car and got some really good shots of the view(pictures below). Then we just saw the sun going down in the mountains and ended the day with check-in at the resort. The weather was expected to be better tomorrow and we were really hoping to get a view of the mighty Himalayas.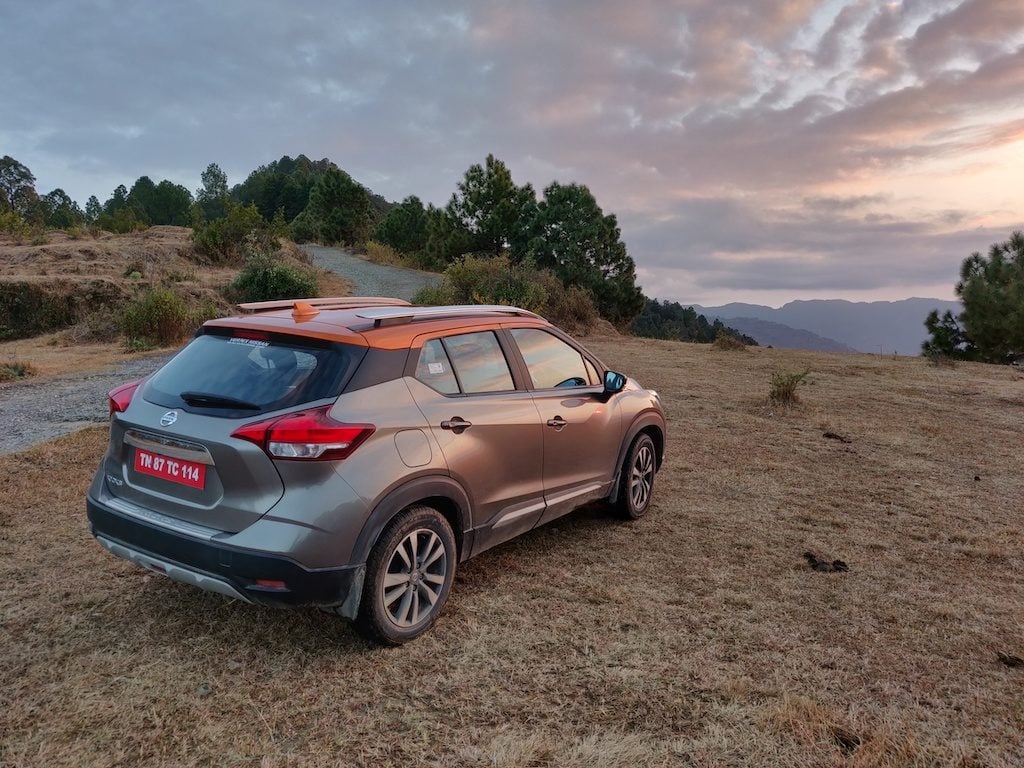 Day 4 (Return)- Ranikhet to Delhi
As soon as I woke up, the first thing I did was to remove the curtains and boy the view didn't disappoint. We saw white peaks with clouds below us moving slowly over the green foothills. I even tried making a hyperlapse on my phone and it was amazing. Then we dragged ourselves away from the view got ready for the day of driving.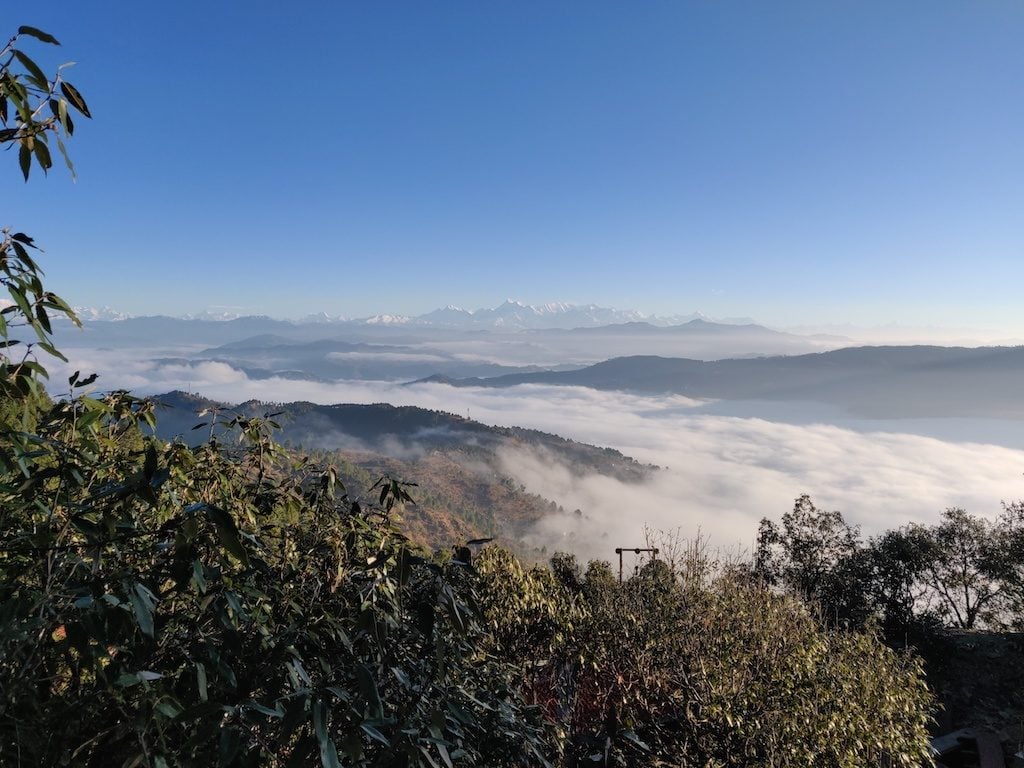 Returning to Delhi from Uttarakhand is always a pain as you know there will be massive traffic jams as you get closer to Delhi. Still after some sightseeing around, which involved lots of driving on mud roads we were finally on our way to Delhi. The highway driving was mostly easy and zippy at speeds close to 100KMPH till we reached near Moradabad. Here we were stuck in a traffic jam from hell. There were at least 5 lanes on a regular two-lane road with construction material nicely kept in middle at a lot of places to spice things up. Again the KICKS was in its elements as ground clearance and sharp handling meant we could manoeuvre the car in ways in which a sedan can't even dream about. After struggling for two hours to cross a stretch of under 4 Kms we were finally on our way and reached Delhi by 11:00 PM, thus ending a memorable trip of around 900 Kms in total. The average fuel mileage we got on this trip was around 14.5 KMPL which is impressive considering the kind of terrain and traffic jams we faced on our way back.
There are a lot of features of the Nissan KICKS, which are worth mentioning. We have not been able to cover everything about the car above, so here is a quick features summary of the car because of which I feel that this car is the best in its segment. These are- strong build, a capable engine and transmission combination, sorted suspension, great handling. It also offers premium interiors, low NVH, premium infotainment system, best in class around view monitor reverse camera system. It also offers great 210 mm of ground clearance and 5.2 m of turning radius. Some other useful features include cooled glove box, stylish shark fin antenna, front arm rest, door pad arm rests, NissanConnect telematics system, high-end smartphone connectivity to name a few.
In terms of the cost of ownership as well as the cost of maintenance, the Nissan KICKS offers a lot of competitive advantage. If you compare the top end variants ex-showroom price of Nissan KICKS XV Pre Option Diesel with the top end Diesel Manual SX(O) variant of Hyundai Creta in Delhi, the KICKS is cheaper by around Rs. 80,000. On top of that, KICKS also offers 3 years warranty, 3 years road-side-assistance and 3 years of maintenance package as an introductory offer (till March 2019). Along with this, there are 27 different types of official accessories, which can be used to personalize the Nissan KICKS.
We hope you enjoyed reading our travelogue and the details we shared about the Nissan KICKS. Do share this post with your friends on social media. We will be back with more travelogues in future. Special thanks to Varun (follow him on twitter here) for contributing to most of this writeup.
Image Gallery