Nissan Micra is the only small hatchback by Nissan in India so far. The Micra is known for its cute looking exteriors, comfortable interiors, small turning radius and modern features in top trims which are usually not found in these cars like the intelligent key and push button start. In this article, I will share my driving experience of Nissan Micra Diesel XV on city roads of Delhi and about 80 Km trip on NH1 connecting Delhi and Chandigarh. The car I drove belonged to a friend and recently purchased. The Nissan Micra Diesel is powered by a K9K Renault 1.5 Litre dCI engine CRDI deiesel engine which is a very impressive engine unit with 160 Nm of torque. Before I drove the Micra diesel, I had this doubt in mind that a mere 64 PS of power will feel underpowered for a car with 5 occupants, but to my surprise, it was a different feel to drive the car. Let me share my experience with Nissan Micra Diesel which I Drove during night hours for about 2 hours with mixed use in city and highway traffic.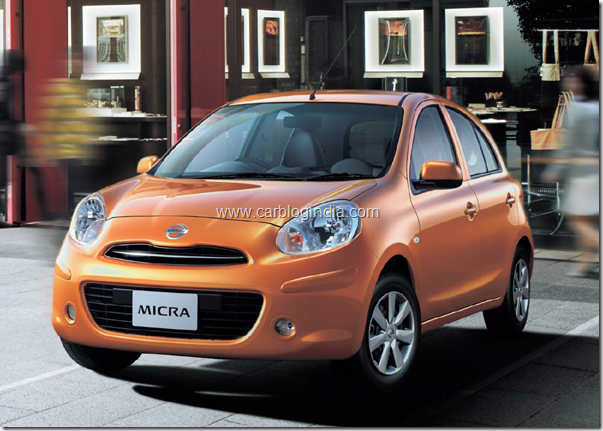 image – Nissan Micra Diesel Exteriors
Nissan Micra Diesel Exteriors and Interiors
To be honest, I like the way Nissan Micra stands out from the competing cars in terms of design. It is kind of cute with some amount of sporty character associated with it. It has a distinctive exterior design which is not very conventional boxy design, rather its well rounded and candy like looking car which may or may not appeal to all. I personally find this car good in terms of exteriors.
In terms of interiors, if you are a fan of beige-brown or the light colour tone, you may not find them very attractive. The interiors are grey and silver in finish which look decent with good quality of plastics and good build quality of interiors. I like the overall features and spaciousness of the cabin besides being a compact in terms of exteriors.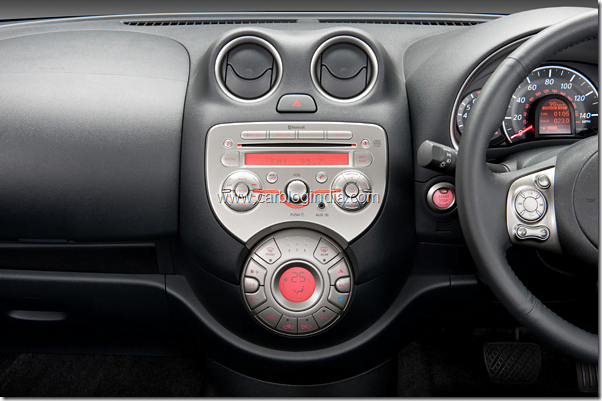 image – Nissan Micra Diesel Interiors
Nissan Micra Diesel Engine Performance, Ride and Handling Characteristics
I have driven many diesel hatchback in India and I must say that Nissan Micra has got one of the best diesel engines in any small cars in the country. I have driven the much popular Maruti Swift Diesel with a 1.3 Litre multi-jet unit, a Fiat Punto with same unit with slightly different tuning etc., but all those cars had evident and noticeable turbo-lag which makes power delivery dull especially in first gear. However with Nissan Micra's K9K diesel engine unit, there was not turbo-lag whatsoever even while picking up from a stand still. With 5 passengers on boards, the Micra Diesel did not need push on the accelerator to pick up, rather it gave me a surprise by delivering much better than expected acceleration with amazing 160 Nm of torque which is delivered quite well right from very low revs.
The gear shifts were very smooth and refined, the clutch was quite light and comfortable to operate, the steering feedback was quite well too, much better than many other entry level hatchbacks. One of the things I noticed about the Micra Diesel is that its high torque makes is very easy to go form slow speeds as low as 30 KMPH to 120 KMPH with ease in 4th or 5th gear without requiring much of an effort or stressing the engine. The reason is almost linear torque over the RPM range. It does take the overall acceleration down, but in congested city traffic, you will find this as a boon to relieve you from frequent gearshifts. The gear ratios are also well placed which are quite all in the higher gears 3, 4 and 5 which makes it a very good cruiser.
A small turning radius of 4.65 meters makes maneuvering in congested traffic and tight parking lots very convenient. The ride quality was very good inside the city and handling was also quite well with ample steering feedback and good control. There was however some amount of body roll on turns beyond 70 KMPH, but that too was quite in control. The overall feel was confidence inspiring. Handling on straight roads, mild curves and overtaking were quite easy. At higher speeds close to 100 KMPH, overtaking did require a downshift once or twice, but mostly it was fine. One thing which I find extraordinary in Micra Diesel is the low NVH levels. The car was very quite and comfortable on the inside on the highway driving at the speeds of close to 120 KMPH which most small hatchbacks fail to do as some amount of vibrations form road or engine seep in, but in Micra, the cabin was very quiet and ride was very comfortable.
Also there is a real time fuel consumption indicator which remained at 20+ KMPL mark most of the times on highway and between 15 to 20 KMPL in stop and go City traffic. Overall, it was a better than expected acceleration, ease of driving, lower NVH levels and good comfort of driving Micra Diesel both in City as well on highways.

image – Nissan Micra Diesel Features
Nissan Micra Diesel Features
Intelligent key which is like a smart card comes standard with the Micra Diesel. You just need to have it in your pocket, touch a small black button on door handle and the car lock or unlocks. You get in and the car senses if the key (smart key) is inside the car, then when you press the start button pressing the clutch pedal, the car starts. This is one feature you find in much more expansive cars and not in other hatchback in this segment (except Renault Pulse which is Micra's sibling only). Audio system was also quite good with interiors and other features impressive enough.
Something which is lacking is the safety features, which is very important, but Micra diesel does not come with ABS and EBD even in the top end variant. The Airbag on driver side is standard, but the front passenger airbag is not available in diesel model. Such feature cuts are usually done to keep cost low which is understandable, but I personally feel that there should be some optional package or one more variant with complete safety features for buyers to opt for a more safe car by paying extra.
Nissan Micra Diesel Test Drive Summary
In all, the quality of interiors, exteriors, build quality and features are one of the best in this segment. Engine, driving dynamics and NVH levels are very impressive and Micra Diesel is a very fun to drive car and very comfortable drive at the same time. Addition for an optional safety package or another variant of diesel with full safety features will make it an even more complete package. If you are planning to buy a diesel hatchback, do test drive a Micra before you lock in your options.
check out more-
Join us for FREE NEWS Updates on our Whatsapp Community or our official telegram channel.