Nissan has been trying hard to make the Micra a hot seller in India. After launching the facelift 2014 Micra and the Micra Active earlier in July 2013, there are reports that Nissan India is evaluating launching the 'hot' version of the hatch, the Nissan Micra Nismo.
The Nissan Micra Nismo, in international markets, is powered by a 1.5 litre, 4-cylinder, 114 BHP, 156 Nm motor which is mated to a CVT transmission which is available with a sports mode. Apart from a full aerodynamic kit (yes, this kit actually works) the hatchback gets upgraded brakes, stiffer suspension and a sports exhaust.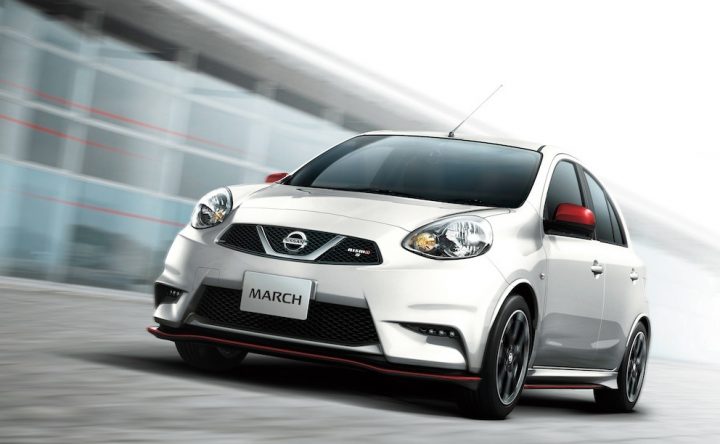 In the looks department, the Micra Nismo stands apart from the standard Micra because of the aggressive styling elements. At the front, the headlights and the grille are similar to the standard car, but the bumper is radically different, sporting an edgy design with integrated LED lamps. The black air-splitter below the bumper is highlighted by a red pinstripe. Moving to the sides, the ORVM covers are painted red, side skirts are added which features the red pinstripe found on the air-splitter at front. The eight double-spoke alloy wheels finished in black with silver highlights look good.
Move to the back and you notice that no changes have been made above the bumper, the rear bumper is a bit boxy and a diffuser runs along the bottom of it, which is again highlighted by a red pinstripe, you'd also notice a bigger chrome-tipped exhaust.
[slideshow id=11]
On the inside, the dashboard is all black, but the design is the same as the standard car. The changes are limited to a leather covered steering wheel, bucket seats with bold red stitching and the new 'sporty' instrument cluster.
The Nissan Micra Nismo, if it comes to India, will not be similar to the one sold abroad, otherwise it would be too costly to be taken seriously by consumers in India. There is a possibility that Nissan India could either replace the 1.5 litre engine with a tuned version of the current 1.2 litre engine found on the Micra in India. Or, the company could also skip other things like the suspension or exhaust. One thing that would certainly be ditched is the automatic gearbox, that would send the prices sky-rocketing. When the Nissan Micra Nismo is launched, it would go up against the VW Polo RS, the Toyota Etios Liva TRD, the Tata Vista D90 and the Fiat Punto 90 HP.
Do you want it come to India? We suggest you and your friends bombard Nissan with requests to launch it in India!