Updated on 31st July 2014
Nissan has started working on developing an all new SUV based on the Navara pick-up truck, this was confirmed by Nissan's Chief Vehicle Engineer, Mr. Takashi Fukui. It could be out anytime between 2-4 years, which means that the SUV could be launched anytime around 2016.
We will update this story as more news comes in.
News Source: Autoindustriya.com via IndianAutosBlog.com
Updated on 13th June 2014
The SUV's are at it again, the fastest growing segment is all set to get another entry, this time from Nissan. Be it compact or the conventional SUV's these vehicles have really caught the fancy of the Indian consumers. With most of the manufacturers already in the arena with at least a couple of products, its about time that Nissan also stepped up their interest in this field and reinforced its ranks where their sole representative is the Terrano. The X-trail, which was discontinued recently, might make a comeback later sometime but it's the new SUV that Nissan is working on that has us excited, this will be based on the Nissan Navara platform – Nissan's Pick Up truck – and has been launched for international markets.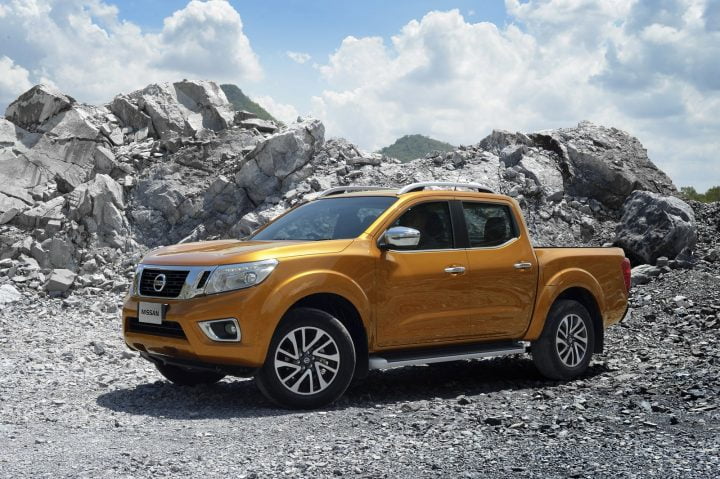 In it's 12th generation, the Navara now features Nissan's new 'V-Motion design language, which we first experienced in the Micra facelift. There's a lot of chrome all around the pick-up which should attract a lot of buyers, the headlights get LED daytime running lamps, there are integrated turn-indicators on the ORVMs and the alloy wheels look nice.
Inside the Navara looks as premium as looked on the outside, there're silver and chrome inserts all around, a digital display on the instrument cluster can display a compass, help in navigation with maps, and display other important information. The centre console gets a prominent multimedia system. Two engine options are on offer and both can be mated to either a 6-speed manual or a 7-speed automatic transmission. Shift-on-the-fly 4×4 system is also on offer, with other aids like dynamic control, limited slip, ABS, EBD, Hill ascent and descent assist.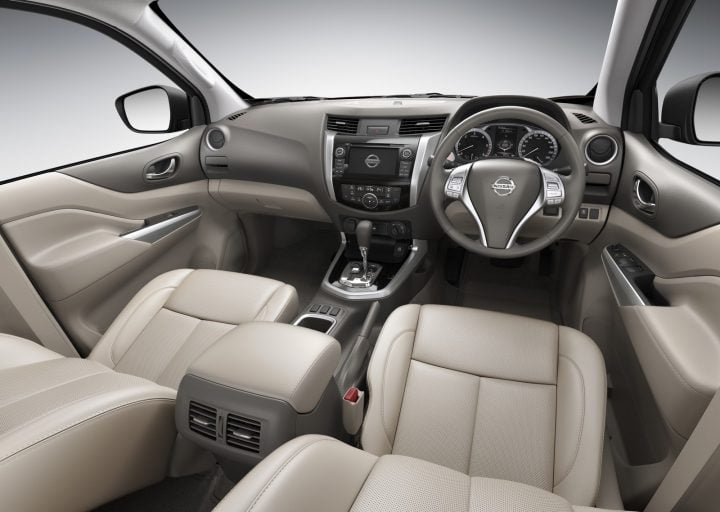 What interest us is that the Navara will spawn an SUV which will go up against the likes of the Ford Endeavour, Toyota Fortuner etc. and if Nissan manages to make the SUV look and feel like this pick-up, it will have a winner on its hands.
What do you think? Let us know in the comments section below.
Updated on 9th June 2014
The Nissan Navara, An Overview:
Before we get to what to expect next, let us look at the platform that the upcoming vehicle is going to be based on. The Navara is one of Nissan's most sucessful Pick-Up trucks globally, two variants are manufactured : The D40 and the D22.
D40:
The costlier of the two variants, this it has everything that you would expect from a high end SUV,
Leather Upholstery
Dual Climate Changer
GPS navigation
To name a few, all these features have been standard on this pick-up from the onset.
There are 2 engines available, 2.5-liter turbo-charged diesel engine and a V-6 petrol. The diesel engine in 4WD models produces 172 BHP at 4000 rpm and 403 Nm at 2000 rpm, with the 2WD models producing less at 142 BHP at 4000 rpm and 356 Nm at 2000 rpm. The V-6 produces 266 BHP at 5600 rpm of power and 385 Nm at 4000 rpm of torque. Both engines come with a standard 5-speed automatic transmission, with a 6-speed manual available for the diesel. After its subsequent facelifts which occurred post 2008 it was loaded with even more features and backed by a respect worthy powertrain and was successful to a large extent.
D22:
Targeted towards a more performance-oriented-value for money seeking segment, this is bluntly put the poorer of the two siblings. There are no features or gizmo's to talk about with the technical specification remaining almost the same as the D40, but the cut down on glamour and glitz has resulted in a powerful Pick-up Truck mainly used by small business owners for the everyday heavy duty hauling.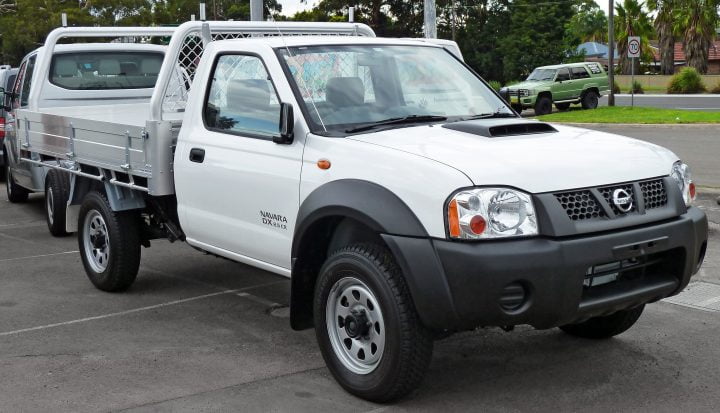 The Navara SUV:
Now Nissan has hinted on their new SUV being based on the Navara platform and in a market where Pick-Up trucks are yet to really "pick-up", this SUV really seems the logical way to go. From the images leaked this is what we can be assured of to expect from the New Nissan Navara.
Features And Specifications:
The exterior boasts of a new chrome treated grille. The pick-up also gets new headlights which comprise of daytime running lights. On the inside, The steering wheel comes with mounted controls and the a full colour multi-info display in the instrument cluster is placed between the speedometer and RPM meter. The Navara also gets a engine start/stop switch.
The Navara is anticipated to be powered by 2.5-liter turbo diesel powerhouse delivering 190 PS and 450 Nm of torque which will be transmitted to all the wheels through a six- or seven-speed automatic transmission.
The price is still to be declared for this seven-seater, but if the teaser and pictures are any indication it would be in competition with the Toyota Fortuner and the lot. So we leave you with this teaser and await with bated breaths for 11 June to come.
Share with us what do you think abut the Nissan Navara in the comment section below.