In addition to air, you can fill up your car tires with Nitrogen. However, is Nitrogen better than air in tires?
For a smooth driving experience, the car tires need to be in a good shape. It is quite important to maintain the recommended tire pressure level. While most tires are filled with standard air, you can also use Nitrogen. Whether Nitrogen is a better option than air is still an ongoing discussion. However, both options have their own advantages and disadvantages. Before choosing one, it is important to have a better understanding of both. Let's take a closer look at the advantages and disadvantages of Nitrogen VS Air in tires.
You May Also Like: How To Use Tire Load Index Chart While Purchasing New Car Tires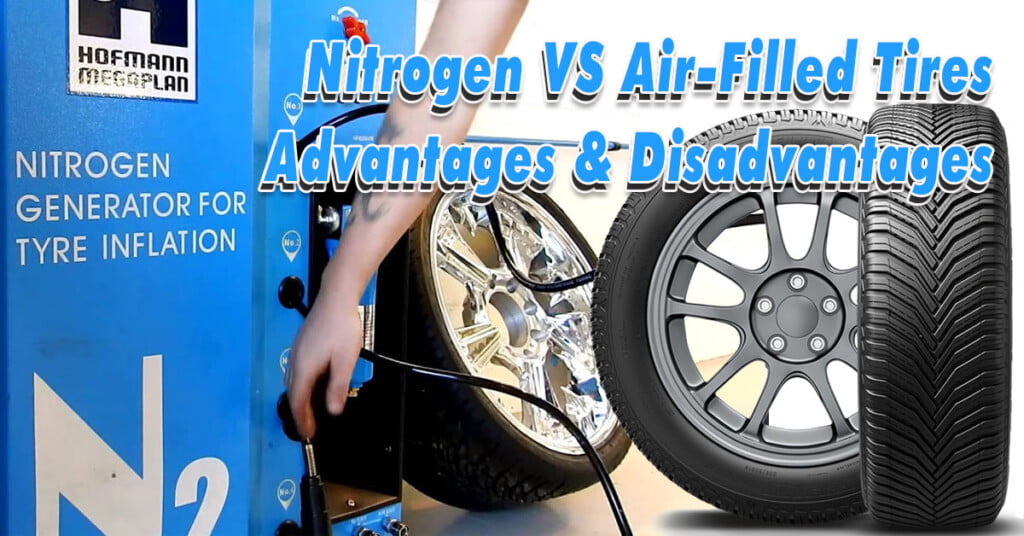 You May Also Like: Tata Harrier Skids on Sunflower Due to Worn-Out Tires, Turns Turtle
Nitrogen vs Air in Tires – Which is Better?
More and more drivers are using nitrogen tire refilling options. It is said to offer optimum performance, prolonged tire life, comfortable driving, and fuel economy. The inert gas is also touted to be more durable and reduce rust. You don't have to worry about deflated tires as well, due to Nitrogen's molecular structure. While the auto industry often popularises several gimmicks without any facts, Nitrogen seems effective, when it comes to wheel heath. However, it is not yet readily available as air. Nitrogen filling stations are still rare in the country.
Nitrogen-Filled Tires – Advantages and Disadvantages
The major advantage of using Nitrogen is its large molecular structure. It does not seep out of the tires easily. So you get stable tire pressure for a long time. The Nitrogen also reduces the running temperature of your tires and reduces damage. The driving experience is said to be smoother on rough roads. Additionally, you also get reduced degradation of metallic components. Since Nitrogen is less reactive, wheel rot and rust are prevented. Nitrogen is also more stable when the temperatures fluctuate and allows you to maintain PSI levels.
On the other side, Nitrogen in tires comes with many disadvantages as well. To begin with, there are very few Nitrogen filling stations. It is advisable to carry a filled spare tire. Fortunately, you can also install a unit to fill nitrogen at home. However, Nitrogen is quite expensive. Maintaining nitrogen-filled tires might turn out to be pretty expensive. While you can also use air (normal inflation air has 78% Nitrogen) in emergency situations, it may lower the efficiency of Nitrogen tires. For maximum effectiveness, make sure the recommended pressure is maintained.
You May Also Like: Mahindra Scorpio Driven with No Air in Tires – Here's What Happens
Air-Filled Tires – Advantages and Disadvantages
Next, let's talk about
The main advantage of using air-based tires is the availability. You can find it for free in most refill stations. You also fill your tires at home with a simple pump. However, the air in the tires seeps out quite fast. The molecular structure of oxygen is smaller than Nitrogen. Additionally, Oxygen is also the main reason behind wheel rot and rust. It is a very reactive gas, especially with moisture. The air-pressurized wheels also don't handle the rough roads perfectly. Since the regular air expands easily when the heat rises, it is not ideal for maintaining recommended PSI levels. It is advised to pressurize the wheels when it is cold.
You May Also Like: First-Ever Mahindra Thar With Off-Road-Spec 17-inch Rims and Tires!
Conclusion
In terms of fuel economy alone, Nitrogen-filled tires seem like a winner. A fully pressurized tire drives can for a long time without any hitches. Overall, it offers better tire health compared to air-filled tires. However, in terms of convenience, the ai-filled tires have a huge advantage. Nitrogen-gas refill stations are still rare in India. The air-filled tires are also quite affordable. While the Nitrogen-filled tires offer more comfort and longevity, the air-filled tires are still a better choice for everyday driving. Having said that, if there is a dedicated Nitrogen filling station in your vicinity, go for it. Hence, it's the clear winner of our Nitrogen vs Air in tires comparison.
Join us for FREE NEWS Updates on our Whatsapp Community or our official telegram channel.