How often do we criticise the working of the police and degrading humanity in this day and age, but this video clip depicts the opposite
A video clip has emerged online which will surely restore your faith in police and humanity through this kind act. We often come across negative news on the television every day and think that there is only such kind of terrible people out there. However, we must understand that there are plenty of people out there who do good on a daily basis but are not often visible. They don't advertise their good deeds. But every once in a while, such random acts of kindness are captured on camera and it becomes necessary to show them to spread positivity in the world.
You may also like: Army Man on Royal Enfield Helps Stranded Girl on Honda Activa – Heart Warming
You may also like: FAKE ALERT- New Maruti Baleno 'Leaked' Pics Seen Online Are Morphed
Faith In Police and Humanity Restored By This Kind Act
The CCTV camera footage shows an old and poor lady on the side of a busy road. A large pool of water is seen accumulated in the pothole right in front of her. A speeding car drives through this water and splashes it on the poor lady. She starts shivering after getting wet. People kept passing by but no one stopped to address her. Then one woman stops and takes out a water bottle from her bag and washes off the dirt from the old lady. She gives her scarf to the frail lady seeing that she was feeling cold. Meanwhile, two policemen reached the scene and bought a sheet and towel to give the old lady. They are seen helping the lady up and shift to a new place. Such random acts of kindness are rare in this day and age and need to be acknowledged and shared around.
While on this topic, we would also like to draw your attention towards the issue of potholes on our roads. Each one of us has gone through the inconvenience of driving through such roads, especially if we have a patient or old people in the car. We must approach our local governance to report these and demand better roads using the money from the taxes that we so diligently pay. We have the right to question the authorities and bring about a permanent change and a solution to such issues.
You may also like: Kia Carens Launched- 80k Cheaper than Seltos, 87k Costlier than Ertiga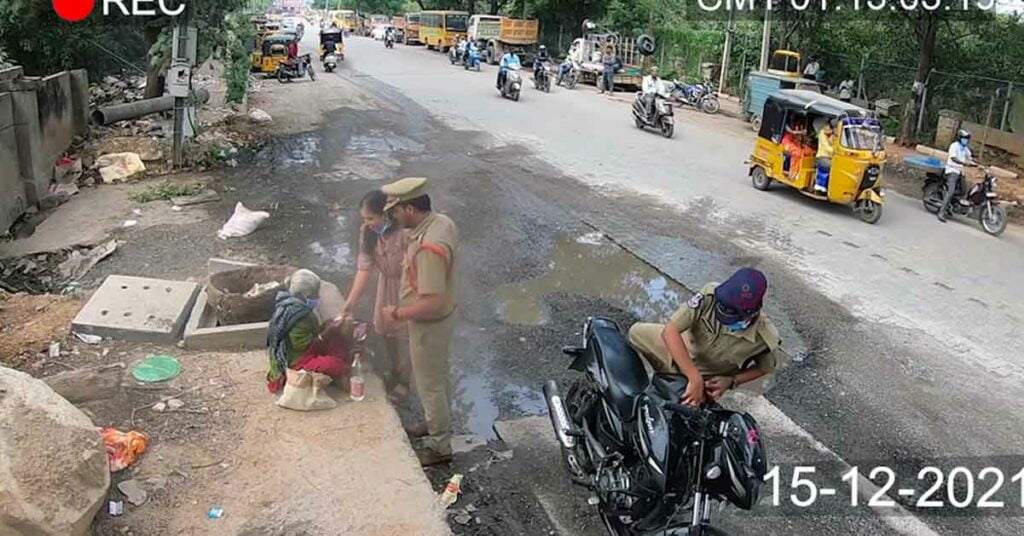 Let us know if you will approach the concerned authorities to raise awareness regarding such basic issues to make the areas around you better. These are not only related to the convenience but with the safety of everyone as well.
Join our official telegram channel for free latest updates and follow us on Google News here.