Well, it is not every day that one gets to witness such humanitarian moments in this modern world. Watching this video clip will restore your faith in humanity.
A video clip has emerged on the internet where an army man on a Royal Enfield is captured while extending help to a girl on Honda Activa stranded on the street. The entire incident has been recorded as CCTV footage. If you go out on the streets of India, you would easily find a ton of people stuck in precarious situations. However, what you won't find easily is people helping each other. But our Bravehearts in uniforms have sworn to protect our country and help the citizen during all times. Demonstrating this beautiful service, an army man is winning the hearts of many on the internet. Here are the details of this incident.
You may also like: Hyundai i20 Falls 25ft From Bridge, Keeps All Safe
You may also like: Tata Nexon EV to Soon Face Rivalry From Mahindra XUV300 Electric
Army Man Helps Stranded Girl on Honda Activa
The footage shows a girl trying to start her Activa that is parked on the side of a busy road. However, due to some reason, the scooty wouldn't start. She tried multiple times before calling for help. But to no avail. Many people pass her on the road without offering any help. After a few moments, an army person rides past her on his bullet. He recognised that the girl is in need of help and he turned around his bike and approaches the girl. Having explained the issue to the army man, he tries to inspect what is wrong with the scooty. He tilts it to one side to ensure that the fuel ignites the engine. But he was unsuccessful. He even tried shaking the scooter recognising that there is no fuel in the scooty.
Then he went out to search for a spare bottle lying around on the street. He found it and filled it with fuel from his Royal Enfield motorcycle. As soon as he poured the fuel into the scooty and tried starting it, the scooty came to life. He handed over the scooty to its owner. The girl is seen thanking the army man again and again as she rides away. This was a beautiful moment captured on tape that needs to be seen by everyone.
You may also like: Sand Mafia Tries Running Over Mahindra Thar of Police, All Safe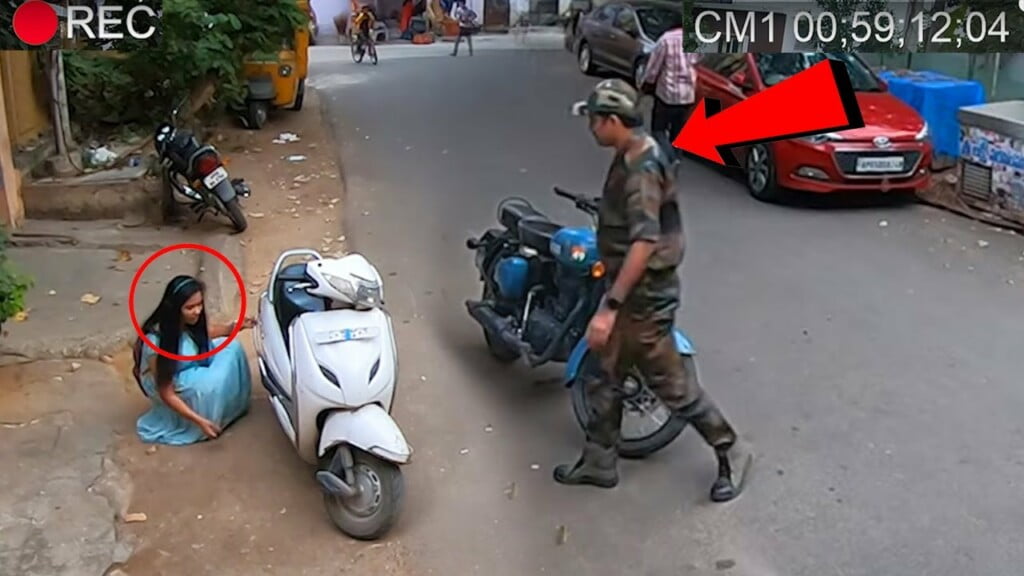 Sometimes, it is such instances that remind us that extending a helping hand to strangers on the streets is not such a bad idea after all. We urge our readers to share this responsibility of a conscious citizen to help make our surroundings a better place for everyone to co-exist. What do you think of this army man who extended help to this young girl on the street?
Join us for FREE NEWS Updates on our Whatsapp Community or our official telegram channel.