In a rare incident, a police car, Mahindra Thar, was in danger after the members of the sand mafia tried to run it over. Some details of this event are out in public.
The members of the sand mafia tried to run over a Mahindra Thar of the police. This news comes from a small town in Rajasthan. Now, the new Mahindra Thar boasts a 4-star safety rating at the GNCAP. The vehicle involved in this incident is the older version of the Thar. The Indian Police uses that SUV in many small countries for its practicality and ability to reach far-flung areas. Let us check out the details of this entire episode in the video we have below.
You may also like: India's First Pure White Mahindra Thar – THIS IS IT!
You may also like: Mahindra Thar Whose Engine Failed At 11,660KM Gets New Motor
Sand Mafia vs Mahindra Thar
The sand mafia is a big challenge in Rajasthan where these people steal sand and transport them illegally for making personal gains. The police are aware of this situation and keep arresting such criminals from time to time. This video has been shared by Prateek Singh on his YouTube channel. He keeps uploading video clips of accidents of popular cars to let the viewers know how well a vehicle performs in such unfortunate situations. The visuals show a dumper almost running the Thar over. According to the details, two people jumped out of the Thar before the crash. But two other people suffered some injuries. Thankfully, though, there was no loss of life. The damage to the Thar is also clearly visible.
Being the last generation Thar, the safety equipment seen on latest model was not available. The body strength is also not impressive. Also, it is the soft-top version which means that the metal roof is not there. As a result, the damage sustained from the front door to the rear is significant. The A and B-pillars and doors are completely deformed and the vehicle is seen turned over on the road. But things are completely different with the current version of the Thar. The airbags, ABS and parking sensors are mandatory in newer cars but Mahindra has also worked on the body of the Thar which is why it has a safety rating of 4 stars now.
You may also like: Watch FWD MG Hector Struggling in Snow, Rescued by Thar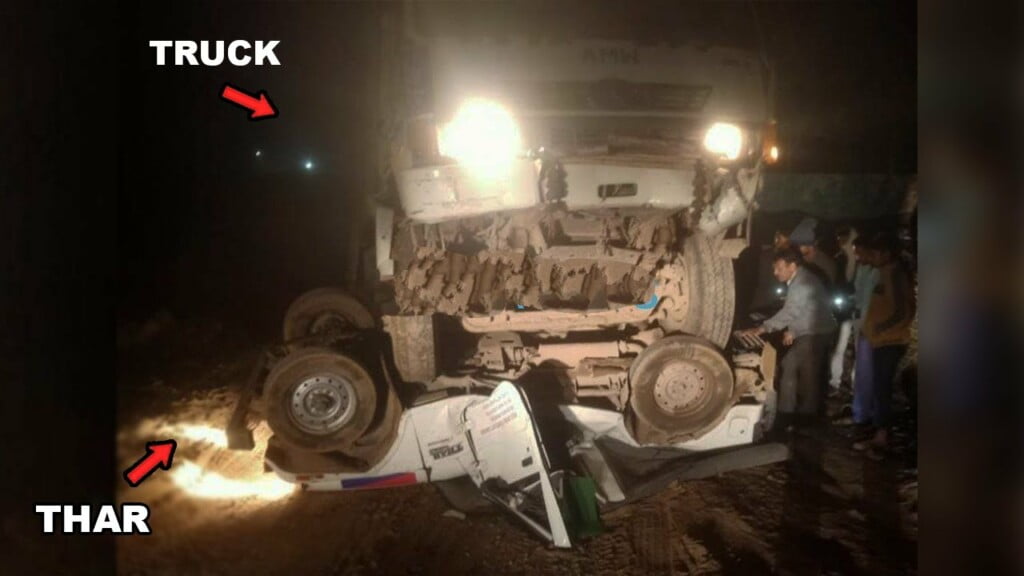 The prices of the Thar range between Rs 13.17 lakh and Rs 15.53 lakh, ex-showroom. The only direct rival is the Force Gurkha which has also recently received a new-gen upgrade. The 5-door version of the Mahindra Thar is also in the works.
Join us for FREE NEWS Updates on our Whatsapp Community or our official telegram channel.