Peugeot Société Anonyme (PSA), formerly PSA Peugeot Citroën, tied up with the CK Birla Group earlier this year. This tie-up is expected to help PSA establish a foothold in the fast-growing Indian car market. Following this, PSA also acquired the rights to the 'Ambassador' brand. Now, it seems like the company has finally started testing its cars on Indian roads. The French carmaker is reportedly testing three of its models – 208 hatchback and 2008 and 3008 crossovers. Recently, one of our close friends got up and close with a Peugeot 208 test mule while driving towards Chennai. It's noteworthy here that PSA plans to setup an assembly and production hub near Chennai. While the Peugeot 208 India launch prospects look slim at the moment, the recent sighting does indicate that the test mule has been brought here for data-logging and validation.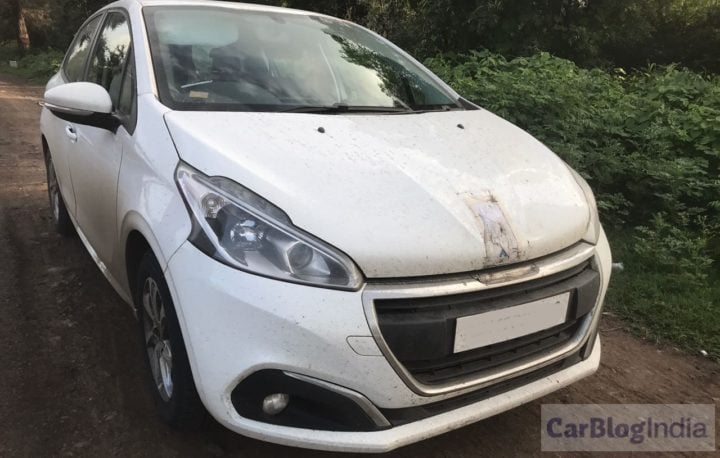 Also See- Peugeot to Return to India
While the manufacturer has started testing the 208, 2008 and 3008 in India. Out of these, the 208 and 2008 are close to the end of their lifecycles. Both the models will be replaced by new generation cars built on new generation platforms. Hence, it looks really very unlikely for either of these to launch here. That said, the 3008 SUV is likely to make it to the Auto Expo 2018, and subsequently to our market by 2020. There are very high chances that the upcoming production facility will become the manufacturing hub for new generation Peugeot cars. The upcoming facility in Chennai will cater to SAARC countries, Japan, Korea, Australia and New Zealand.
Also See- Peugeot 3008 SUV India Debut at Auto Expo 2018?
Peugeot 208 India Launch Date
Like we just said, the Peugeot 208 India launch prospects aren't too high. The 208 hatchback made its debut in 2012. It got a facelift in 2016, but the car is hardly a year away from being phased out in most markets it is sold in. An all new model based on a more modern platform will replace this car in PSA's product portfolio. With Peugeot India launch is still some time away, it doesn't look like the manufacturer would want to commence its Indian operations with a dated car. The car that has been spotted testing has been imported into India for validation or data-logging purposes.
It looks like PSA will adopt a Renault-like strategy by first launching SUVs/crossovers in India. Hence, Peugeot might launch the a crossover-ish hatchback, a compact SUV and a rugged MPV in India. As for the 208 hatchback you see in the images here, the hatchback was most likely collecting data about the performance of the engine, suspension and other components on Indian roads.
Peugeot 208 Spy Images
Peugeot 208 Specifications
Internationally, the 208 offers three petrol engine options-
1.0-litre three-cylinder with max. power of 68 PS
1.2-litre four-cylinder with a max. power of 82 PS
1.2-litre four-cylinder turbocharged with a max. power of 110 PS
The car you see here sports a 1.0-litre engine. It is mated to a 5-speed manual transmission. A quick chat with the driver of this test mule revealed that there are a couple of more Peugeot test mules that have been testing on our roads. In UK, these 'PureTech' engines come with start-stop technology that help the motors deliver a high fuel mileage. While it's for sure that this rather radically styled hatchback won't launch here, it's a worthy rival to the (Maruti) Suzuki Baleno and Hyundai Elite i20 in many global markets. The Peugeot 208 price, in Indian currency, is approx. 7 lakh to 10 lakh.
Stay tuned to CarBlogIndia for news on the Peugeot 208 India sightings and spy images.