ATA Carnet Permit allows vehicles to be exported to other countries for a duration of 1 year
It is known as the Car Passport.
In the latest spotting, Dodge Challenger and Charger muscle cars are seen in India. Dodge is renowned for making these muscle cars that have attained vintage status over their decades of existence. However, these were never available in India. That is why people have devised ways to run them on our streets legally. ATA Carnet allows imported cars to run on our roads for a specific duration of time. Let us check out the details of this here.
You may also like: Fast & Furious 10 to Feature Dodge Charger EV!?
You may also like: Here's India's First Black Coloured Toyota Land Cruiser LC300, Comes via Carnet
Dodge Challenger and Charger in India
The video has been uploaded on YouTube by Spotter India. The visuals capture the Challenger in green paint and the Charger in red paint. The long-hooded muscle cars have throaty exhaust notes. As they manoeuvre through the dense traffic of Indian roads, people are bound to take notice. Moreover, the traffic Police pulled these special vehicles over. However, it is not clear what the reason for that could be. The official is seen taking photos of the muscle cars before allowing them to move on. Nevertheless, it is a treat to watch these rare beauties on our roads.
You may also like: McLaren 720S Imported From Oman to India – Is Arabic Number Plate Legal?
Specs
The heart of the 2022 Dodge Challenger is made up of a 6.2-litre supercharged HEMI V8 engine developing a colossal 807 hp and 959 Nm of peak power and torque. It accelerates from 0-60 mph (0-96 km/h) in just 3.25 secs and has a quarter-mile drag time of just 10.5 secs. On the other hand, the Charger comes powered by a 6.2-litre engine belting out 707 hp and 880 Nm of peak power and torque. This engine is mated to an 8-speed AT.
You may also like: Indian Drives Toyota Tacoma From USA to India – 13500 km in 53 Days!
ATA Carnet Permit
ATA Carnet refers to a Temporary Admission permit that allows anyone from any country to import or export non-perishable items without paying any tax or duty. It is a widely accepted international customs document that is not that hard to get. Its validity is 1 year from the date of issue. It even allows multiple entries into multiple countries in that 1 year. The ATA Carnet is jointly administered by the World Customs Organization (WCO) and the International Chamber of Commerce (ICC) through its World Chambers Federation.
You may also like: Mahindra Major Rescues Imported Hummer H2 Stuck in Water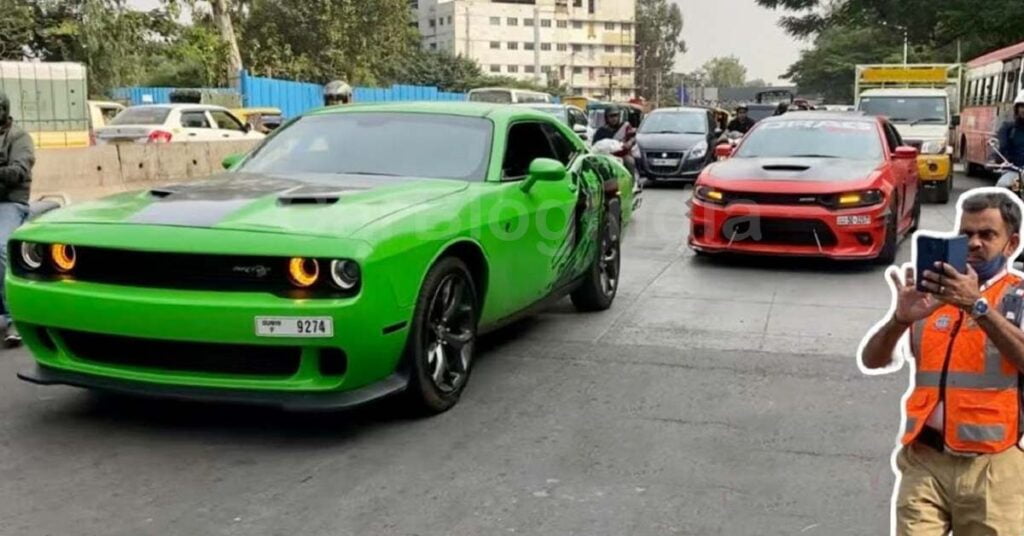 Disclaimer- The embedded videos/ external content is/are being used as a convenience and for informational purposes only; they do not constitute an endorsement or approval by Car Blog India of any of the products, services, and /or opinions of the corporation or organization or individual. Car Blog India bears no responsibility for the accuracy, legality, and/or content of the external site or for that of subsequent external videos/ external content. Contact the external publisher for answers to questions regarding its content.
Join our official telegram channel for free latest updates and follow us on Google News here.