The popular compact SUV from Maruti Suzuki is ready to get a new shape and a shorter moniker (Brezza) in the upcoming 2022 version. Here is how it would almost look like.
This is the first glimpse of how the upcoming 2022 Maruti Brezza could look like in the production version. Brezza was due for a generational update for quite some time now and it is almost here. We have previously reported the leaked pics of the next-gen Brezza. The compact SUV segment is growing quite rapidly in India. Also, it is brutally competitive with almost all the major players having their products in it. The interesting bit is that Maruti has bowed down to the customer demand and will offer a sunroof on the new Brezza. Let us take a look at these renditions which are as close to the production version of the 2022 Maruti Brezza as it gets.
Also read: Maruti Bows to Competition, To Offer Sunroof on New Brezza!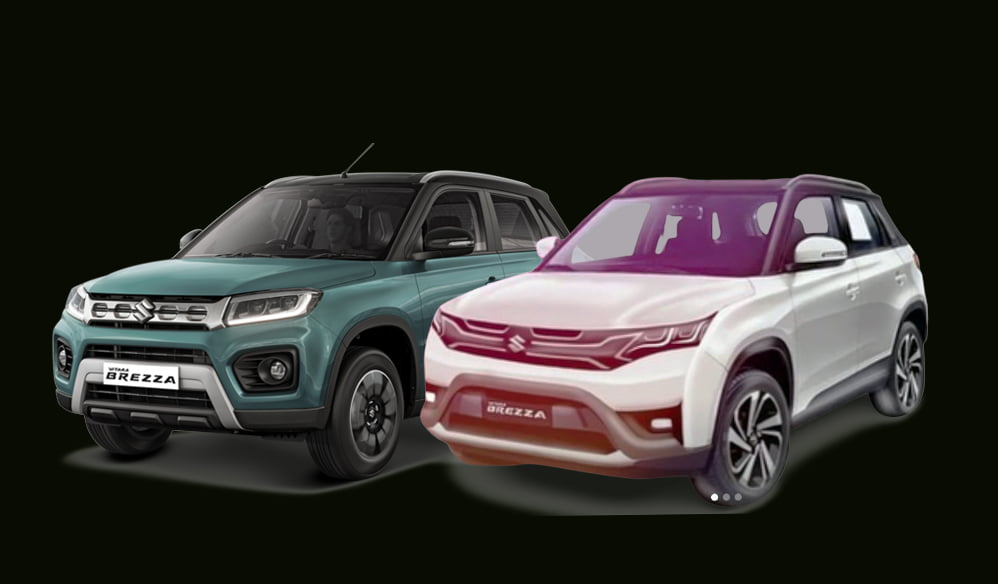 Production Version of 2022 Maruti Brezza
While the overall silhouette of the new Brezza remains almost the same as the current-gen model, there are quite significant changes on the exterior. To begin with, the front grille is funky in this concept version and neatly integrates the LED headlamps with sharp edges. The bull rod is engraved within the bumper along with a skid plate at the bottom which makes the SUV very sporty indeed. The fog lamps are positioned at either end of the bumper. The sides host a sculpted fender, body skirting, chunky wheel arches, blacked-out A, B and C-pillars, roof rails among other details. The rear sports an integrated roof spoiler and sleek LED taillamps with a skid plate at the bumper below.
Also read: Maruti Vitara Brezza vs Tata Punch in Tug of War – VIDEO
Specs
The Maruti Brezza will likely be powered with the same 1.5-litre petrol engine that is there on the current-gen model. This engine produces 105 hp and 138 Nm of peak power and torque respectively. This engine will be paired with either a 5-speed manual or a 4-speed torque converter automatic gearbox. There might also be the Smart Hybrid Technology to aid fuel efficiency. The interiors will feature a digital instrument cluster along with all the basic modern amenities like connected features and convenience elements. The rivals include Hyundai Venue, Tata Nexon, Kia Sonet, Mahindra XUV300 among a slew of other products.
Also read: Next-Gen Maruti Vitara Brezza LEAKED Pre-maturely?